HMOs are different to standard buy-to-let properties in that regulations regarding fire safety can be more complicated and are often more expensive to implement. But don't worry. Fire regulations tend to be nothing more than common sense and your local HMO enforcement officer is there to help.
---
Highlights
[0.22] HMOs and buy to lets
[0.35] Multiple tenants
[1.02] The HMO enforcement officer
[2.00] A recent project
[2.15] Thumb turn locks
[2.46] Fire doors
[4.05] Fire alarms
[4.50] Putting it all together
[5.19] Join our FREE Training today
---
Introduction
Today we are going to be looking at fire safety requirements for houses in multiple occupation (HMOs). Whether you are thinking of buying an HMO, or refurbishing a property and converting it into an HMO, understanding what fire regulations there are for that kind of property is going to be essential.
HMOs and Buy To Lets
As a landlord or investor, when it comes to HMOs, there are more things to consider, than there are with more straightforward investments such as buy to lets. The fire regulations and rules around fire safety are more detailed and there is more to do to get the property up to standard.
Multiple Tenants
One of the reasons that HMO fire regulations are stricter is that in a house in multiple occupation the tenants won't necessarily integrate with each other or won't necessarily get on with each other that well. They might not even talk to each other on a regular basis.
What you don't tend to have in a family home or straightforward buy to let property is a situation where rooms are regularly locked. In an HMO this can be a standard practice and of course, locked rooms can mean people not having a clear exit and ultimately not being able to get out of the property easily should they have to.

What Is An HMO Enforcement Officer?
An HMO Enforcement Officer works for a local authority to ensure that the Houses In Multiple Occupation in a given area meet the required standards.
When it comes to HMO fire regulations I strongly suggest you speak to your local HMO Enforcement Officer. I know a lot of investors get worried about doing this. This is because they think that the HMO Enforcement Officer is going to give them a huge list of expensive (but unnecessary) works to carry out on the property.
Most often this is a misconception.
The HMO Enforcement Officer's role is to make sure that the properties in their area are safe to use and fit for purpose.
If you speak to the Officer on the phone, very often they will offer to come and look at your property for free. When they visit the house they will offer tips and advice on how you can make sure that the property is sufficiently suitable for the tenant profile that you are looking to market to.
The advice you get from an HMO Officer is often quite simple and straightforward. What seeking advice from this source means is that you have another person, independent to yourself, offering their opinions on what that property needs to have (particularly when it comes to health and safety, HMO fire regulations, fire safety and things of this ilk).
Gidlow Lane, Wigan. A Recent Project
The above video was shot in a property that we at Property Investments UK have recently refurbished and converted into an HMO complete with full fixtures and fittings.
So, with regard to fire safety, there are a few things that we have done on this property which may help give you an insight into what you should be doing with yours.
1. Thumb Turn Locks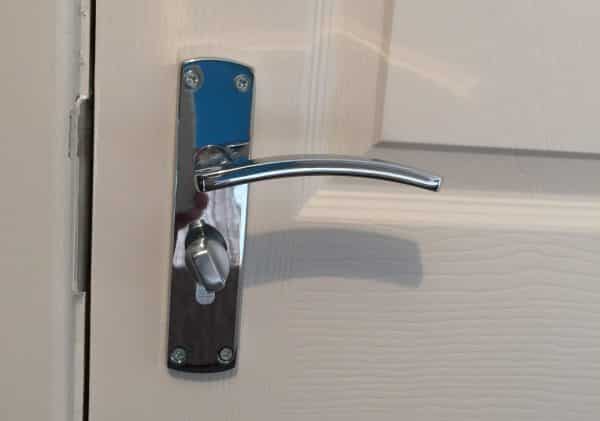 First of all, we consider thumb turn locks to be essential. We put these on the bedroom doors and on the front and back doors as well. Thumb locks give the property an escape route. If there is a fire then the situation would be made much deadlier if a tenant can't get through a door because it is locked and the key isn't to hand.
So health and safety regulations state that you need to make sure that the tenants have always got a clear exit route. Thumb turn locks are a big part of what makes this possible.
HMO Fire Door Regulations
Fire doors are an essential feature of HMO fire safety regulations. The rule is that, as a landlord, you need to make sure that all escape routes from the property are protected. This is achieved primarily using fire doors.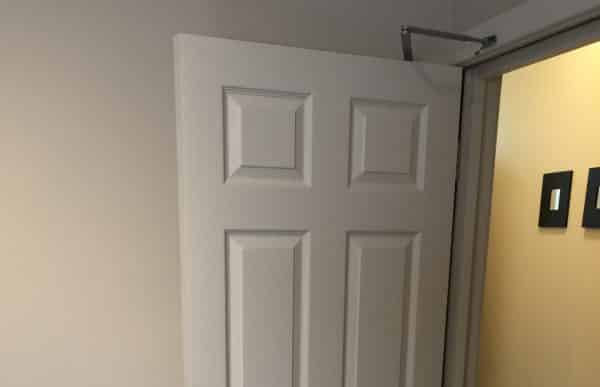 So in a typical house, the escape route from a bedroom would be: Out of the bedroom, down the stairs, into a corridor and then out through either the front or the back door. In this example, the escape route would avoid the kitchen which is a particularly high-risk area. The kitchen, therefore, would be completely separated using fire doors so that the exit route wouldn't be exposed.
In the property that we've just finished, we have five bedrooms, a communal lounge and a kitchen. All the bedrooms have fire doors. The kitchen has two fire doors, one at each entry point. We also installed a fire door in the communal lounge.
By doing this, all areas are sufficiently protected so, in the event of a fire in a particular part of the building our tenants will have sufficient time and enough warning to get out of the building through a safe route.
3. Planning is Key
This is why it is key that you speak to your local HMO Enforcement Officer. They will come out and have a look at the building and assess it for things such as escape routes and the correct use of fire doors and thumb-turn locks and help you make a fire safety plan.
4. Fire Alarms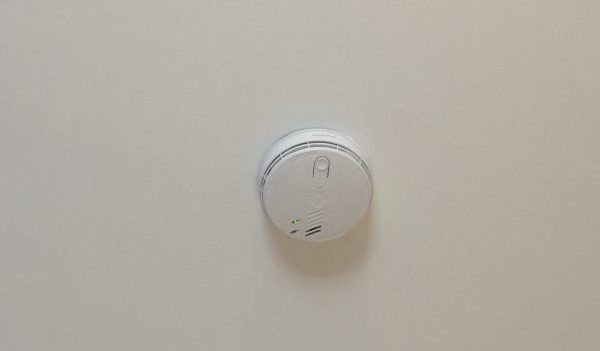 Every property is different so it is very difficult for me to tell you exactly what you should be doing in a short video such as this.
So as we've said, you need fire doors complete with intumescent strips, door closers and thumb turn locks. You will also need fire alarms in all the bedrooms, the corridors and the communal areas.
You should install a smoke fire alarm in the key areas of the house I listed above and a heat fire alarm in the kitchen. If you are unsure of the difference please see: Heat Detectors vs Smoke Detectors: What's the Difference?
Ideally, all your smoke alarms should be integrated so if one goes off the rest go off.
Depending on the size of you HMO you may also need to look at upgrading your fire alarm system to a panel system.
This decision will be dictated somewhat by the number of rooms, the number of bedroom spaces and the number of people living at the property.
Again, I recommend speaking to your local housing office and asking them what requirements there are in the area as regulations can be area specific and set by the local council. You need to make sure that you have ticked all the fire safety boxes and met all the health and safety requirements for the property and the number of people you are hoping will live there
Putting It All Together
I hope this gives you a bit of an insight in terms of what's required when it comes to looking at the fire requirements for your next HMO. At the bottom well include a few links to resources for learning more about HMOs to help you on your way. We hope you find them useful.
Join Our FREE Training
Thank you for watching this video. If you liked this content then why not join our free online property training course? In there we cover a range of different property strategies to help you get started on building a long-term property portfolio or creating a cash flowing property business. We also look at ways to increase your return on investment with any of the properties you may be considering and we also have a couple of cheat sheets and downloadable documents. Just click the image below to join our free training course.

If you have any questions or thought you'd like to share on how to go about fire safety, HMO fire regulations or the HMO Enforcement Officer then please leave them in the comments section below. We'd love to hear from you and we're always happy to help.