On this page were pleased to show you a range of client testimonials from our Property Training Course & Mentorship clients through to clients that have purchased ready to go deals.
We look forward to working together with you too in the near future and seeing your testimonial below.
Our Property Investment Course
---
Kind Words From Paul
Investor Client Testimonials
Saved me £10,000 on my first property
I first came to Rob looking to get into property investment, I had my own mortgage but really wanted to take that step into investing in property, initially into buy to let …read more
-Katriina Barns
---
Rob Saved Us More!
We decided to invest in property when we realised that, despite us both having quite good jobs and investing in our pensions, we were predicted to receive very little from these in retirement.
We initially bought a new build flat from a property investment company. The flat turned out to be ok but the yield was diminished by a "small service charge" which actually turned out to be £80 per month.
We learned our lesson – no more flats.
So we purchased a new build house through the same property investment company.
That investment ended badly as well. We were severely out of pocket and very disillusioned with our efforts.
Undeterred we decided to find someone who could assist us in our quest to buy properties who was knowledgeable, trustworthy and professional. After looking on the internet we found Rob…
We found Rob's website very informative… and he also gives out a lot of free information on YouTube.
I contacted him and asked about purchasing some of his time for consultancy – he got back to us immediately and said no problem.
We live in the South East so initially, we had a Skype call so that Rob could learn what our requirements were.
He then he went off and found some properties on Rightmove that fitted our criteria.
We whittled down the list and Rob went to look at our preferred houses and sent us videos. We decided to make an offer on one and he told us that we were probably about 2k above where we needed to be – so that saved us more than all of the consulting time that we purchased.
We did actually go to see the house before we bought it and Rob showed us round.
He was also able to recommend tradesmen to do some renovations and a local letting agent.
We have been very impressed by Rob, his tradesmen and the letting agent.
We then wanted to buy a second house and Rob and his business partner had one for sale that suited us nicely so we bought that as well.
Both houses are now rented out and we plan to buy some more!
— Gillian and John
---
I still have all the deals Rob sold me and am very happy with them all…
I met Rob at a Property Networking event in Birmingham back in 2008 and found him extremely easy to talk to and very knowledgeable.
I was new to investing and was starting in the North West.
Rob's excellent marketing skills and honest approach made him a perfect person to buy property deals from.
I still have all the deals Rob sold me and I am very happy with them all.
I still work with Rob on other projects to date and I think this is a testament to his knowledge and skills of finding ways to create great property deals.
— London Property Investor
---
Honest, reliable and professional in all his dealings…
We have worked with Robert on a Joint Venture basis for the past 3 and a half years.
During that time we have found him to be honest, reliable and professional in all our dealings with him.
During this time we have also recommended his property sourcing services to clients and associates all of whom have given us positive feedback.
— Nick Flewin
---
A genuine 'outside the box' thinker…
I have worked in partnership with Rob since mid-2012, focusing on helping Vendors who are in negative equity and finding suitable Tenant Buyers.
Working with Rob is enjoyable and he is always looking at approaching situations creatively – a genuine 'outside the box' thinker.
We're pushing hard in our niche area and Q4 2012 through to 2013 look very promising.
— Stuart Mather
Property Sellers Testimonials
And here are some testimonials from some of the people I've bought property from:
---
It is not often one meets a real gentleman…
I found the process of selling my property to you very straight forward and very quick.
I felt you offered me a good price and would not hesitate for a second to recommend you to family and friends.
You certainly have got the procedure spot on.
But above this I would like to thank Robert Jones for his help and keeping me up to date with the progress.
It is not often one meets a real gentleman.
Thank you once again!
— Mr Fox
---
I cannot praise Mr Jones' behaviour, attitude or professionalism highly enough…
My wife and I were very fortunate to meet Robert Jones.
Mr Jones proved to be extremely professional & polite from the outset.
I appreciated his honesty and open forthright approach to my situation. His integrity and sincerity was very apparent in his approach and communication with me.
Mr Jones displayed patience and empathy towards my wife and I throughout the ensuing purchase process.
He was very reliable regarding all our subsequent arrangements and in short 'got the job done'.
I cannot praise Mr Jones behaviour, attitude or professionalism highly enough!
— D Bryn
---
The professionalism and courtesy shown throughout was excellent…
I Have been very pleased with the advice and guidance given throughout the process of selling my home.
I cannot think of anything that could have been done better. The professionalism and courtesy shown throughout were excellent.
I will certainly recommend to my family and friends.
Thank you, Robert!
— J Griffiths
---
From a property maintenance company I often use:
Someone who knows the ins and out of property…
We have worked with Rob over the past couple of years on various projects from full property refurbishments and renovations to minor maintenance work.
We have always found Rob extremely easy to deal with and with his hands on and knowledgeable approach to property he is also a pleasure to deal with!
From our point of view (as a property maintenance & refurbishment company) it makes our life a whole lot easier when you are dealing with someone who knows the ins and out of property and understands how different properties in different areas attract different tenants with different expectations.
We have always found Rob efficient in dealing with queries and accounts and from our personal experience would not hesitate to recommend him as a business partner.
— Total Services Group
Why Not Join Our FREE Online Training Today
✔  … Explore the 3 core elements of Property. Consider if you want to achieve a high return on investment OR create a passive income from your properties
✔  … Discover 7 strategies to build and grow your property portfolio, regardless of your starting position!
✔  … Get additional bonus download material with the training > (Property Investment Checklist) that you can use to immediately to analyse any property deal
If you have ever considered investing in property but didn't know where to start or you wanted to kick-start a current portfolio but didn't know which strategy was best, we've got you covered in this free training.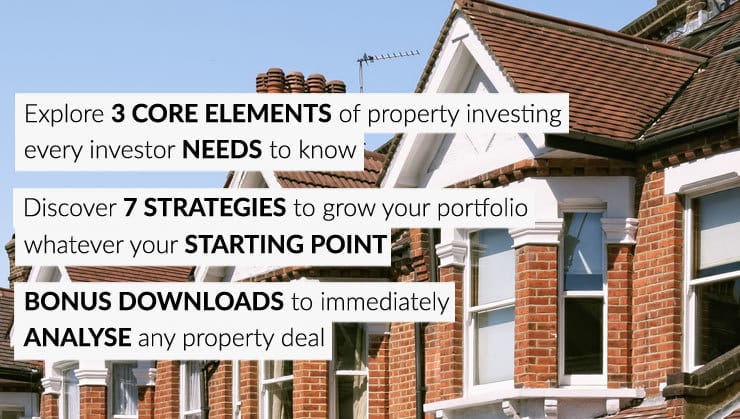 Results achieved in this training may vary from user to user. For our full disclaimer please click here.