2 Quick Changes that will make your HMO more Energy Efficient (and Save you Cash)
You can vastly reduce your costs and increase your profits as a landlord by making your HMOs more energy efficient. Just by making two small and inexpensive changes to your properties, you could significantly reduce your utility bills and add to your bottom line. But, it's not all about the money. These days it's every landlord's responsibility to make sure that their properties consume as little energy as possible.
Why your HMO Needs to be More Energy Efficient
Today we're going to look at how to improve the energy efficiency of your next HMO project.
It's an interesting and varied topic, not least of all because it's an issue that's very much front and centre at the moment.
There is a LOT of regulation these days around what you need to be providing, as a landlord. A lot of it is about health and safety, granted, but there is also a lot of regulation regarding energy efficiency, as well.
To give one example, all properties marketed for sale require an EPC (energy performance certificate).
But without wanting to get into the nitty-gritty about the regulations, I think we can agree on one thing. In the modern world, it makes sense for the government, for tenants, for landlords, to know just how energy efficient a given property is.
And for you, as a landlord/investor with an HMO or many, the chances are that an energy-efficient house is going to save you a tonne of money in utility costs. Of course, not all HMO landlords have bills included in the rent but these days most do, especially when it comes to HMOs for professional tenants.
I know what you are thinking.
"But, in order to save money, later on, I'm going to have to spend a fortune, thousands of pounds to improve the property."
Well, this isn't entirely true. Yes, there are plenty of expensive structural improvements you can undertake with a property. But, there are also some quick easy wins you could implement that won't cost that much to implement.
So, if you're looking to improve and upgrade your HMO to make it more energy-efficient, here are two easy things to look at which are going to make a massive difference. Your lighting and your heating.
Energy Efficient LED Lighting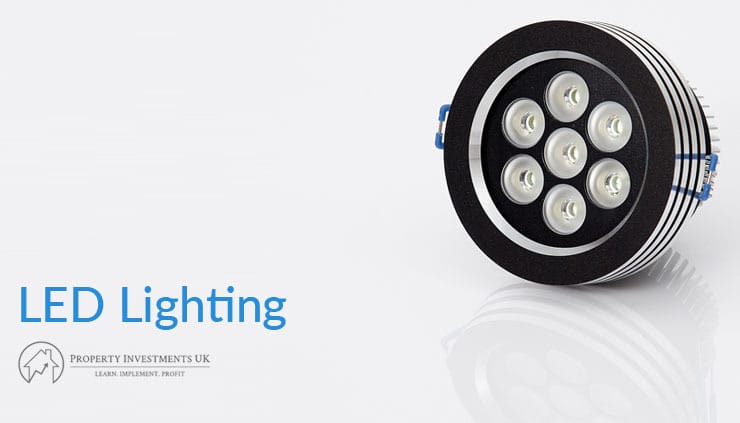 The NFG efficiency of lighting has improved a great deal over the last few years.
We have just recently finished a refurbishment project. This is where I am shooting this video. We have a video walkthrough of the full project as well as one that focuses entirely on fixtures and fittings. And we will also be doing a video, hopefully, in the next few weeks, that's just about lighting.
But, as I say installing energy-efficient lighting is very easy these days. For instance, we choose lights that use LEDs rather than traditional bulbs.
LEDs are a lot more efficient and using them will save a tonne of money on electricity costs over a year-long period. So, if you're investing in an HMO for the long-term and, as is usual, it is you, the landlord, that pays the utility bills, then changing the lighting over to energy-efficient lighting is going to benefit your bottom line a great deal.
You want to get rid of your old traditional bulbs and replace them with LEDs. It will save you money and you're going to improve your EPC rating as well.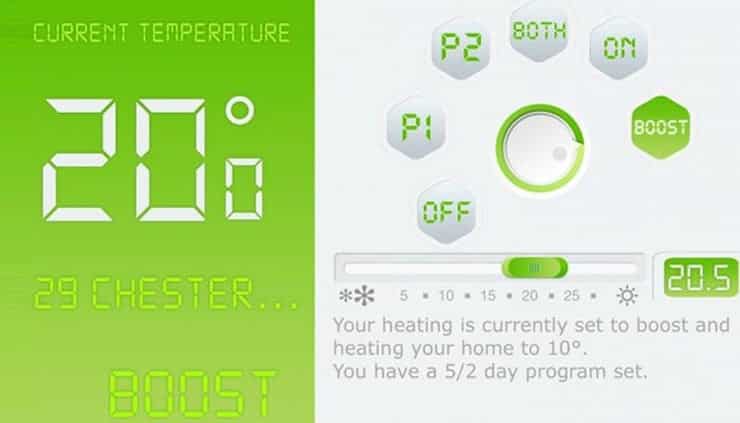 The second thing you will want to look at is the boiler and the heating system.
Smart thermostats can be very sophisticated these days. There is Google's Nest, for instance. Inspire is another one.
In our recent project, we installed the smart thermostat from Inspire. It's very landlord-friendly. Not least of all, it will allow you to control the heating for your building remotely from your tablet or phone.
So, if it's a warm or cold time of year you can change the heating of the property to suit.
Obviously, you want to keep the best interests of your tenants front and centre in your mind. You have a responsibility to make sure your tenants are warm enough. And, if you don't do your part, your tenants will move out which will only cost you more.
It's important to bear in mind that the cost of a utility in HMOs can be sky-high.
We've had it happen to us and we've spoken to other investors where this has happened. Say, it's summer and the heating has been left on. Windows are opened because the property has got too hot. And yet, none of the tenants has taken it upon themselves to turn the radiators down or the boiler off.
It's not their responsibility and they're not fronting the cost.
It happens.
If you have a thermostat like Inspire or Nest then you as a landlord can take control in situations like this. And, you can do so without being on-site or even in the same country.
Cost plays a big part in this but it's not just about cost. In this day and age, we all have a responsibility to be energy efficient. If your tenants don't care about the energy wastage that comes with doing crazy things like running the heating with the windows open in summer then it is your responsibility as a landlord to take control.
Putting it All Together
Making these two quick and easy to implement changes to your HMO is going to save you money. I also hope that this article will help inspire you to think of other things you can do as well.
Obviously, you can go the full mile and install good windows from a certified FENSA installer, roof insulation, loft insulation - I urge you to do these things.
But, changing the lighting and the thermostat are really quick wins in this regard. They won't cost much to replace. They won't take a lot of time to install. The money you'll save in the long run will be significant.
FREE Property Training
Thank you for watching this video. If you liked this content then why not join our free online property training course?
In there we cover a range of different property strategies to help you get started on building a long-term property portfolio or creating a cash-flowing property business.
We also look at ways to increase your return on investment with any of the properties you may be considering and we also have a couple of cheat sheets and downloadable documents.