4 Surefire Ways to Boost an HMO's Earning Potential by Adding Value
We often talk about adding value to our investments which often means renovation work undertaken to increase the worth of the property at sale. But there are other, simpler ways of adding value which will increase your rental return and boost your day-to-day income as an investor.
Introduction
Today we're going to look at four key methods for adding value to your HMO property. These are four things you can do to improve your HMO's earning potential. Things that will rapidly increase not only the rental yield of the property but ultimately the cash in your pocket.
Tip 1: Extending Out
The first way to increase your chances of HMO property success is to look at extending into the garden or yard at the back of the property. This, of course, can either be a one or two-story extension.
We manage a multiple occupancy building in Warrington, Cheshire. We have owned it for over eight years. For the last two, it has been operating as an HMO. So, before we converted the property it had three bedrooms and two reception rooms. Now, it has four bedrooms and two reception rooms.
Being an end terrace it's quite a large house. This means that there has been enough floor space that we were able to create an extra bedroom. We made this room by splitting one of the existing bedrooms into two.
However, the reception rooms weren't quite right for a house in multiple occupancy so our work wasn't finished there.
As I've already said, this property is an end-terrace in the North West. It, therefore has, as is typical in this region, a yard area at the back which isn't particularly large. Despite its small size, we were able to build a two-story extension while leaving some space left for the tenants for bins and bikes. So, with that in mind, we applied for planning permission which took about eight weeks to be approved. But when it did come through what had been a three-bedroom, two reception room property became a potentially a much larger house.
What we had on our hands was now a six bedroom, two bathroom property with a good size kitchen-dining-living space.
The property I'm describing is nothing unusual in terms of its location or size. It's got a good footprint in terms of its size but it is nothing excessive when compared to other terraces that you can find on the market in the area. The lesson here is that by simply extending a property into that extra space at the back you can really open up the potential for that property.
So, building an extension is the first way of really ramping up the potential in HMO property. It is a great way of really adding value to the home.
Tip 2: Using a Conservatory Properly
Now, building a two-story extension is of course very expensive and requires a lot of effort. Another way you can add value to an HMO property is by building something much more straightforward. So let's look at building a conservatory. What this achieves is the creation of an extra communal space when you're renting to multiple tenants.
You may already have a good size kitchen. Combine that with a good size conservatory and together they can become the primary living space in the home. This allows you to then convert the other communal space, normally the lounge, into another bedroom.
So, by simply adding the cost of a conservatory to the building you might get an extra bedroom out of it. If that takes you from four to five bedrooms then that represents a significantly higher rental return and therefore a boost to your potential income.
It won't work with every property. It depends on the size of the house. If depends on the location and the layout. However, for some properties adding a conservatory and utilising the lounge as an additional bedroom can work very well. More importantly, it is a very cost-effective way of increasing your potential rental income from the multiple occupancy home.
Tip 3: Go for a Garage Conversion
The third thing to consider is converting a garage. This is something we've just done on a recent project, working for one of our clients. So, the property had three bedrooms and two reception rooms. The rooms were good sizes already. At the back, there was an attached garage that wasn't being used, dead space. We knocked through the kitchen and created a small corridor leading to the yard at the back and into the garage which we converted into an en suite, double bedroom. This really opened up the potential for the property which went from a three-bedroom, two reception room house, to a five-bed, one reception room HMO.
The lesson here is that to create extra bedrooms you don't necessarily have to think in terms of chopping some of the rooms up or stripping out the communal space. If there is a garage that isn't being used then from that you can create an extra bedroom which will help ramp up the potential yield of the house.
Tip 4: How to do Interior Design
The fourth, and final thing, to consider, when it comes to increasing the return on your HMO, is interior design. It's simple to do. It's very cost-effective. It works.
Something that you will find - when you start, researching HMOs in a given area - is that the rooms on offer tend to be very standard and really quite boring. There are magnolia walls and white ceilings. In the promotional photographs, you might see a bare mattress or a non-made up divan bed and that might well be it. This would be typical of HMO promotional photographs. There might be a lack of furniture or evidence that the rooms haven't been painted recently. HMOs on the market tend to look quite tired and run down or at best the bedrooms might look a little basic.
Don't be afraid to stand out and remember your staging photographs (those used in promotions) are very important. If you spend a little bit of time and resources on doing something as simple as making your property stand will bring you great results.
This of it in this way. A small increase in the yield of an HMO property will add up significantly over time. So, if your property has been freshly painted and there colour scheme running through the house, if there are shelves and pictures put up, then you can charge more for the rental of each room compared to other comparable properties on the market. It might not be much but an extra £5 or £10 per week will really add up in the long run.
As an example, these are some of the staging photographs of an HMO where we worked with a client on their refurbishment project. Notice how different these are to the standard, drab, promotional photographs that you find with houses of multiple occupation.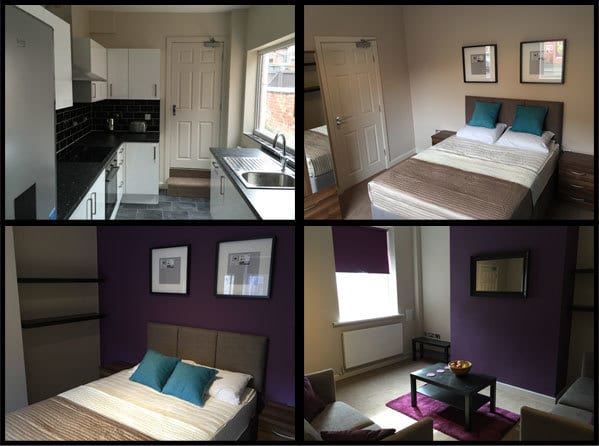 So the returns you can generate from some simple interior design are great, it's well worth considering. If you don't want to go down the route of building a double story extension, or down the route of a garage conversion then something as simple as one or two interior design tweaks is really going to improve your bottom line.
This, of course, will be budget dependent. Your access to money is going to dictate what you are going to be able to do. If you have only £1,000 then this will control what you can do. If you have a couple of thousand pounds to play with then it will be well worth it.
Putting it All Together
Hopefully, that gives you a bit of insight into the four key ways that you can really start to ramp up your returns on your HMO. The biggest difference you can make is to think creatively about the space you have got and add to that space where possible. If this is too much, however, then a few simple changes to interior design, can and will make a big difference.
Join Our FREE Property Training
Thank you for watching this video. If you liked this content then why not join our free online property training course?
In there we cover a range of different property strategies to help you get started on building a long-term property portfolio or creating a cash-flowing property business.
We also look at ways to increase your return on investment with any of the properties you may be considering and we also have a couple of cheat sheets and downloadable documents.