Advanced Property
Insights...
Unlock Postcode Data For Any Property On Rightmove, Zoopla and On The Market
Install the Chrome toolbar and...
Shortlist your potential properties quicker than ever with property data insights that appear automatically on screen.
Save yourself hours of work, cut out complicated spreadsheets and help your your due diligence on potential buy-to-lets.
Leverage the latest data to help you buy your next property with confidence.
Discover yields, 5 year house-price growth and check buyer demand when using Rightmove, Zoopla and On The Market.
See the postcode district data on...
The average rental yield.
The average number of days it takes to sell in an area.
Average 5yr capital growth for house-values in the area.
The stock turnover per month in the area (market activity).
Video Walkthrough with Rob Jones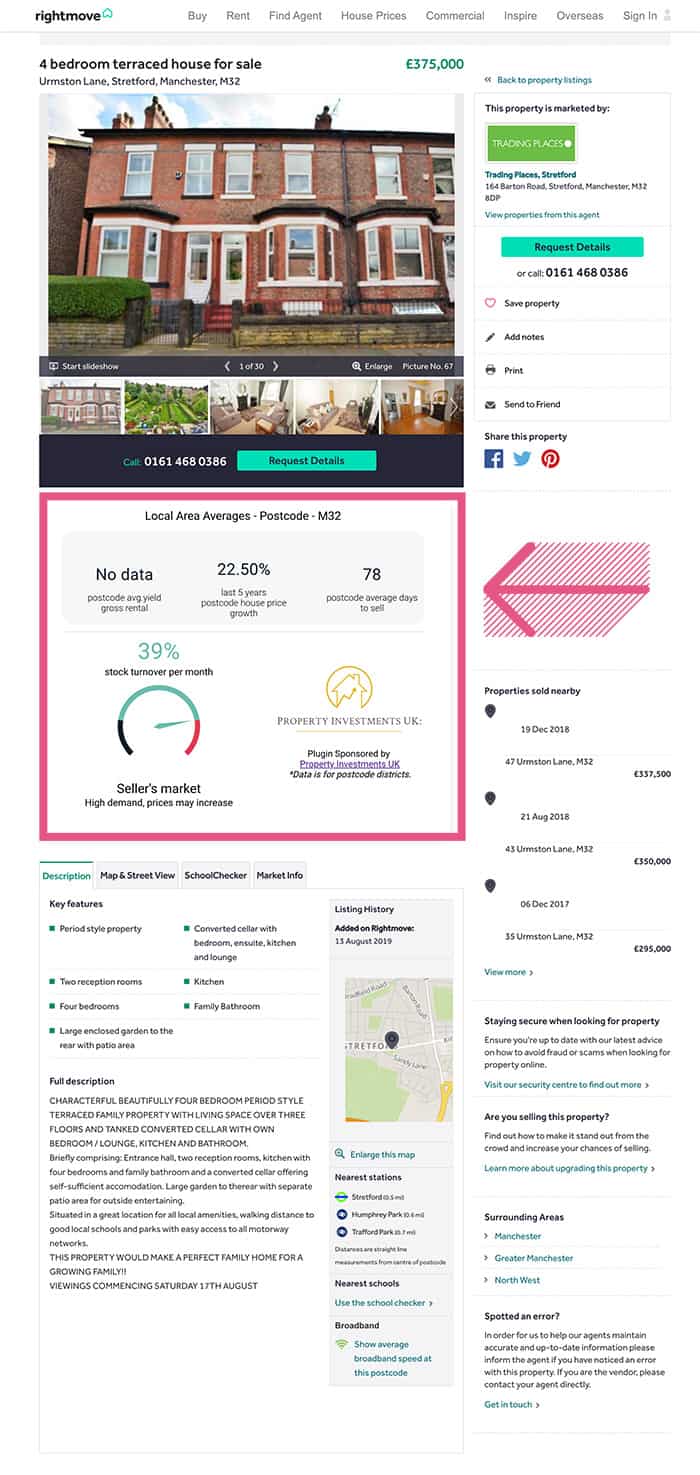 Why we needed this toolbar
A major problem for investors searching for property on Rightmove, Zoopla and OnTheMarket is that the property portals do not give you enough information to properly evaluate a potential investment or potential buy to let property.
You can't see the average yield for an area, you can't see what the capital growth has been like and you have no quick way of telling whether the market is speeding up or slowing down.
Working out the state of a market is a must when you are investing in property and this is why we needed this toolbar. Because, just like you, we have found ourselves spending far too much time researching yield, growth and market buoyancy - time that would have been better spent focussing on the growth of our property business.
How it works
When you visit a listing on your property portal of choice the toolbar looks at the postcode to show you additional location based data.
From there it connects to a trusted data source who compile data from a huge number of sources including the Land Registry, the ONS, the Ministry of Housing and Local Government, the various property portals, major banks and more - to bring you the data you need as an investor.
How to install the toolbar
It's as easy as 1-2-3.
Just click on the link, you can opt to leave us an email address or not, follow on and you will be taken to the Chrome Store.
There, all you have to do is click install and it's done.
Then head over to one of the property portals and view a property to see it in action.
And if you like this free tool then please leave us a rating or review.
Please note this only works with the Chrome browser, though we are looking to launch it for other browsers soon.
1
Why Is The Toolbar Free?

As Todd Stocker says, helping others is the secret sauce to a happy life. Our philosophy is that a successful business can only be built when you are willing to give freely.
2
How Do I Uninstall It?

If you don't like our toolbar for any reason then you can uninstall it easily. Just click the toolbar icon and select, delete from Chrome. We'd love to hear your feedback though.
3
How Will This Toolbar Help Me?

This toolbar is designed to save you time when you are shortlisting property. When you have the data, most relevant to you, at your fingertips you will be able to make more informed choices about how to order your options, meaning you waste less effort.
4
Can I Leave a Review?

If you like our toolbar then please, please, please leave us a review or a rating on the Chrome Store. This helps us immeasurably. But if you have problems, get in touch and give us a chance to make things right for you.