Choosing the best buy to let areas to invest in can seem like a minefield, but it doesn't need to be.
All of the main players in the property market give statistics and reports (all provided free of charge for an added bonus 🙂 ) showing which areas are outperforming which, in any given month across the whole of the UK.
This level of data is outstanding for the geeks of us out there that like to see facts and figures, but it can be a bit overwhelming if you don't know where to look.
So I've brought all of these reports into one place for you…. great hey!
So now you can research any area you are considering buying in… quickly
Why are Property Indexes and Reports Important?
Firstly I would say as a rule of thumb, don't 'only' rely on these industry index's and reports, because there are lots of other factors that go into making your buy to let investments successful.
Area is certainly one of them, but so is the tenant profile and rental yield to name just a few.
Here are 7 property rules that I personally follow, when choosing my property investments to give you an idea.
However industry reports from the likes of the land registry and rightmove are certainly helpful as an overview to get an idea on the overall market sentiment, confidence and activity in your local area at this exact moment in time.
Best Buy to Let Area Indices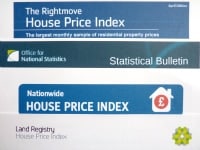 One important thing to note is what data these indices use for their reports.
They range from sold prices, mortgages issued, and surveyor confidence or some just use the prices of properties that are currently on the market.
This means that it can be hard to draw comparisons between the different reports, as they all use different data
So it can be best to first consider what data you are looking for…. and then pick the report that best matches your criteria.

List of Property Reports & Indices For 'House Prices'
Here is the list of the main property industry reports, which reflect current house values, in no particular order:
>   Halifax House Price Index & Nationwide House Price Index
These give property values using data from the mortgages they approve… but they don't take in to account cash sales and they only consider their own mortgages so the data is a little restricted, although its a good guide
>   Land registry House Price Index
This is arguably the most meaningful because it gets its data from actual sold prices, and includes all lenders, cash sales, auction sales and repossessions.
The downside is because of the length of the sales cycle and when they update the data, the figures are usually a couple of months old by the time the report is released, but it's still great info
>   Office for National Statistics
This gets its data from the value of mortgage completions and includes a couple of different sources, unlike just the Nationwide or Halifax reports which can only use their own data
This lists property values based on what houses are on the market for right now and their asking prices, but unfortunately, it doesn't reflect what buyers actually pay, as it's only looking at asking prices.
List of Property Reports & Indices For 'Rental Prices'
As well as house values, there are also industry reports that reflect rental prices too. Here is a list of reports which help show the best buy to let areas based on market rents
>   Countrywide Monthly Lettings Index
This is a nationwide lettings agent and using figures from their branches to compile data on average rental yields, rent increases and rent arrears based on region
>   Homelet
They provide information based on 'agreed rental prices' rather than advertised rents, which is taken from data shown on different property portals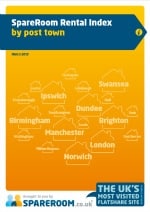 This is a great tool which gives a regular report on the state of Room rental prices based on towns.
This is mainly to be used for landlords looking to get an idea on prices they can achieve for their properties if they rented by the room.
Extra Bonus
As a bonus for reading this far (as I know all this talk about reports, graphs and statistics can get a little boring 🙂 )
I'd like to give you an extra tip, on how to find the very best buy to let areas.
There's a tool that I use regularly called a property heatmap…
Zoopla provide one on their site, but I prefer the one provided by Mouseprice.com
This lets you search areas based on house prices and shows in a very simple, visual way, which are the lower and higher values parts of a town.
This is great when trying to select your area because it helps you narrow down your region based on the house prices, and you can then choose the best location for your price range and target rental yields.
It would be great to hear your thoughts, so let me know – Which is your preferred property report or index and why?
… in the comments at the bottom of the page