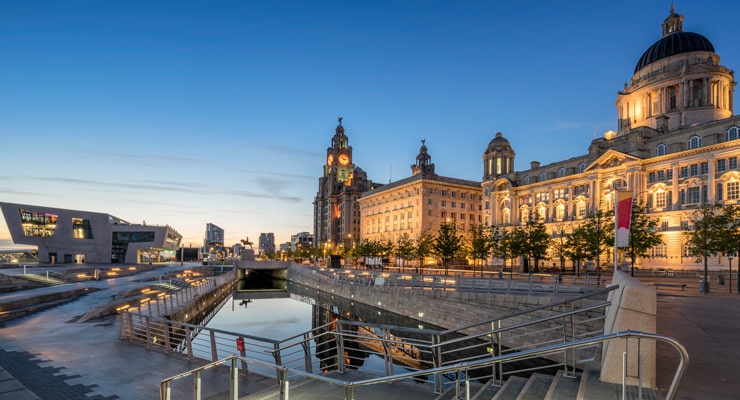 About Liverpool
Both a city and metropolitan borough, Liverpool is the ninth-largest English district and the seventh most visited city in the UK, with tourism making up a significant portion of the local economy.
Which should come as no surprise. Liverpool is a world-famous, cultural hub notable for its history, architecture, music scene and sport. Countless famous actors, comedians, journalists, poets, authors, musicians, sportspeople and celebrities find their origin in the city and of course, The Beatles - the most influential band in history, come from here.
But more than that, there is something entirely unique about the city, something hard to pin down, which could be connected to Liverpool being an international port-city with significant Scandinavian and Irish connections or it might be something simpler and found in the friendliness, humour and politically collective attitudes of the Scousers who live there.
The Time it Takes to Sell a Property in Liverpool
Time to sell figures represent the 90-day period prior to the 26th of March 2020 and are provided by Home.co.uk.
Average Time to Sell
| | Mean | Median |
| --- | --- | --- |
| Selling Time in Liverpool | 116 Days | 57 Days |
Means and Medians
A mean is calculated by adding up all the values and dividing that score by the number of values. It's what we most commonly think of when we think of an average.
A median is a number found in the exact middle of a set of values.
Both numbers are useful but a mean-average can be heavily influenced by outliers (extreme numbers in the data set) whereas a median-average flattens these outliers out which, in many cases, can help to paint a more real-world picture.
Selling Times in Liverpool by Number of Bedrooms
| | Mean | Median |
| --- | --- | --- |
| One Bedroom | 196 Days | 112 Days |
| Two Bedrooms | 130 Days | 67 Days |
| Three Bedrooms | 93 Days | 45 Days |
| Four Bedrooms | 120 Days | 64 Days |
| Five Bedrooms | 194 Days | 148 Days |
Why Not Use An Estate Agent?
With the average length of time, it generally takes to sell a property - whether a house or a flat - through an agent standing at 129 days nationally and 116 days in Liverpool, it is easy to see why people are increasingly turning away from agents and towards other means, such as a cash buying service, cash buyers or a quick sell service, to sell their property or house.
An agent will tend to be limited by their business model. Not only do they have to search for property to sell but they need to search out someone willing to make an offer on the house and buy. And when an agent is selling properties on the open market they have to help the two parties agree on a price, stay in contact with everyone involved and ultimately close the deal.
It's a lengthy process and buyers and sellers alike, often drop out. And while personal contact and the fact that they are often located close to you might make an agent feel reassuring (yes they understand your area) because they have to find homeowners to buy their properties they are not efficient at all, in terms of time. And they are far from free for the seller; the effort it takes them to sell a house is reflected in their price and fees.
The truth is, it costs a lot of cash to sell a house through an agent. The fees are always high.
The quick sell company we work with is different, having both the marketing lists to contact buyers to help them sell your house, quickly, via an online auction (with a guide price) and the means to buy your house in Liverpool from their own reserves in cash, with no fees attached.
House Prices in Liverpool
Numbers taken from Zoopla and are for the 12 months prior to 26.03.20.
Average Price Paid
£175,151
Number of Sales
5,591
Current Average Value
£182,517
Value Change
£11,798

+6.91%
House Prices Report - December 2018 to December 2019
From Home.co.uk
Dec 2018
Dec 2019
Detached
£292,855
£307,788

+5%

Semi
£175,394
£187,585

+7%

Terraced
£114,560
£115,296

+1%

Flat
£123,199
£119,640

-3%
The Best Possible Price
If you want to get the best possible offer on your house or properties then to search out, find and contact a good agent who knows your area and road, deals with the kind of property you trying to sell and can find the right buyer at the right price is still a good bet.
But the service isn't free for a seller and the price is still what people are willing to pay for homes.
Our partner will take any property (flats and houses) in any condition and search their own database for potentially interested buyers to search out a risk-free sale for your house, with much lower fees, at a price that suits.
Get in touch now for a free cash offer on your house.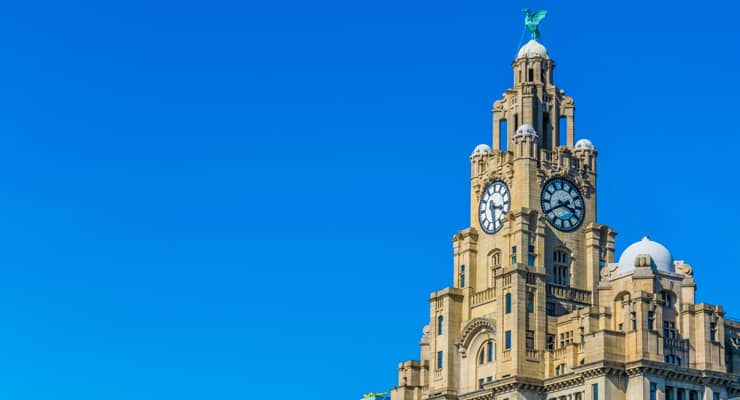 Selling a House Fast in Liverpool
There are many reasons why people may seek to sell their property and many reasons why selling quickly to a cash buyer might be preferable to the more traditional option of selling through an estate agent.
Most obviously there is the speed-of-sale. With properties in Liverpool taking, on average, 116 days to sell, being able to have the money in the bank in just 7 days could be an attractive option for those who have inherited a property, those who own an empty property that is costing them money, those who need to move quickly because of work commitments or those in financial difficulty with their own home.
But speed isn't everything.
Some properties simply can not be sold through conventional means to homeowners and investors requiring a mortgage. So, if your house is of non-standard construction, has sitting tenants, is in a state of disrepair, has a short lease or is the victim of invasive plants like Japanese Knotweed, you may have little choice but to sell it off-market to a cash buyer.
And selling to a cash buyer does not necessarily mean you won't get a good price. You can still get full market value for a house sold in this way. So, increasingly, homeowners, landlords and investors are turning to this method of selling, simply because it is more straightforward and convenient than dealing with estate agents and timewasters.
Read on for an explanation on how it works and what our partner offers for a quick house sale.
What's On Offer?
Our partner has 3 packages available. They will buy any property in any condition, in 28 days for 100% market value, in 28 days for a fixed-price offer or in 7 days for 80% market value.
For the 28-day fixed-price offer the seller could be entitled to an immediate cash-advance of up to 89% of the value of the property.
You can find out more information on what's on offer here, or if you'd prefer to speak to someone simply fill on the form at the top of this page.
Our partner offers consumers multiple ways to sell their house fast. Sellers who choose a 7 Day Cash Sale or a 28 Day Fixed Price Option are protected by their membership of the National Association of Property Buyers (both by the commitment to high professional standards membership demands and the requirement that they are registered with the TPO to ensure consumers have access to a redress scheme).
Sellers who choose to sell for 100% Market Value in 28 days are protected by The Estate Agents Act and our partner's membership of the TPO.

Areas In And Near Liverpool Where We Can Help You Sell Your House Fast.
We can help you sell any house or flat, in any condition around Liverpool and Merseyside, fast! These include but are not limited to:
Aigburth
Ainsdale
Aintree
Allerton
Anfield
Barnston
Bebington
Beechwood
Belle Vale
Bidston
Billinge
Birkdale
Birkenhead
Blowick
Blundellsands
Bold
Bootle
Bowring Park
Brighton le Sands
Brimstage
Broadgreen
Bromborough
Bromborough Pool
Caldy
Canning
Childwall
Churchtown
Claughton
Clock Face
Clubmoor
Crank
Cressington
Crosby
Crossens
Croxteth
Croxteth Park Estate
Dentons Green
Dingle
Dovecot
Earlestown
Eastham
Eccleston
Eccleston Lane Ends
Eccleston Park
Edge Hill
Egremont
Everton
Fairfield
Fazakerley
Ford
Ford Estate
Formby
Frankby
Freshfield
Garston
Gateacre
Gayton
Gillmoss
Golborne Dale
Grange
Grange Park
Grassendale
Greasby
Great Altcar
Great Meols
Halewood
Halsnead Park
Haydock
Heswall
Higher Bebington
Higher Tranmere
Hightown
Hillside
Hoylake
Hunts Cross
Huyton
Ince Blundell
Irby
Kensington
Kings Moss
Kirkby
Kirkdale
Knotty Ash
Knowsley Village
Knowsley Park
Landican
Larton
Leasowe
Liscard
Litherland
Little Altcar
Little Crosby
Liverpool
Lunt
Lydiate
Maghull
Marshside
Melling
Meols
Moreton
Mossley Hill
Netherley
Netherton
New Brighton
New Ferry
Newton
Willows
Noctorum
Norris Green
Old Roan
Old Swan
Orrell Park
Oxton
Page Moss
Parr
Pensby
Port Sunlight
Poulton
Prenton
Prescot
Raby
Raby Mere
Rainford
Rainhill
Roby
Rock Ferry
Tarbock
Thatto Heath
Thingwall
Thornton
Thornton Hough
Thurstaston
Toxteth
Tranmere
Tuebrook
Upton
Vauxhall
Waddicar
Wallasey
Wallasey Village
Walton
Waterloo
Wavertree
West Derby
West Kirby
Whiston
Windle
Wolverham
Woodchurch
Woodvale
Woolton
Frequently Asked Questions
How Long does it Take to Sell a Property in Liverpool?
As of March 2020 it takes an average of 129 days to sell a residential property, nationally and 116 days to sell, in Liverpool. However we can help you sell your house in 7 or 28 days, depending on the package you would prefer.
Where can I Learn More about this Service?
You can get in touch with a consultant by filling in the form on this page, who will talk you through the process and let you know what's on offer but if you would like a complete overview of the service you can learn more by visiting this page, here.
Can I Get a Cash Advance?
Yes! Under some circumstances you may qualify for an immediate cash advance of up to 89% of the value of your property which will be immediately payable once an arrangement has been reached.