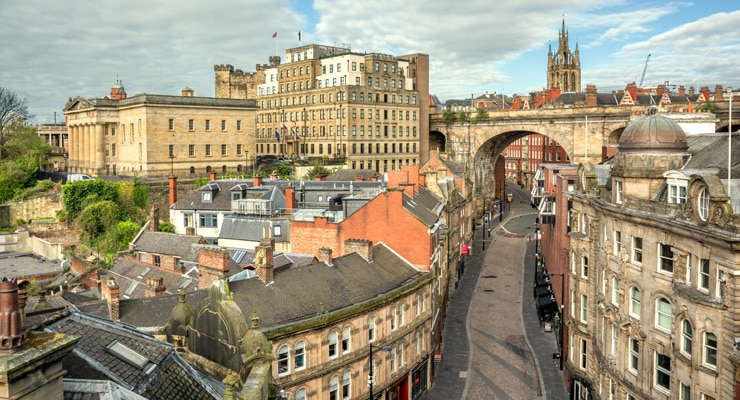 About Newcastle
Newcastle, in Tyne and Wear in North East England is the eighth-most populous urban area in the UK and a member of the UK Core Cities Group and the Eurocities network.
The honour of being given the title of friendliest city in the UK is well deserved but so was its reputation for deprivation, with the demise of the shipyards, during the '70s and '80s.
And yet that's been changing for a long-time now. The regeneration of Newcastle has been impressive and now the city can boast of being a centre of excellence for corporate headquarters, learning, digital technology, retail, tourism and cultural centres, contributing more than £13 billion towards the UK's GVA.
The Time it Takes to Sell a Property in Newcastle
Time to sell figures represent the 90-day period prior to the 21th of April 2020 and are provided by Home.co.uk.
Average Time to Sell
| | Mean | Median |
| --- | --- | --- |
| Selling Time in Newcastle upon Tyne | 127 Days | 51 Days |
Means and Medians
A mean is calculated by adding up all the values and dividing that score by the number of values. It's what we most commonly think of when we think of an average.
A median is a number found in the exact middle of a set of values.
Both numbers are useful but a mean-average can be heavily influenced by outliers (extreme numbers in the data set) whereas a median-average flattens these outliers out which, in many cases, can help to paint a more real-world picture.
Selling Times in Newcastle by Number of Bedrooms
| | Mean | Median |
| --- | --- | --- |
| One Bedroom | 207 Days | 97 Days |
| Two Bedrooms | 145 Days | 53 Days |
| Three Bedrooms | 108 Days | 46 Days |
| Four Bedrooms | 113 Days | 47 Days |
| Five Bedrooms | 132 Days | 88 Days |
Why Not Use An Estate Agent?
With the average length of time, it generally takes to sell (and buy) properties - whether homes, houses or flats through an agent - standing at 129 days nationally and 127 days in Newcastle, it is easy to see why people are increasingly turning away from agents and towards other means.
An agent will tend to be limited by their business model. Not only do they have to search for homes, houses and flats to sell but they need to search out buyers. And when an agent is selling properties on the open market they have to help the two parties agree on a price, stay in contact with everyone involved and ultimately close the deal.
It's a lengthy process and buyers and sellers alike, often drop out. And while personal contact and the fact that they are close to you might make an agent feel reassuring (yes they understand your area, your road, even) because they have to generally find homeowners to buy their properties they are not efficient at all, in terms of time, and being far from free their price reflects this.
The agent we work with is different, having both the marketing lists to contact buyers and sell properties, houses and flats quickly via an online auction and private lists (with a guide price) but also the means to buy homes and houses in Sheffield (on your road) from their own reserves.
House Prices in Newcastle
Numbers taken from Zoopla and are for the 12 months prior to 21.04.20.
Average Price Paid
£207,641
Number of Sales
3,330
Current Average Value
£216,567
Value Change
£6,455

+3.07%
House Prices Report - December 2018 to December 2019
From Home.co.uk
Dec 2018
Dec 2019
Detached
£287,351
£307,624

+7%

Semi
£170,652
£177,768

+4%

Terraced
£156,952
£146,423

-7%

Flat
£121,541
£109,569

-10%
The Best Possible Price
If you want to get the best possible price for your property or properties then to search out, find and contact a good agent who knows your area and road, deals with the kind of property you trying to sell and can find the right buyer at the right price is still a good bet.
But the service isn't free for a seller and the price is still what people are willing to pay for homes.
Our partner will take any property (flats and houses) in any condition and search their own database for potentially interested buyers to search out a risk-free sale at a price that suits.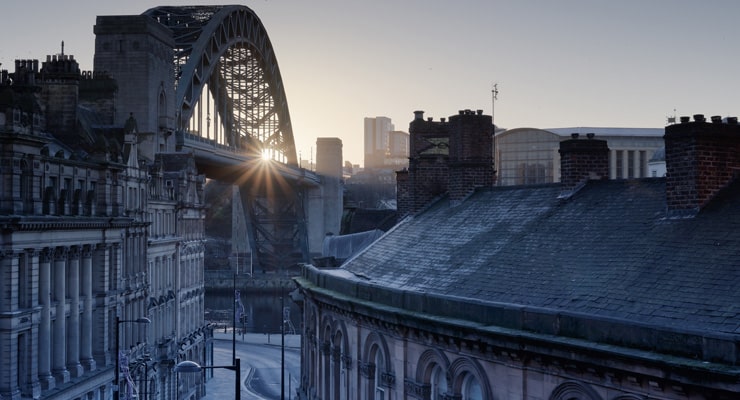 Selling a House Fast in Newcastle
There are many reasons why people may seek to sell their property and many reasons why selling quickly to a cash buyer might be preferable to the more traditional option of selling through an estate agent.
Most obviously there is the speed-of-sale. With properties in Newcastle taking, on average, 127 days to sell, being able to have the money in the bank in just 7 days could be an attractive option for those who have inherited a property, those who own an empty property that is costing them money, those who need to move quickly because of work commitments or those in financial difficulty with their own home.
But speed isn't everything.
Some properties simply can not be sold through conventional means to homeowners and investors requiring a mortgage. So, if your house is of non-standard construction, has sitting tenants, is in a state of disrepair, has a short lease or is the victim of invasive plants like Japanese Knotweed, you may have little choice but to search for an off-market to a cash buyer.
And selling homes to a cash buyer does not necessarily mean you won't get a good price. You can still get full market value for a house sold in this way. So, increasingly, homeowners, landlords and investors are turning to this method of selling, simply because it is more straightforward and convenient than dealing with estate agents and timewasters.
Read on for an explanation on how it works and what our partner offers for a quick house sale and get in contact if you need to a free consultation to discuss your circumstances and your property.
What's On Offer
Our partner has 3 packages available. They will buy any property in any condition, in 28 days for 100% market value, in 28 days for a fixed-price offer or in 7 days for 80% market value.
For the 28-day fixed-price offer the seller could be entitled to an immediate cash-advance of up to 89% of the value of the property.
You can find out more information on what's on offer here, or if you'd prefer to speak to someone simply fill on the form at the top of this page.
Our partner offers consumers multiple ways to sell their house fast. Sellers who choose a 7 Day Cash Sale or a 28 Day Fixed Price Option are protected by their membership of the National Association of Property Buyers (both by the commitment to high professional standards membership demands and the requirement that they are registered with the TPO to ensure consumers have access to a redress scheme).
Sellers who choose to sell for 100% Market Value in 28 days are protected by The Estate Agents Act and our partner's membership of the TPO.

Areas In Newcastle Where We Can Help You Sell Your House Fast.
We can help you sell any house or flat, in any condition around Newcastle upon Tyne, fast! These include but are not limited to:
Albany
Annitsford
Ashbrooke
Ayton
Abbey Farm
Abbey Grange
Arthurs Hill
Backworth
Barlow
Barmoor
Barnes
Battlefield
Benton Square
Benwell
Bill Quay
Birtley
Blackfell
Black Callerton
Blackhall Mill
Blakelaw
Blaydon
Blucher
Boldon
Boldon Colliery
Branding Village
Brenkley
Brunswick Village
Brunton Bridge
Brunton Park
Burradon
Byder
Black Callerton
Bells Close
Callerton Lane End
Camperdown
Carr Hill
Castletown
Chapel House
Chapel Grange
Chapel Park
Chartershaugh
Chopwell
Clara Vale
Claxheugh
Cleadon
Coalburns
Colliery Row
Columbia
Concord
Cowgate
Cox Green
Coxlodge
Crawcrook
Crookhill
Cullercoats
Cragston Park
Cradlewell
Cochrane Park
Church Green
Deckham
Deptford
Dinnington
Donwell
Doxford Park
Dudley
Dunston
Denton Burn
Darras Hall
Dissington
Denton Park
Earsdon
East Denton
East Holywell
East Rainton
Elswick
Etal Park
Farringdon
Fatfield
Fawdon
Felling
Fence Houses
Fenham
Ford Estate
Forest Hall
Fulwell
Fairways
Four Lane Ends
Gateshead
Glebe
Gosforth
Grangetown
Greenside
Grindon
Greystone Park
Halls Estate
Harraton
Harton
Hastings Hill
Haydon Grange
Hazlerigg
Heaton
Hebburn
Hendon
Herrington
Hetton-le-Hole
Highfield
High Callerton
High Heaton
High Newport
High Spen
Holystone Interchange
Heddon-on-the-Wall
Hillsheads
Holywell
Houghton-le-Spring
Jarrow
Jesmond
Kenton
Kibblesworth
Killingworth
Kingston Park
Kenton Bank Foot
Kenton Bar
Lambton
Lamesley
Leadgate
Lemington
Lintzford
Longbenton
Low Fell
Little Benton
Marley Hill
Marden
Marsden
Melton Park
Millfield
Monkseaton
Monkton
Monkwearmouth
Moorside
Murton Village
Montagu Estate
Manor Park
Newbottle
Newburn
Newcastle
New Herrington
New Horton Grange
New Silksworth
New York
Nookside
North Brunton
North Shields
North Walbottle
Newcastle Great Park
North Kenton
Nuns Moor
Old Hartley
Oxclose
Old Benwell
Pallion
Paradise
Pelaw
Pennywell
Penshaw
Preston
Palmersville
Philadelphia
Prestwick Village
Parklands
Ponteland
Redhouse
Rickleton
Roker
Rowlands Gill
Ryhope
Ryton
Regent Farm
Red House Farm
Scotswood
Seaburn
Seaton Sluice
Seghill
Sheriff Hill
Shieldfield
Shiney Row
Shiremoor
Silksworth
South Denton
South Hylton
South Shields
Southwick
Spital Tongues
Springwell Village
Springwell
Street Gate
Sulgrave
Sunderland
Sunniside
Swalwell
St John's
Slatyford
South Gosforth
South West Denton
Sandyford
Saltmeadows
St Anthony's
Team Colliery
Team Valley
Thorney Close
Throckley
Tynemouth
Tunstall
Tudor Grange
Teams
Urpeth
Usworth
Walker
Walbottle
Wallsend
Washington
Westerhope
Westoe
West Holywell
West Moor
Whickham
Whitburn
Whitley Bay
Wideopen
Willington
Windy Nook
Winlaton Mill
Wrekenton
Whitebridge Park
West Denton
Whorlton
West Jesmond
Walkerville
Walkergate
West Denton Park
West Denton Hall
Frequently Asked Questions
Can I get a cash advance?
Yes, in many circumstances we can help you secure an immediate cash-advance on completion of an agreement of sale. You could have the money in your bank in days.
How long does it take to sell a house in Newcastle upon Tyne?
The average length of time it takes to sell a house in Newcastle (as of April 2020) is 127 days. That's 207 days for a one-bedroom, 145 days for two bedrooms, 108 days for three bedroom and 113 days for four bedrooms.
What kinds of property do you deal with?
We work with all types of residential property, in any condition. If the property is in disrepair, suffers damp or invasive weeds, if it is unmortgageable or has sitting tenants, these things are no barrier to sale.
We are still in a position to help you sell your property without viewings, even as estate agents and property auctions remain closed.