The Future of Property Investment: An Interview with Marshall King from Property Partner
In the following videos, Rob talks to Marshall King (Property Partner's CEO) about property crowdfunding, plans for Property Partner, the role of prop-tech and the future of property investment.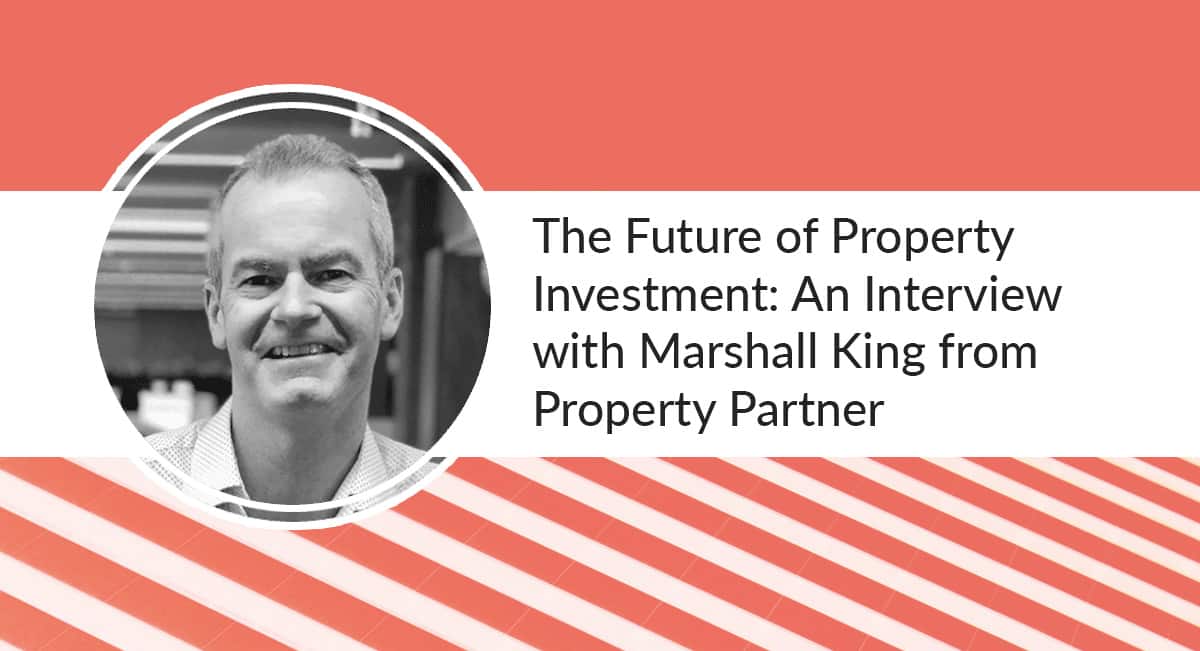 Introducing Marshall King, CEO, Property Partner
With over 20 years of experience in property, technology and financial services, Marshall King is the CEO of the premier UK property crowdfunding platform, Property Partner.
Marshall took over as CEO of Property Partner in 2018 and is now taking it forward, as a leading player in the property crowdfunding industry. His background comprises a healthy mixture of financial services, technology and property, covering all the bases for an online investment platform.
Property is an ever-changing, fascinating and multi-faceted industry which, as serious investors know, is an essential part of how we create and manage wealth.
And yet, with a high barrier-to-entry, for many, it remains an inaccessible asset class.
The question is, therefore, how to open the market up to give access to less-wealthy investors in a way that both secures their investment and limits their risk, through a system that allows for a diversified portfolio.
Fintech and Proptech - The Future of Property Investment
Fintech and proptech are terms that are common in the worlds of finance and property but with companies like Property Partner, we find these concepts drawn together. So, what does the future look for property investors like when finance, property and technology become fused?
Proptech should generally be understood as a technology that allows for different ways to access the property market or transactions undertaken in that market. But that doesn't just mean an easier way of buying property; also including investment in debt-based products or in a share of the equity, from a property or collection of properties.
And it's in that latter area, where Property Partner has forged a leadership position; as a proptech company, offering investors a chance to invest, in a way that gives them a share of property equity.
This means that investors can buy 'shares' in a property or a group of properties and receive a return on that investment, without having to find and manage properties themselves and of course, without having to stump up the money to buy a property, outright.
In other words and because of technology, it is proptech and fintech help to democratise the property investment industry, allowing people to invest in a very low hassle way, whether with a few hundred pounds, a few hundred thousand pounds or more.
How has Property Crowdfunding Changed over the Last 5 Years?
Property crowdfunding has created a new marketplace that has taken off and evolved quickly. Not only have legislation and regulation changed over the last few years but the types of properties and investment opportunities, being offered up by crowdfunding platforms, have changed as well.
Crowdfunding, as a model, has changed a lot over the last few years. Starting out in the charity sector, financial services and property businesses have long understood the benefits to bringing people together, with investment vehicles but their methods have only recently started to mature, in such a way as to uncork that potential.
A large part of this lies with regulation, which is becoming increasingly strict - as is necessary for consumers to be confident in the process and as such Property Partner is both regulated by - and works closely with - the FCA.
Bigger companies in spaces dealing with property equity and property-backed debt are now becoming quite substantial, in their size and are seeing, not only early adopters but mainstream investors, coming into the market.
But there is a long way to go. While property crowdfunding is now seeing transactions amounting to 100s of millions, it is not yet in the billions, as is buy-to-let, for instance.
The big development has been the creation of secondary markets because for the first time, property investment is no longer long-term and illiquid, as property shares can be bought and then traded.
And it is this proposition that lends credence to the idea that this kind of market organisation has the potential to become the de-facto way to invest in property.
Property Crowdfunding and the Recent Changes to Tax on Buy-to-Let
There have been significant changes to taxation for buy-to-let leading many to consider investing in property through a limited company.
But the question is, here, whether or not these changes are going to have much of an impact on those investors who invest in property shares on crowdfunding platforms?
It would appear that the government, in recent years, has changed tax laws to disincentivise individuals, who would like to invest in buy-to-let.
Up until recently, it was possible to off-set mortgage interest against a rental income. This is no longer.
(NB - As of 2020 this has now been fully rolled out - Please consult with a financial expert for more information)
Property Partner buys all of its properties through companies meaning that each individual property or a group of properties will be be company in its own right; able to access mortgage finance and off-set that against corporation tax.
While buy-to-let landlords are using these incorporated structures for their own portfolios, this set-up isn't for everyone.
But when you invest, through a crowdfunding platform, you are free from these worries. The changes to mortgage relief, do not affect investors who choose this route. And more so, investors through Property Partner, do not need to worry about maintenance costs, management costs and void period as these are factored in before the ROI is calculated by the the platform's managers.
Finishing off the conversation, Rob and Marshall explore the motives behind and the implications of the government's move to make traditional property investing less profitable.
What will Buying a Property Look Like in 10 Years Time?
The only thing certain, is change. From one perspective the property industry is shifting very quickly and yet, from another, it can appear glacial in its speed-of-response to market requirements and to technology.
And yet we can rest-assured that in ten years buying a property will look very different and that routes-to-investment will likely be more diverse.
When you look at advances over the last ten years, trying to predict the next ten, should seem like a futile exercise. Smartphones, even, were in their infancy back then so what the future holds, we can say, is nothing more than mist.
Yet there are a few candles we can hold to the darkness.
One area, however, where we can be fairly sure of positive change, is in conveyancing. Whether it's blockchain technology usurping many of the practical functions of the Land Registry or simply a speeding up of the process through modernisation, transacting property is likely to become quicker with more trust built into the system.
And it is likely that crowdfunding on primary and secondary markets will also have a role to play. There is a logic to the process which is hard to argue with, which, when combined with a potential for adding to a democratisation of the market, makes it feel inevitable.
Yet, of course, only time will tell.
With many thanks to Marshall King