What is Property Crowdfunding? A Guide for Property Investors
Crowdfunding is the practice of funding an investment, project, business or product by raising money - usually online - from a large number of people. Typically, with crowdfunding, each investor will only contribute a small percentage of the overall total.
Crowdfunding and Property
Crowdfunding property is no different, in principle, from other types of crowdfunding. Pre-negotiated ready-to-go investment properties or projects that come on the market are advertised on crowdfunding platforms, and investors are invited to contribute and invest.
Often there is a minimum investment amount but that can be a very low number (sometimes as little as ten pounds).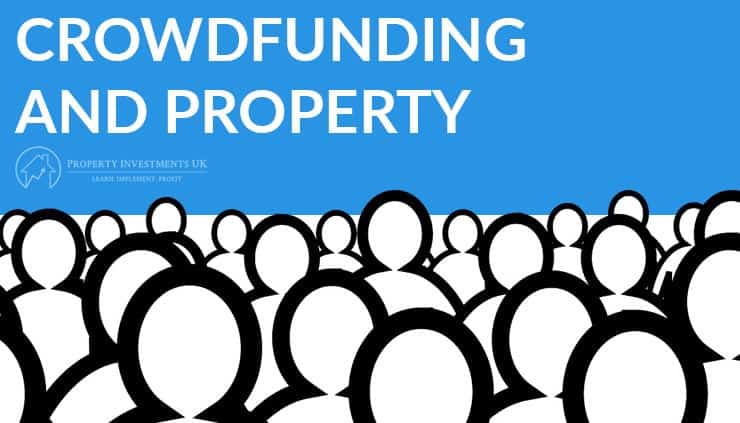 Is This An Established Way of Investing?
Crowdfunding is relatively new as a way to invest in businesses, products or property and has been made possible with the creation of safe, online banking and platforms to list opportunities. Specifically, crowdfunding for property investment has been more and more popular since around 2012.
But, even though this industry is still young, it has quickly become a very popular investment method. Over the last couple of years, we have seen a large number of companies set up their own crowdfunding platforms and an explosion of opportunities for small-ticket investors.
For a number of reasons, primarily for the end investor as it offers the opportunity to easily diversify across multiple properties whilst investing small amounts and without having to be actively involved in sourcing, negotiating or managing refurbishments or tenants. Over the last couple of years, we have seen a large number of companies set up their own crowdfunding platforms and an explosion of opportunities for small-ticket investors.
Over the last couple of years, we have seen a large number of companies set up their own crowdfunding platforms and an explosion of opportunities for all sizes of investors.
Can I Trust The Crowdfunding Companies?
Property crowdfunding, though new, is a very regulated industry. All types of investment carry a degree of risk but, as an investor, you can be confident that any legitimate company that offers crowdfunding opportunities will conduct themselves according to a strict code of conduct laid out by the FCA and each company has to do their detailed due diligence on each property opportunity they bring to market.
A Flexible Investment
Traditionally, if you wanted to invest in property, you would have to buy a property in full, finding the funds for a complete purchase or at least a deposit if purchasing with a mortgage, in addition to buying costs, stamp duty, financing costs, sourcing fees and project management fees for refurbishments.
Crowdfunding allows you to invest very small amounts, whilst having the above processes taken care of, and allows you to invest in a flexible way with small amounts across different properties if you so wish instead of all your investment in one property.
So, for instance, if you have £1,000 to invest, you could invest in a few different projects, and therefore diversify your portfolio. Also, if later down the line you find yourself with more capital to spare, you can increase that initial investment accordingly.
How Exactly Does It Work?
You initially select the property project of your choice, then you have the ability to invest in the company that has been set up to own the property as a shareholder.
Once you (and other crowd investors) have contributed their capital and the company has enough funds to buy the property in question, then the property purchase is completed.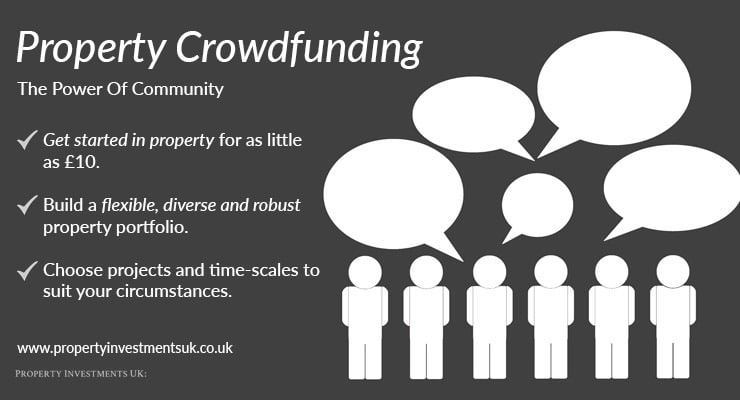 You, as an investor, then become a shareholder for that property and receive your due share of rental return and capital growth.
This allows you to get involved with, and see the benefit of, investing in property, without feeling like you've got to know everything about how to find and negotiate good quality property deals.
Everything is brought to the table for you. Not only does crowdfunding allow you to get involved in a property without a huge expense, but it is also a very hands-off way of investing; one with a relatively low level of involvement by the investors.
The Benefits Of Property Crowdfunding
Invest as little or as much as you like - Access to investing in property is made easy, many platforms start from minimal amounts of £1,000 with some as low as just £10, giving you access to the property market and starting to benefit from rental income and growth.
Diversify your portfolio - Invest across as many projects as you wish, for as much as you want. A diversified portfolio gives you balance and creates the potential for a stronger portfolio.
Pick any project that takes your interest - Whether it's refurbishments, standard buy-to-lets, HMOs, serviced accommodation, developments or conversions. All options are available.
Pick time frames to suit you - Select your investment projects based on how long you wish to invest, many projects range from 12 months to 5 years, and you choose the project timeframe that works for you.
Invest with confidence - You do not have to be a property expert or out finding property deals every day to take part in crowdfunding. These projects are put together with extensive due diligence by experienced property professionals and are only offered on the platform when they meet exact criteria. Crowdfunding platforms are regulated by the FCA and adhere to a strict code of conduct to give you extra confidence.
It takes no time at all - There's downtime for finding deals, negotiating, managing refurbishments and juggling exit strategies. In just a few minutes you can invest in the project of your choice.
The ultimate hands-off investment - You don't need to worry about tenants, negotiations, or refurbishments. The legwork is covered for you and only ready-to-go projects are offered on the platform so you can invest in confidence.
What Opportunities Are There Out There?
Crowdfunding offers a lot of different opportunities. I said above that there has been a big increase over the last few years of companies that run crowdfunding platforms and many of them have found their own niche.
You can invest in straightforward buy-to-let, or in speculative conversion deals. You can invest in large developments of apartments or small conversions of individual semi-detached houses.
You can invest in projects for three to five years or in funding projects that will only last for six to twelve months.
The truth is, the sky is the limit in terms of your options.
Which Crowdfunding Company Do We Recommend?
At Property Investments UK, we have spent months looking at all the companies that offer crowdfunding opportunities in property.
We wanted to find a company that was the right fit for us to partner with. Of course, it was important that we found a company with great deals and great returns but we also wanted to find one that fits with our ethos, values and approach.
We are happy to say that our search has ended with us partnering with one primary crowdfunding platform,
You can learn all about this platform, the property deals they have available and the returns they deliver by clicking here.