Why BMV Property Sourcing using Leaflets is still a Great Strategy
Leaflets are still the cornerstone of any local property investment strategy but get them wrong and you'll quickly lose your shirt and get disheartened. The truth is, a lot of investors spend a fortune on getting leaflets printed and sent out but get zero results from their campaigns.
It doesn't have to be that way.
Article by Robert Jones and Suzie Bates
The Very First Property Deal I Found, I Found Using Leaflets
- Robert Jones
The very first property sourcing deal I found using a leaflet was back in 2007.
It was a fantastic deal, a small 2-bed semi-detached house in a great rental area. It wasn't on the market with any estate agents and in-fact, they only contacted me as their mother had received a leaflet and passed it on to them.
The figures were great, I purchased it at around a £30k discount to the market value and the rental income gave me a steady net profit of £250pcm.
To do this day I still have that property and have only had two tenants in 7 years!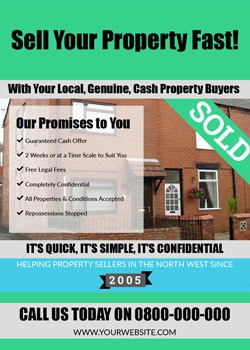 It was simply the right place at the right time and sure they might have seen a newspaper ad or gone online and found our website, but at the time I didn't have any of this setup, and even if I had, I would have been competing with lots of other companies to get their attention.
I see and speak to many investors that have spent a fortune on getting 100,000 leaflets printed up and sent out on their first go.
But they get no results and don't understand why.
It can be a pretty detailed topic.
But to give you a taster of how leaflets can work for you, and how to find positive cash flow properties, I've asked Suzie Bates from Suzie's Property Leaflets to share some of her success stories.
Sometimes it can be good to show you not only how it's working for me, but also how it's working for other investors in other parts of the country, and I can't think of anyone better to show you (how leaflets can work) than Suzie, who is using leaflets daily in her property business.
How I Got Into Using Leaflets To Find Cash-Flow Properties
- Suzie Bates
Hi, I'm Suzie Bates, a part-time property investor based in Leicester in the East Midlands, and I'd like to share my property experiences with you and give you some tips on how to find motivated property sellers and BMV (below market value) deals using leaflets.
I first became interested in property in the year 2000 when my husband and I finally managed to 'get on the property ladder' by purchasing our 3-bed council house with a fantastic discount due to being council tenants for many years.
This was my first taste of purchasing property BMV (Below Market Value) and when we sold it 4 years later in 2004 we made a staggering £70,000 profit!
I'd got the 'bug' for property investment and knew right there and then that I wanted to take it further.
So I started searching the internet and read many books to learn more about property investment and how to invest wisely.  NEVER underestimate the power of education - the more you know, the more successful you will become and the fewer mistakes you will make.
There's no such thing as 'wasting money' on education, knowledge is power and without it, you will bumble along ok for a while but then eventually get frustrated, make mistakes and give up.
I came across several, property investment courses advertised online and decided that at 45 years old it was now or never - so I enrolled, vowed to give it all I'd got and never looked back! I started the course and met many successful property investors who were already doing what I wanted to do, many who had started with little or no money.
I also made a lot of good friends, useful contacts, learnt from the best and most importantly learnt from their mistakes and became more confident in my own abilities.
In 2007 I decided I had enough knowledge to put what I'd learnt into action. TAKING ACTION is imperative, you can read all you like and take as many courses as you want to but NOTHING is going to change if you just sit there and do nothing.
In the space of 2 ½ years I sourced and purchased 3 buy-to-let properties, two 3 bed semi's and a detached 3-bed dormer bungalow, all in Leicester and all:
Below market value (min 15%, max 32%)
Needed minimum refurbishment (tidying up and decorating throughout)
Cash flowing from £260 to £330 per month
A lot has happened since then and I've successfully profited from using several different strategies that I learnt on the courses.
Why is Leafleting One of The Best Ways To Source BMV Properties from 'Motivated Sellers'
A 'motivated seller' is someone who NEEDS to sell their property not just wants to sell.
By focusing on the seller's situation and not the property, you will help more people and do more deals.
They may have a need to sell for a variety of reasons like...
Repossession
Divorce & separation
Loss of their job
Sometimes it might be the early stages and they may just be thinking about selling to solve their problems OR they may be further down the line and have actually already decided to sell.
Either way, when your leaflet comes through their door it does two things:
Reminds them that they have a problem they need to solve.
Spurs them on to take some action, ie; call you.  And, if they call you BEFORE they contact the Estate Agents you have a much better chance of negotiating a good deal!
Note from Rob:
This actually happened on one of my own leaflet campaigns. I went to see a couple who were having financial problems and had decided to sell their house and go into rented accommodation.
They'd seen an advert on the TV for one of the national house buying companies and thought it sounded a good idea, then at the same time my leaflet came through the door -  they saw it as a 'fate' and called me!
It could also be that the house has been on the market for a while but has had very little interest. Very few viewings and no offers. Maybe the property owners feel the estate agent they are with hasn't been pro-active enough.
So, when they read your leaflet they may see it as another avenue to explore to get their property sold quickly.
Some Key Benefits of Property Sourcing with Leaflets
There are a few key benefits that leaflets offer over any other form of advertising to find deals.
1) You can target a SPECIFIC AREA with leaflets - which you can't do so well with newspaper ads or a website. Sourcing locally where you know the area, means you will know if it's a good or a bad street or part of town.
(if you don't know your area take a look at this video to show you how to find the best locations in your area)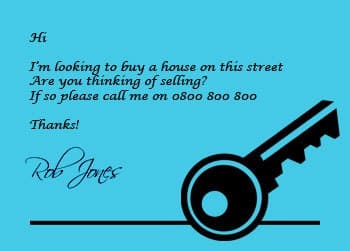 2) Leaflets are a way of getting your 'brand' known. Familiarity breeds TRUST and people tend to trust people and things that are familiar to them because it makes them feel more comfortable. So, if you constantly put your leaflets out in the same area people will start to recognise your company name, and, even if they weren't motivated enough to call you the first time around, they will call you when their situation gets more difficult.
3) Your leaflets often get 'saved' and I've had calls from people up to a year later! They also get passed around from person to person.
Note from Rob:
I got a great deal this way. I'd put some leaflets out in my usual area but got a call from a guy on the other side of town who said his daughter had handed him my leaflet because she knew he needed a quick sale on his bungalow that had been on the market for months.
We negotiated a fantastic deal, he was able to pay off his mortgage and I got a 3-bed property in great condition for £45,000 less than the asking price!
4) It's a relatively cheap way of marketing - 5000 customised A5 leaflets cost around £110.00 to print and roughly £40 per thousand to deliver (it's best to use your own distributors, not the big delivery companies.)
For more information on how to do this download our FREE 'Leaflet and Distribution Report' at the end of this post
So, an investment of £310.00 could potentially net you a deal which makes or saves you thousands of pounds and a great buy to let property in the process.
Quick Tips When Using Leaflets In Your Property Sourcing Strategy
Don't overcrowd the leaflets, keep it simple and use bullet points like:
NO ESTATE AGENT FEES
NO CHAIN
FREE PROPERTY VALUATION & CONSULTATION
WE WILL PAY YOUR LEGAL FEES IN FULL
WE STOP REPOSSESSION
I do hope this has been helpful because it's been proven that sharing your knowledge and helping others to succeed is the best way to get ahead and become successful yourself.
It's no fun doing becoming successful and having no one to share it with! So, get out there, attend networking events, do the courses, TAKE ACTION and reap the benefits!
Very best wishes,
Suzie Bates
Summing Up
As you can see leaflets can open up a world of possible deals that you may not have had the chance of sourcing through the usual channels (estate agents).
And there's a free 24-page leaflet and distribution report available, with no signup, required.
This is a great starting point if you're looking at setting up a leaflet campaign which is, even in this digital age, a legitimate tactic.