Property Crowdfunding: An Interview with Robert Weaver from Property Partner
In the following videos, Rob talks to Robert Weaver (Director, Property Partner) about property crowdfunding and how Property Partner conducts its business.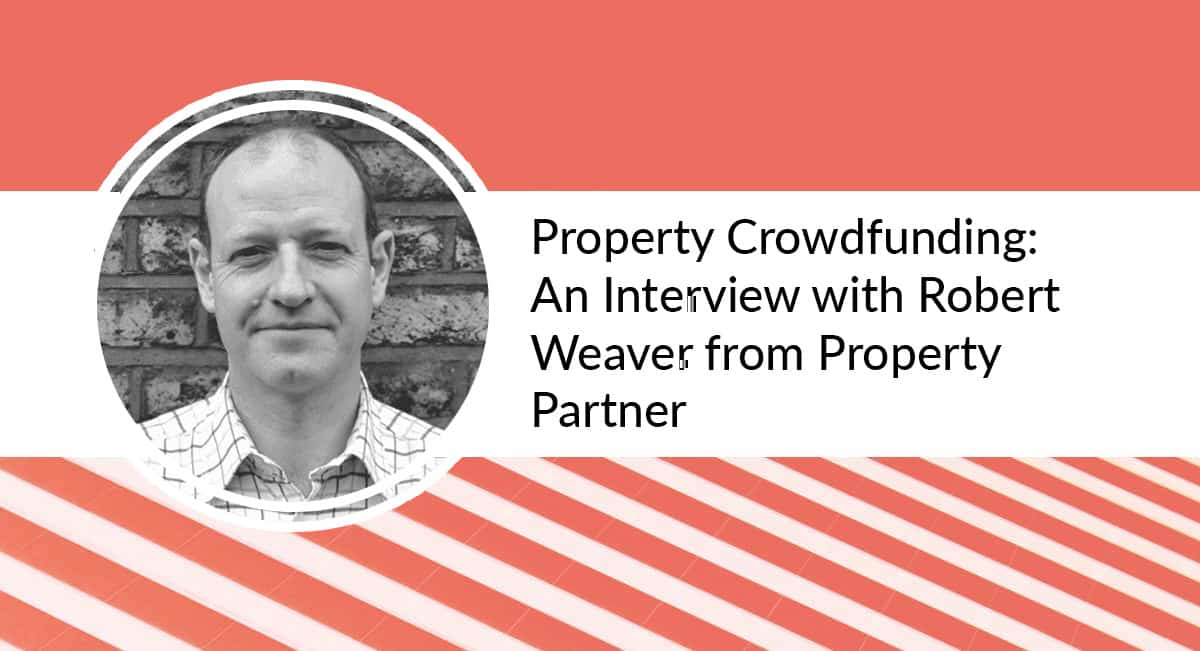 Introducing Robert Weaver, Director of Property, Property Partner
Starting in property, straight out of school, Robert has a wealth of experience in residential property and is now the Director of property crowdfunding platform, Property Partner.
Robert's background in property lies, primarily, with auctions. After college, he worked for Allsop, then moved to Savilles, where he ran the residential investment team and worked on setting up the auction side of the business, there and helped expand the business to include student accommodation.
After that, he moved into fund management, managing a 500mil residential property fund focussed, primarily, on London before moving to RBS as the global head of residential investment, which brought him into contact with property markets around the world.
At Property Partner, his first task was to buy the first lot of properties to launch the platform, starting with individual houses and flats but quickly branching out into more adventurous purchases, such as blocks of flats; layering on debt to create investment products. More recently, purpose-built student accommodation and commercial properties have been added, as well.
Which Property Asset Classes do Property Partner Work With?
The principle driving force behind Property Partner's inception lies in residential property, of the type that your average buy-to-let investor would struggle to lay their hands on.
One area of property investment where Property Partner excels is with blocks of flats, the largest being a block of 42 flats with the freehold of the building, meaning there isn't the issue of ground rent or of service charges. With maintenance being organised in-house, this means that Property Partner has more control over their budgets and their gross/net performance.
And this element is important as sometimes service charges on blocks of flats can be considerable, oftentimes leading one to wonder what the money is being spent on.
Ground rent, as well, can eat into your profits and is not uncommon to see such rents double, decade-to-decade.
While Property Partner's core offering is residential blocks, with debt, since 2017 they have added purpose-built student accommodation, which can yield higher returns and more recently, starting with a Sainsbury's - on a 15-year lease - they have moved into the world of commercial property.
With these 3 asset classes, this means that investors with Property Partner can build diversification into their portfolios that would be very difficult to achieve without such a platform.
What is a Geared Property? Investing in Property with Debt
Geared property is investing in property with debt but for those who are new to the concept, this will need a little explaining.
When Property Partner first started they were dealing exclusively with individual houses or flats, with no gearing, meaning that they were a pure-equity product.
But moving into blocks of flats, which are more investment-grade products (buying in bulk and at a discount) they looked to add debt, to make them more in line with how traditional investments are structured (with an amplifier).
A geared property is essentially a property that has been 'leveraged' or part-funded by borrowed capital or debt.
How does Property Partner Select their Properties?
The key to Property Partner's success lies in the investment products that they offer to their clients. In this video, Rob and Robert discuss how Property Partner goes about selecting their properties.
The residential market is the largest market in the UK, measuring somewhere between 4.5 and 5 trillion. The commercial market is close to a trillion and that's everything; the high street, commercial centres, office blocks and industrial estates.
The residential market is massive but most of that is the owner-occupied market. The investment, landlord market is much smaller. So, for companies like Property Partner, who supply investment products, the options they have to choose from is comparatively small.
And the process behind finding the right properties requires thought, work and experience. And while a lot of it involves having contacts and the right profile, technology and man-power are also essential.
But it's research and getting a feel for a given market, that is key. In other words, and up next, the keyword is due diligence.
The Due Diligence done by Property Partner, when Selecting a Property?
Doing good due diligence is the cornerstone of every investment strategy and while we don't suggest that anyone should adopt blind trust, investing through Property Partner, does mean that you can be certain that a proper analytical process, on a given property, has been followed.
Due diligence can also be described as a filtering process. If there are a lot of options then the idea is to shortlist your options, to reveal those that are most promising.
The first thing to rule out is anything that would make a property unmortgageable, such as the use of non-standard construction.
There is a sweet spot: properties built between 4 and 10 years ago; 4 years being the time it can take to work through snagging issues and 10 years, as it's the length of time, where an NHB certificate applies. Another thing to keep an eye on is older buildings, that have recently been refurbished.
The trick, when you are trying to move quickly, is to not spend too much time travelling, to view unsuitable buildings.
Investing in property through crowdfunding platforms is a hands-off way of growing your money; everything is dealt with by the organisation behind the platform.
When you invest with Property Partner all the work is done for you. From day-to-day management - to structuring the investments - to managing the managers; all you need to do is invest. For the property industry, it's an unusually convenient setup.
With thanks to Robert Weaver