Complete The 30 Second Survey Below To Find The Best Investment Property Deals For You
Answer the 4 simple questions below to discover what property investment strategy could work for you. Then gain access to exclusive, off-market investment properties from around the UK. Simply click on the answers below to get started.
Examples Of Investment Property For Sale
- Top Real Estate Investments in 2017 -
Let Us Do The Hard Work While You Sit Back And Enjoy The Benefits
Buying an income property from Property Investments UK will give you…
Returns... High rental yields averaging 8%+.
Growth... Areas selected for growth across England and Wales.
Condition... Handpicked by our team, newly refurbished and in a ready-to-let condition. Some properties are already tenanted.
Prices... Get started for as little as £40k or invest in £1mil+ developments.
Exclusive... Off-market opportunities that aren't available anywhere else.
Save you time... We search the property market weekly to research and personally select the best property deals to bring to you.
Investment in real estate couldn't be easier!
Join Customers Like These
Looking forward to acquiring my second property in the near future and the assistance from Rob. A professional and excellent service that is highly recommended.

Wallace Mak

Very helpful support, highly qualified team, which makes the process of choosing and buying the property much easier. Looking forward for the cooperation in the future.

Antanas Mickevicius

Rob worked together with me continuously for about 8 months to get me a fantastic very high rental yield HMO and provided me with the best team I would have asked for. Rob, I couldn't have done better.

Asutosh Srivastava

Been working with Rob for almost 2 years. Found him to be the most honourable and a pleasure to work with him...Highly recommend.

Andrew Abraham
We Have all Kinds of Rental Income Properties for Sale
But which is your preferred investment strategy?
A professional buy-to-let is a buy-to-let property investment, tenanted by in-work professionals who are in a position to consistently cover their rent, in time and in full, from their income.
Our Professional Buy-to-Let Deals Include:
Great locations across England and Wales, including major cities and towns.
Purchase price from as little as £40,000. Average purchase is between £100,000 and £180,000.
Rental yields averaging 8%.
Top condition properties, ready-to-let and often already tenanted. Many are new builds and recent refurbishments.
Finance your purchase with cash or mortgage finance. It's your choice.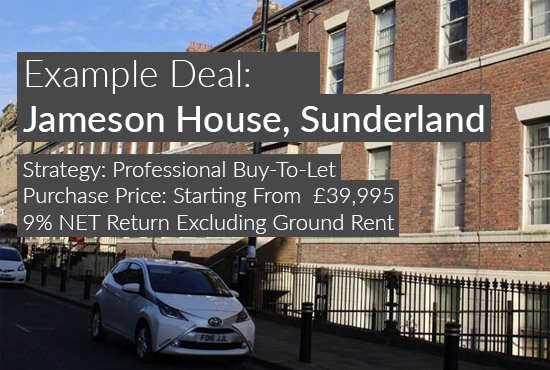 For our property joint ventures Property Investments UK works in partnership with property investors to refurbish and resell a property at profit. These projects vary with regard to location and price range but are all typically short term projects of 9-12 months.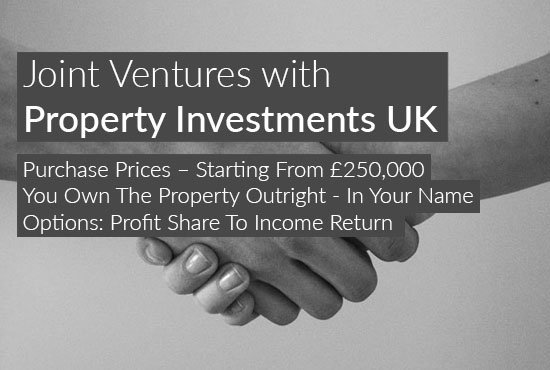 Joint Venture Deals Include:
Available locations typically across the North West (Manchester, Tameside, Salford, Chester, Cheshire, Wigan or Warrington).
Purchase price starting from £100,000 for some projects. Average average property development is circa £250,000.
Rental yields - Our joint venture development projects vary in returns. For full examples and current deals please contact us.
Condition - These are development projects with the potential to add value through refurbishment, planning gains, change of use or an extension.
Finance the investment with cash only. Our Joint venture developments suit and favour speed meaning that we will partner only with cash buyers who are also sophisticated investors. To find out what this means please get in touch.
A professional HMO is a house in multiple occupation for a professional tenant profile. Tenants of a professional HMO will all be in full-time employment and earning at a level where they are able to independently cover their own bills and rent.
Professional HMO Deals Include:
Great locations in major cities where there is plenty of demand for accommodation for professionals.
Purchase prices starting From £140,000.
Rental yields start From 10% gross in major cities and average 14%+ gross in towns.
Top condition HMOs. All investment properties have been recently refurbished to modern HMO standards for health and safety and comfort.
A fair market value representing the refurbishment, HMO conversion, the tenant profile and the potential yield of the investment.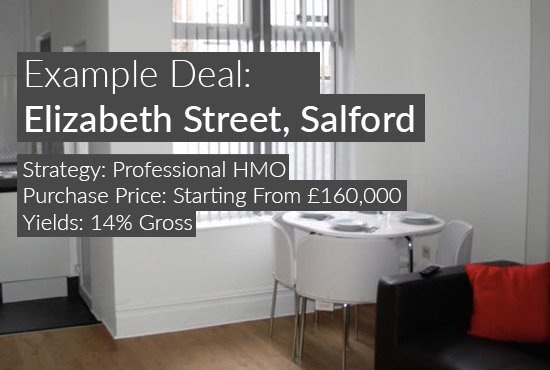 A rental property or buy-to-let becomes a corporate buy-to-let when it is leased to a company. So, instead of renting it out to an individual for the medium to long term, a property investor will rent it to a company or organisation for the short term.
Corporate Buy to Let Deals Include:
Locations mainly in city centres or business hubs such as Manchester, Birmingham, London, Luton and many more.
Purchase prices starting from £150,000.
Rental yields start from circa 10% net returns.
In a great condition and ready-to-let. These properties are all either recently refurbished or new builds.
Finance for these real estate investments typically involves a cash purchase although corporate financing options are available. Very few mortgage lenders will give a mortgage on this kind of property.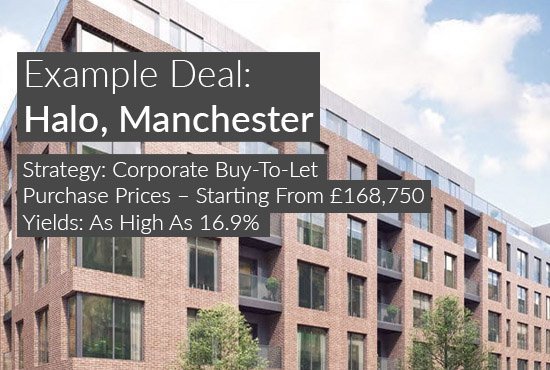 Student buy-to-lets are very similar to traditional rental properties but designed to appeal to the student market. Often they feature more communal spaces and are designed to promote co-living. And, of course, location is of paramount importance.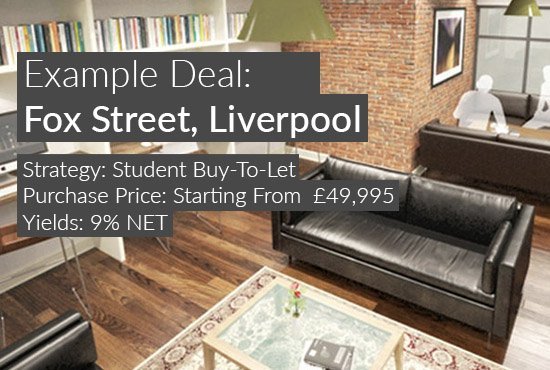 Student Buy to Let Deals Include:
Locations in major cities such as Manchester, Liverpool, Nottingham and others. Close to university campuses, key university buildings and social hubs.
Purchase price starting from as little as £40,000. Average cost is £60,000+.
Rental yields starting from 7% net with many achieving circa 9%.
Financing is straightforward as buy-to-let mortgages can be used. But, a cash purchase may be required for lower value properties as there are more limited lending options for cheap investment property.
This is buy-to-let on a large scale. Instead of purchasing one or two properties in an apartment building, we often source whole apartment buildings for sale. These range from 4 unit buildings up to 20+ unit buildings which include a range of studios (1 bed and 2 bed apartments). Typically, we source blocks which will appeal to a professional tenant profile.
Whole Apartment Building Deals Include:
Located in prime city or town areas, close to all major amentites and transport links.
Purchase price from £500,000. Average price is circa £1mil.
Rental yields range from 8-10% gross.
Suitable to finance or purchase with cash.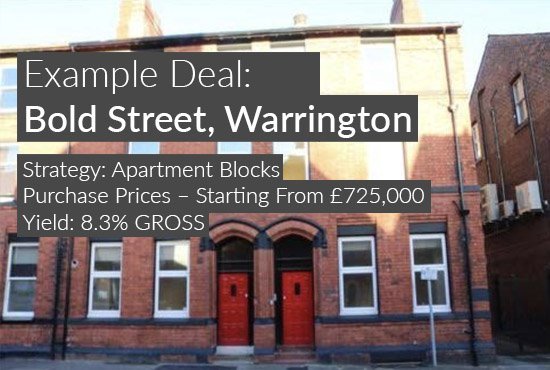 Property Investment Crowdfunding
Property crowdfunding has become more popular recently and you do not have to be an expert to take part. In some cases it allows investors to get started with as little as £10 but the average starting point is £1,000. It involves investing alonside a lot of other people on any given project. And, it is entirely hands-off meaning you do not have to deal with tenants or contractors. There are always a huge number of deals available from buy-to-let through to property development projects.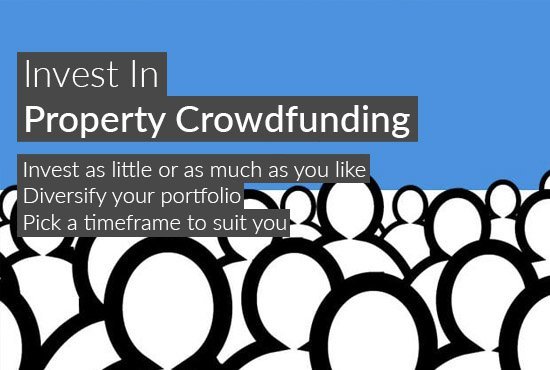 Property Crowdfunding Deals Include:
Great locations including major cities, towns and rural investments including barn conversions and land developments
Purchase prices can range from £100,000 to £1,000,000+. Often, however, crowdfunding platforms are structured to allow investing from as little as £1,000 or even £10 on some.
Rental yields vary and some property deals aren't tenanted but designated for development.
Finance needs to be cash investments only. Property crowdfunding offers no scope for leveraging finance.
1/ Can I View The Properties?
Of course.
Viewings are available for buyers who have reserved one of our real estate investment properties and are proceeding with the purchase.
If the property is a new build development viewings are available near the development completion date but not before. This is due to health and safety. If you wish to view the site location prior to that then we can arrange that, no problem.
If the property is tenanted then internal access is dependent on the tenant and the tenant profile.
Typically, professional buy-to-let properties present no difficulties with arranging a viewing. Social housing HMOs can be more difficult due to the nature of the tenant and the lease agreement.
Due to the high number of inquiries we receive for the properties we have on sale, we can't arrange viewings for every potential buyer at the inquiry stage. Also, we do not wish to disturb tenants unnecessarily.
So, how does this work?
Once you have reserved a property and your solicitors have started the conveyancing process you are more than welcome to do a viewing.
If the property is anything other than described you can pull out of the purchase with no penalty. You are 100% covered and there is no risk.
This protects you, the tenants and the seller.
2/ How Do I Reserve A Property?
Very easily.
Register for FREE. Answer 4 questions on our survey to find out which investment strategy is the best one for you. Then enter your details and you will have access to all of our latest property deals that match your preferences.
These will be sent to you by email and over WhatsApp, if you wish.
When you see an investment property you like you can reserve it to take it off-sale and progress your purchase.
When you are ready to progress with a property you can make a reservation payment of £500.
We will then take the property off the market and the sales process can start with all parties happy it's secure & proceeding.
We will then send a memorandum of sale to both your solicitors and the seller's solicitors. This is a simple one-page letter confirming the buyer, seller, property address, target completion date and purchase price. You can use your own solicitor for your purchase so you can be 100% confident of the process.
3/ Are There Any Sourcing Fees?
Some of the properties we secure come with only a minimal reservation fee of £500 and no other fees.
On average, however, the majority of our projects we charge a set sourcing fee at 3% of purchase price subject to a minimum sourcing fee of £3k per property if purchase below £100k.
For this sourcing fee, all sourcing and sales price negotiation are carried out for you and we can assist with any connections to key power team members to help assist your purchase. These include, but not limited to, solicitors, mortgage brokers, accountants, letting agents and even refurbishment teams.
This is fixed for all properties and all clients so as a buyer you know you're getting a fair and fixed price.
This sourcing fee is only payable once the property has exchanged.
4/ How Long Does The Sales Process Take?
For most of our available property investments, you can have the keys in your hand in just 28 days. Many are already tenanted and earning so you have an income from day one of your purchase!
If you are buying your rental property investment with cash or have your mortgage AIP (agreement in principle) ready, 28 days is achievable.
However, if you need more time, we can discuss this with the seller and negotiate it on your behalf.
This can be done at the offer stage so you can proceed with confidence, knowing you have the time you need to complete.
5/ Where Do The Property Deals Come From?
We are a property investment company who have been buying and trading property in the UK since 2005. We have been buying investment property for ourselves and for our clients for over 12 years!
Our base is in Manchester (in our opinion, possibly the best place to invest in property in the world) and the northwest.
Over time we have built up long-standing relationships, with estate agents, property agents, developers, property investment companies, landlords and solicitors.
We get introduced to many property deals before they come on the open market.
This network, along with our sourcing methods, allows us to find and provide the very best exclusive, direct-to-vendor property investment opportunities to our clients at the very best purchase price and terms.
6/ Can You Recommend Letting Agents Or Maintenance Teams?
Of course.
We can introduce you to letting agents, maintenance teams and any other contacts that you need to successfully build and manage your property portfolio.
Some of our properties come with full management in place!
These are the same teams and companies that look after our own personal properties and those of many of our clients.
For many of the properties we sell they will actually already come ready tenanted, recently refurbished and fully managed.
So you can proceed with confidence and know your property is being looked after from day one.
7/ If The Property Deals Are So Good Why Don't You Buy Them All?
Good question.
Simply put Property Investments UK does not have the funds available to buy every deal we come across. Our specific focus is on joint venture projects, often developments and conversions.
All development projects we source we offer to our joint venture investors.
All ready-to-let income properties we source we put forward as available deals to investors like you.
So, all of our property deals are offered to our clients. Take the survey and find the investment strategy that's best for you. And, don't forget to leave us your contact information so we can send you the very best off-market property opportunities.