A Quick Guide to Downsizing your Home
Downsizing is simply the process of moving to a smaller home than your present home. While it sounds simple in theory downsizing is not so easy in practice. Here we'll look at how to downsize your home quickly and successfully.
Good Reasons to Downsize
There are several good reasons for considering downsizing your home:
Downsizing can make good financial sense. By downsizing from your present home you could release equity in your home to spend on other things. Smaller properties also tend to have smaller running costs and maintenance costs too.
Downsizing makes your home easier to run. You could even downsize into a new property that needs no maintenance. Downsizing can free up time to do things other than cleaning, repairs and maintenance.
Downsizing is a way to simplify your life. A smaller home and fewer possessions can make life simpler in many ways.
You don't have to have a reason for downsizing in order to downsize though. You might just want to try living in a different area or fancy a change of scenery.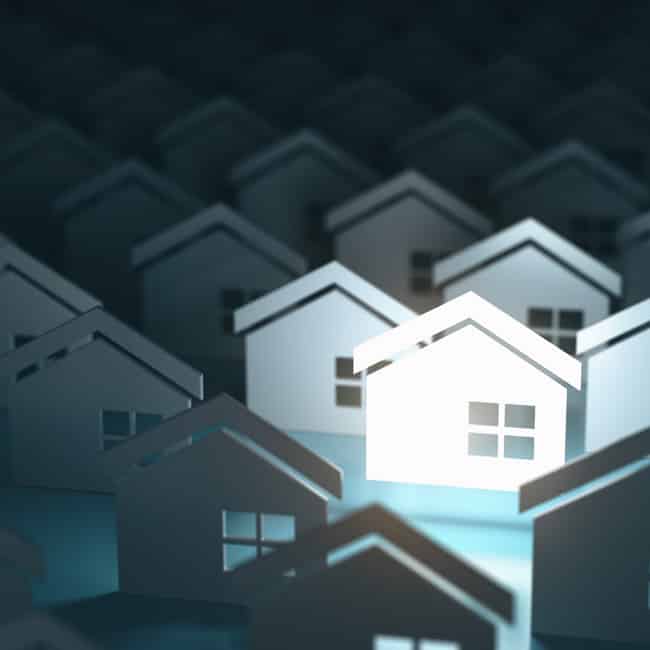 Sell Your Investment Property in Days
Any condition, tenanted or vacant, for it's full market value. Offers in 3-5 days. No sale, no fee.
The Drawbacks to Downsizing
Bear in mind downsizing does come with some drawbacks. Firstly, there's the emotional wrench of leaving a home you may have lived in for a long time. Downsizing could mean leaving good friends and neighbours behind too.
On the practical side, it could be difficult to find a smaller home that you like in the area in which you want to live. Plus downsizing involves moving costs and fees even if it ultimately saves you money. Last but not least a smaller property means you will have less space, so you'll need to downsize your possessions too.
How to Downsize Successfully
Location, location, location is as important as ever when downsizing. Where do you need or want to live? Is closeness to family a consideration? If you have a definite location in mind are there actually any smaller properties to downsize to in that location?
Try to future proof your move. Look ahead to what your future needs are going to be. In the past, you might have needed good transport links to a station or motorway for commuting. In the future that might not be important. You might need good local shops and other amenities within easy walking distance instead.
Think about what you really want. Do you want smaller, or do you want cheaper, or do you want both? A smaller home will usually be cheaper to buy but not always – it depends on what or where it is. A smaller home will usually be cheaper to run but not always – for example, an apartment may have service fees which make it more expensive to run than a house.
Think about what you actually need. As well as what you can really do without. For example, it's great to have a spare room for guests. But if you rarely have guests to stay a spare room can be an expensive luxury. If you rarely use your dining room is it worth paying out for a separate room?
Work out how much space you need. Here's a good technique to help you decide: Measure the space that you actually use in your home and not the space you actually have. A rough measurement in square feet or square metres will do. Then downsize into a new home around that size.
For example, if your current home is around 1,000 sq. ft. but you only actually use 700 sq. ft. of it you'll probably find downsizing into a 700 sq. ft. home offers more than adequate space.
Be realistic. When viewing smaller properties remember that, by definition, they'll always look too small compared to what you are used to – and especially if they are full of someone else's furniture and possessions! But try to be open-minded and don't rule them out too quickly. Think about how you could start with a blank canvas and make better use of the space.
Ways to Downsize Your Home
Before you downsize. Consider whether you need to make any improvements before you put your house up for sale that might help it sell better. Budget for any costs. If you've lived in your house for many years is it a little dated, which might put buyers off? Bear in mind that if you're selling a family house, family buyers tend to favour contemporary looks and all mod cons.
When to downsize. Think about the best time to put your house up for sale. This can be more important than you think. If yours is a family house bear in mind that the market for family houses can be seasonal. Families like to look for a new home in the spring so they can move before a new school year starts in September. Family houses may be harder to sell at other times.
How to downsize quickly. There are several different ways to downsize your home so think about what works for you. Firstly, you could put your present home up for sale with an estate agent and then look for somewhere else to buy. But that could put pressure on you to find somewhere else if your house sells quickly. Secondly, you could look for somewhere else to buy and then put your house up for sale with an estate agent. But that could put pressure on you to sell if you find somewhere quickly.
Another option is to consider selling your house to a cash buyer. That could mean you can avoid chains and move whenever it suits you best with no pressure to meet someone else's timetable. As well as the uncertainty of dealing with many potential buyers and being involved in a chain it will avoid paying the estate agent's fees too!
6 Tips for Downsizing Quickly
Downsize your personal possessions before you start to look for a new home, not after. As you gradually dispose of things you don't need you'll realise that downsizing to a smaller home is more practical than you thought. (You'll also avoid having to pay removal costs for things you don't need.)
Start by downsizing things that are already in storage. If they're already in storage there's a good chance you don't need them, so it'll be easier to part with them. The attic and garage/shed is always a good place to start.
Downsize your largest possessions first. This means you can downsize much more in much less time with much less effort. For example, disposing of spare bedroom furniture is quick to do and frees up a vast amount of space. Trying to downsize your music collection could take days (or even weeks) and free up very little space at the end of the day.
Use the one year rule when downsizing. If you haven't used something within the last year then you probably don't need to take it to your new home.
Have an organised system for downsizing. For each of your possessions decide whether to keep it, sell it, give it away or dump it!

Bear in mind it's often easier to sell things than to give them away as some people are embarrassed about being given things. Try selling websites like eBay, Gumtree.com and Preloved.co.uk. When donating to charity shops some will collect for free if you have higher value items. And if all else fails most things can be recycled nowadays rather than dumping.

Go digital where you can. If there's something you're attached to but which you really can't keep, take a digital photo of it. Keep the photo as a keepsake rather than the item itself.
Downsizing can be a great opportunity for a new start. But moving, whether you're downsizing or not, can be stressful. Being organised from the outset can make it quicker, easier and much less stressful.