Areas of Hereford: Buy-to-Let Property Investment Hotspots
Off the beaten track is a phrase that could well be used to describe Hereford. Although in some ways that's part of its attraction it's also the reason why Hereford is well worth a look. It means that most property investors will never discover the many attractions that Hereford offers as a property investment location.
Why Invest in Hereford?
Herefordshire is a mainly rural county mid way between the West Midlands and South Wales. Hereford is a cathedral city and the county town of Herefordshire and it is located on the River Wye. Hereford has a population of around 61,000.
Most local services in the city and surrounding area are provided by Herefordshire Council, although Hereford also has its own local Hereford City Council headed by a mayor.
Hereford is the main business and commercial hub for Herefordshire and much of the Welsh Borders area. Most of the area's businesses, shops and services and main employers are located in Hereford itself.
It's true to say that Hereford isn't the easiest city to reach from the rest of the UK, however. Main road links to Hereford include the A49, A465 and A438 roads. Hereford is connected to the national motorway network via the M50.
Hereford Station provides rail links to Worcester, Shrewsbury and other towns around the region plus longer distance services to Birmingham New Street, Manchester Piccadilly, Swansea, Cardiff and London Paddington which takes around 2 hours, 50 minutes.
The Hereford and wider Herefordshire area is famous for apple growing and the production of cider and also beer. Cider producer H.P. Bulmer is one of Hereford's most well-known names. Other Hereford businesses providing employment here include agriculture, food production, light manufacturing and services.
Skylon Park, part of the Hereford Enterprise Zone located to the south of the city, has been set up to attract new businesses and new jobs to Hereford. That could help increase demand for housing in future.
Hereford is an ancient and historic city dating back to at least 676 AD. That means Hereford has a busy tourist industry and visitor economy, particularly during the summer period.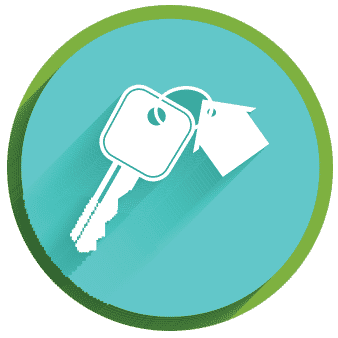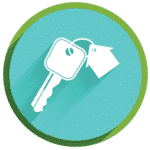 Access our selection of exclusive, high-yielding, off-market property deals and a personal consultant to guide you through your options.
Places to visit in Hereford include Hereford Cathedral, Hereford Museum & Art Gallery and the unique Museum of Cider. Hereford is also a popular place to stay for those visiting the Wye Valley, Malvern Hills and Welsh Borders. Hereford is also known for its many festivals including the Stadium Music Festival and The Hereford Food, Drink & Music Festival. Hereford Racecourse also attracts many visitors.
Hereford Cathedral is home to the Hereford Mappa Mundi. The Hereford Mappa Mundi is considered to be the largest and best-preserved medieval map of the world and dates back to the 13th century.
Hereford doesn't have a university as yet, although there are long term plans to set up a University of Hereford. However, there are several colleges in Hereford such as the Hereford College of Arts which offers university-level courses and so there's a student accommodation market in the city.
Another Hereford claim to fame is that it is the 'secret' location of the British Army's famous SAS Regiment. The HQ of the SAS, Stirling Lines, is now at Credenhill just to the north-west of Hereford. The presence of the army garrison helps to support the property market here with plenty of ex-service personnel choosing to stay on in the area.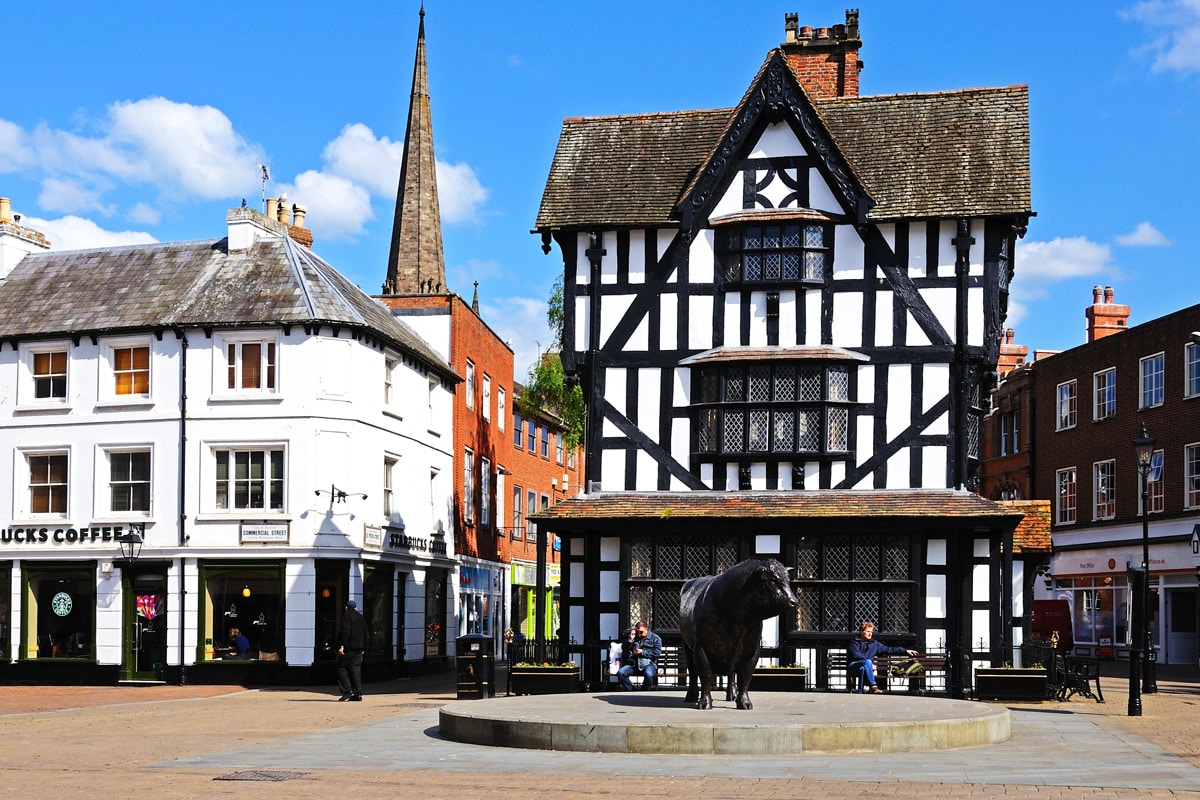 Property Values in Hereford
Historic cities are traditionally very expensive places to invest in property. But Hereford property prices are cheaper than most and only around the national average. HM Land Registry figures show that the average Hereford property currently costs around £260,000 compared to the average property price in England of £266,000.
Herefordshire property prices might not be such good value forever, however. HM Land Registry figures show that prices here rose 8.7% over the last year.
The cheapest property you can buy in Hereford is currently around £70,000 according to Rightmove and Zoopla.
The Hereford property market could be much larger in future. There are proposals to build a new suburb at Three Elms to the west of Hereford. The plans include the building of around 1,100 new houses, a primary school, health centre and shops.
Rental Demand in Hereford
Hereford buy-to-lets are mainly aimed at the local market, plus those who come to work in the area. Hereford is particularly popular with families thanks to good schools and its reputation for being a safe, liveable city.
The Hereford Market Rent Summary gives information on how much rent landlords in Hereford might expect to earn. Their figures show that the average monthly rent across Hereford is £776. The figures show that average rents for different types of Hereford rental property are £506 PCM for a one-bed property, £712 PCM for a two-bed property, £800 PCM for a three-bed property, £1,138 pm for a four-bed property up to around £1,195 PCM for a five-bedroom.
On letting yields available to property investors, propertyxyz reports that average gross yields in Hereford, based on the Hereford HR1 postcode, are 3.2%. Yields in nearby areas are 3.3% in HR2, 4% in HR3 and 3.1% in HR4.
Information about HMO licensing for landlords interested in buying or setting up an HMO in Hereford can be found, here.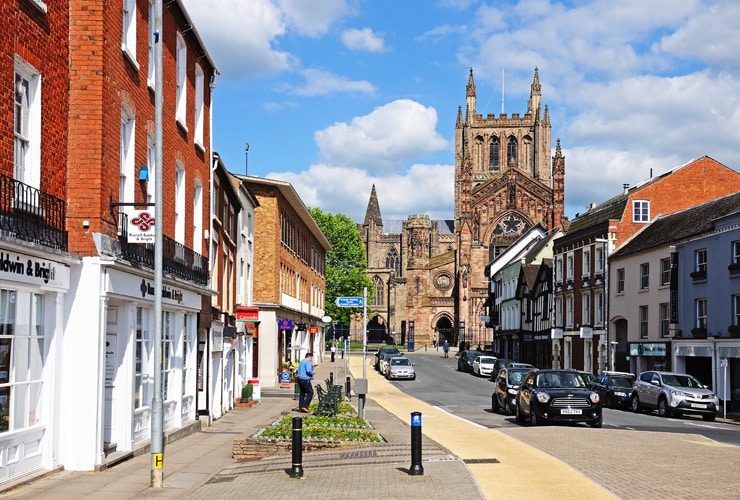 Investment in Hereford
Population: 61,000
Average House Price: £260,000
Hereford is a small city but there is a lot of choice in the property market. Investors can choose from old Jacobean style buildings, period Georgian, Victorian and Edwardian property, traditional terraces and cottages. There is also more modern property built from the 1950s to the present day especially on the housing estates in the Hereford suburbs. Hereford also offers new build property too with more new builds planned.
Hereford property buyers should bear in mind that Hereford is divided into north and south by the River Wye. The main river crossing can be congested at rush hour. That means that buyers and tenants tend to choose a property on the same side of the river as their work and schools.
Hereford city centre is mainly a busy commercial area but there is some city living type property. The streets close to Hereford Cathedral are popular and sought after areas. Further out, areas within comfortable walking distance of the city centre are popular with buyers and tenants too.
Most of Hereford including the city centre itself is to the north of the River Wye. Hereford Station, Hereford County Hospital, Hereford College of Arts and the out of town retailers are also located here. Suburbs here include White Cross, Widemarsh, Eign Hill and Tupsley.
Suburbs to the south of the River Wye include Belmont, Redhill and Lower Bullingham. The Rotherwas Industrial Estate and Skylon Park in the Hereford Enterprise Zone are located in this part of the city. The southern areas of Hereford tend to be good value property areas.
Investors interested in investing in Hereford might also consider some of the small villages surrounding the city. These include Credenhill, Clehonger, Hagley, Lugwardine, Moreton on Lugg and Withington. Village properties are popular with those who want a rural lifestyle but good access to the amenities and schools in Hereford.
About Our Data
Note: Population estimates are based on information provided by Localstats. Current average asking prices are taken from HM Land Registry data and Zoopla. Buy-to-let yields by postcode are taken from Property.xyz.