Areas of Guildford: Buy-to-Let Property Investment Hotspots

by Property Investments UK

The Property Investments UK editorial team have been researching and writing about the UK's property market for more than a decade.
Guildford is not a cheap property investment location. But good reasons to look at property investment in Guildford are that it is an employment hotspot with lots of well-paid jobs which benefits the housing market. It's also a popular London commuter location.
Why Invest in Guildford?
Guildford is a historic market town on the River Wey in Surrey. Guildford is around 32 miles south-west of London and within the London commuter belt. It has a population of around 77,000.
Guildford is considered the county town of Surrey, although Surrey County Council is based in Reigate.
Guildford scores highly in surveys on the best places to live. Reasons include its rural setting yet proximity to London, its large employment market, good range of national and independent shops and services and good schools, such as the Royal Grammar School.
Guildford is also known for the modern Guildford Cathedral built in the 1960s. The town is also known for its cobbled high street and Guildford Guildhall with its historic clock. Other sights include Guildford Castle, G Live arts centre, Electric Theatre, Yvonne Arnaud Theatre and Guildford Lido outdoor swimming pool.
Guildford is a busy commercial and light industrial hub and many large companies are based in the region. It is an employment hotspot and the well-paid jobs that are available here keep the property market buoyant. Key employment locations include Guildford Business Park, Surrey Research Park and Slyfield Industrial Estate.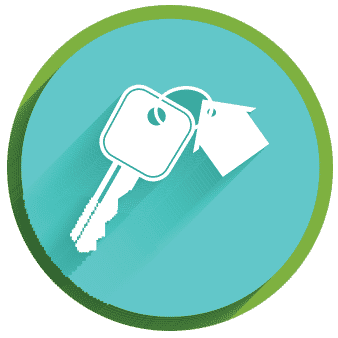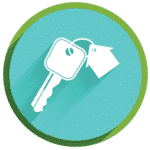 Access our selection of exclusive, high-yielding, off-market property deals and a personal consultant to guide you through your options.
Significant Guildford companies include Colgate-Palmolive UK, Allianz Insurance, Electronic Arts and Linde Group. The Royal Surrey County Hospital and the University of Surrey are also large employers in the town.
Guildford has good transport links. It is on the A3 with links to the M25. It is accessible from London Gatwick and London Heathrow airports. There are train stations at Guildford and London Road. There are good rail services in the London suburbs and London Waterloo with the fastest trains taking as little as 32 minutes.
Good transport links make Guildford a famous commuter town for those who work in London and elsewhere in the southeast. There are also direct trains from Guildford to Reading, Portsmouth and elsewhere.
Guildford is an attractive place to buy or rent partly due to its proximity to open countryside. It is on the North Downs and the Surrey Hills Area of Natural Beauty.
Guildford is a university town with a student accommodation market that could offer opportunities for student property investors. The University of Surrey is based in Guildford and has around 16,000 students. Popular areas for Guildford student houses are the town centre, Onslow Village, Stoughton and Bellfields.
Investors interested in Guildford property investment might also look at the small town of Godalming just to the south.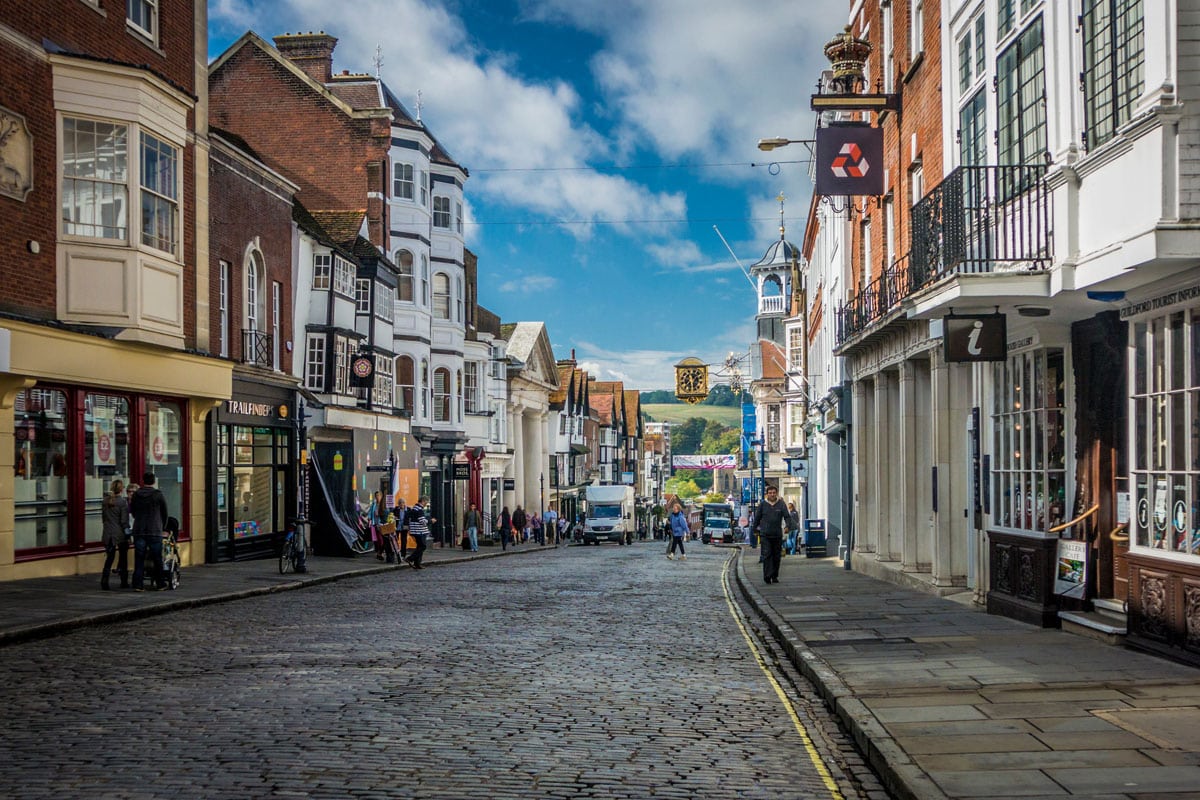 Property Values
Overall Surrey is a high-priced area in which to buy property. Guildford is no exception. It is a higher property price location. According to HM Land Registry figures, the average house price in Guildford borough is currently £528,275.
The most expensive houses in the Guildford area, especially in the villages surrounding the town, can cost £2-3 million.
Property investors will find that there is cheap investment property to be located in Guildford however. The cheapest property you can buy in Guildford is currently around £140,000 according to Rightmove and Zoopla.
Capital Gains
While past performance shouldn't be taken as an indication of future performance Guildford property investors have made a very good capital gain in recent years. According to data from property xyz, property prices in some parts of the town have risen by 28.5% over the last five years.
Rental Demand
Property investors considering buy-to-let opportunities in Guildford will find letting demand comes from locals (including those who can't afford high Guildford property prices), those who come to work at the many businesses in the Guildford area, London commuters and students.
Rental Returns
The Guildford Market Rent Summary produced by Home.co.uk says that the average rent landlords can earn in Guildford is now £2,094 per calendar month. Average monthly rents for different property types here are £1,319 PCM for a one-bed property, £2,018 PCM for a two-bed property, £2,382 PCM for a three-bed property, £2,555 PCM for a four-bed property and £3,160 PCM for a five-bed property in Guildford.
Yields
Guildford is mainly covered by the Guildford GU1, GU2, GU3 and GU4 postcode areas. Current figures from property xyz suggest that letting yields are currently between 2.5% and 4.5% across these areas.
Propertyxyz provides some room rental data for property investors who are interested in investing in HMO accommodation in Guildford. Current figures show that a double room in GU1 with shared facilities currently has an average rent of £152 per week, or £186 per week if it has ensuite facilities. Current figures show that a double room in GU2 with shared facilities currently has an average rent of £151 per week, or £193 per week if it has ensuite facilities.
It is always advisable to check likely achievable rents and yields for a particular property with a letting agent.
Landlord Licensing
Guildford Borough Council does not currently operate a selective licensing scheme, so no general landlord licence is needed.
HMO or shared accommodation is one opportunity property investors in Guildford might want to consider. HMO yields generally are higher than for a property let as a whole. More information on current HMO licence requirements for the area is available from Guildford Borough Council here.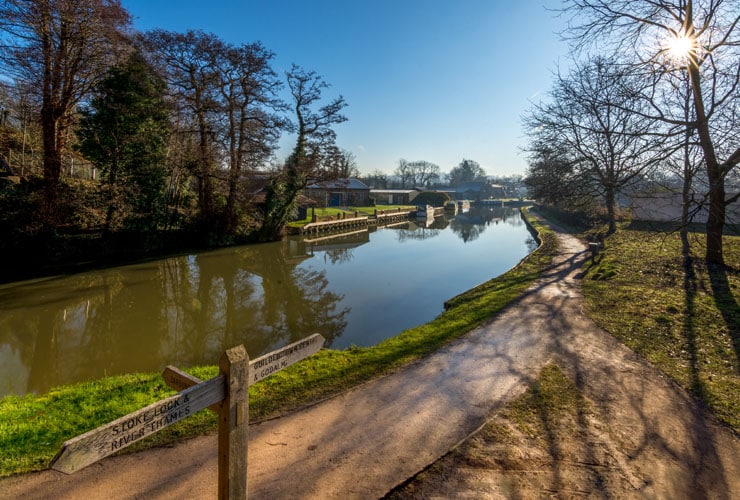 Property Investment in Guildford
Population: 77,000 approximately
Average House Price: £528,275
Guildford offers a range of properties to investors. Predominant Guildford property types are 20th-century houses from turn-of-the-century arts and crafts houses up to estate properties built in the 1950s-90s and present-day new builds. Family houses, small and large, are the main Guildford property types.
Suburbs on the east side of town can be more popular with buyers and renters as they not only have access to the town centre but have easier road access to the A3 out towards London compared to the suburbs on the west side. Guildford property prices tend to reflect this.
Here we will look at some of the main Guildford suburbs:
Central Guildford is a mixed commercial and residential area. Properties that are within 15 minutes walk of the town centre and main railway station are most popular for commuter buy-to-lets.
Abbotswood is to the east of Guildford town centre. Abbotswood has mainly larger, detached properties.
Bellfields is in the northern part of town. It comprises private and social housing estates. Bellfields is generally a good value area of Guildford.
Burpham is in northeast Guildford and is based around the original old village. It has good access not only to the town centre but to the A3 road for regional commuters. It is a mid-priced property area and a popular Guildford residential area.
Charlotteville is just to the east of the town centre and very convenient for all amenities. The suburb was laid out in the Victorian era and is now within a conservation area. It is a popular residential spot.
Jacobs Well is a one-time village which is now a suburb of Guildford. It is in the north part of town and is close to Slyfield Industrial Estate.
Merrow is around two miles east of the town centre. It comprises mainly housing estates and is a mid-priced property area in terms of overall Guildford property prices.
Onslow Village is to the west of the town centre. It still retains a villagey atmosphere and is mostly within a conservation area. It is close to the university and main hospital, making it a sought-after residential spot.
Park Barn is on the west side of Guildford. It is close to the university and the main hospital. It is a good-value property area.
Slyfield is a mixed residential and commercial area in the northeast part of town. It has good access to the workplaces on Slyfield Industrial Estate and is a good value area.
Stoughton is to the northwest of the town centre. It comprises mostly detached and semi-detached houses and is popular with families. The former
Stoughton Barracks here is now a residential development known as Cardwells Keep.
Read More
About Our Data
Note: Population estimates are based on information provided by Localstats. Current average asking prices are taken from HM Land Registry data and Zoopla. Buy-to-let yields by postcode are taken from Property.xyz.