Asbestos Cement in UK Homes: A Guide for Homeowners

by Property Investments UK

The Property Investments UK editorial team have been researching and writing about the UK's property market for more than a decade.
Asbestos cement, a once-popular building material, lurks in many homes across the UK, a silent reminder of a time when its durability and resistance were prized above all else. Yet today, we know that the asbestos in this cement can pose serious health risks if disturbed.
In this comprehensive guide, we aim to shed light on asbestos cement and its implications for UK homeowners. We'll explore what asbestos cement is, what it looks like, and its various uses in residential buildings. We'll also delve into where you're likely to find it in your home, its associated risks, and crucially, what you should do if you find it.
This guide is designed to provide you with the knowledge you need to navigate the maze of asbestos cement safely and responsibly. Whether you're renovating an old property or simply seeking to better understand the potential hazards in your home, this article is for you.
What is Asbestos Cement?
Asbestos cement is a composite material that combines cement with asbestos fibres. This hybrid material became widely popular in the mid-20th century due to its durability, fire resistance, and cost-effectiveness. Asbestos cement is typically composed of about 10-15% asbestos by weight, with the remaining majority being cement.
The types of asbestos used in this material can vary, but the most common ones include chrysotile (white asbestos), amosite (brown asbestos), and crocidolite (blue asbestos). Chrysotile was the most widely used due to its flexibility and heat resistance.
Asbestos cement's durability comes from the asbestos fibres that reinforce the cement, much like steel in reinforced concrete. This made it an excellent material choice for various construction and building applications, ranging from pipes and tiles to panels and corrugated roofing sheets.
However, it's crucial to note that the use of asbestos in building materials, including cement, has been banned in the UK since 1999 due to its associated health risks. Despite this, asbestos cement products installed before the ban are still present in many buildings today, posing potential health risks if disturbed or damaged.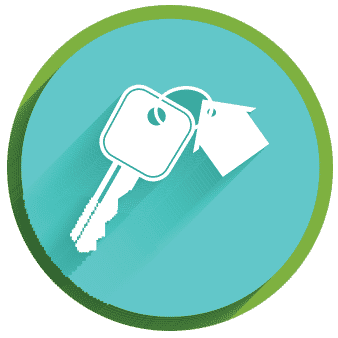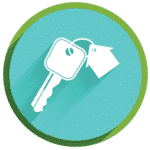 Access our selection of exclusive, high-yielding, off-market property deals and a personal consultant to guide you through your options.
What Does It Look Like?
Identifying asbestos cement visually can be challenging, as it can take various forms and does not have a unique appearance that sets it apart from other materials. However, there are some general characteristics that may suggest the presence of asbestos cement.
Asbestos cement is usually a grey or white material that looks similar to ordinary cement. It may be found in flat sheets, corrugated sheets, or moulded products like pipes or shingles. The surface is often hard, and it does not crumble easily unless it is very old or has been damaged.
One of the most common forms of asbestos cement is in corrugated roofing and siding sheets. These sheets were widely used in industrial and agricultural buildings and can still be seen today. They have a wavy or corrugated pattern, are usually light grey in colour, and have a slightly glossy surface due to the presence of cement.
Asbestos cement pipes are another common form. They are usually grey or white, with a rough surface texture. These pipes may be used for water supply or drainage, and they can be straight or curved, depending on their intended use.
It's important to note that visual identification of asbestos cement is not definitive. If you suspect that a material contains asbestos, it's always safer to treat it as if it does, until proven otherwise by professional testing.
What Was It Used For?
Asbestos cement was a versatile material used extensively across a broad spectrum of applications, predominantly in the construction and building industries. Its resistance to heat, fire, water, and corrosion, coupled with its durability, made it an attractive option for many uses.
Here are some of the most common applications:
Roofing and Siding: One of the most common uses for asbestos cement was in corrugated roofing sheets and siding. These were particularly popular in industrial and agricultural buildings due to their durability and weather resistance.
Pipes and Ducts: Asbestos cement was often used to make water pipes and sewer pipes due to its corrosion resistance and durability. It was also used in flue pipes, ductwork, and other forms of conduits.
Sheets and Panels: Flat asbestos cement sheets were used for walls, ceilings, and floors. They were often used as a base for tiles in areas like bathrooms and kitchens, where water resistance was important.
Tiles: Asbestos cement was used in the manufacturing of tiles, particularly roof tiles and floor tiles. These tiles were durable and resistant to fire and moisture.
Fencing: Asbestos cement was used to create durable, weather-resistant fencing.
Decorative and Functional Elements: In some cases, asbestos cement was moulded into decorative elements like flower pots, gutters, cisterns, and even cable trays.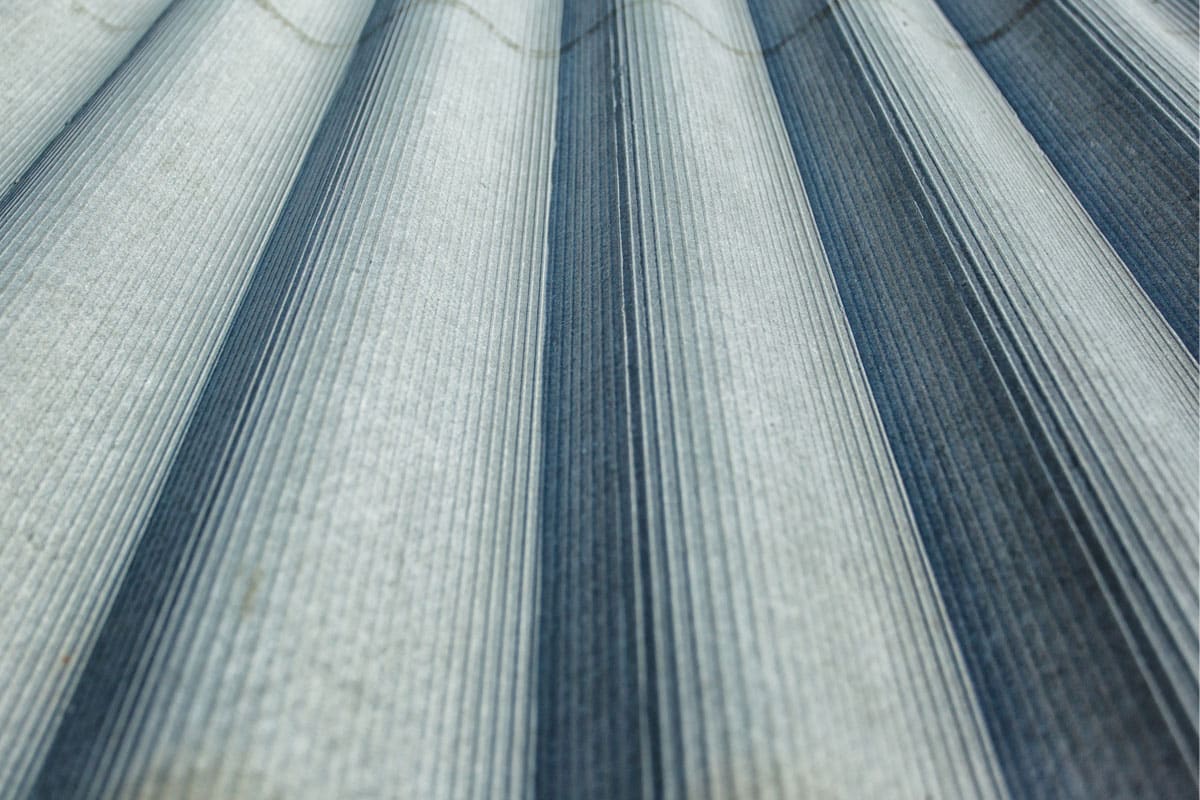 In Residential Buildings, Where Are You Likely to Find It?
Asbestos cement was extensively used in residential construction during the mid-20th century. If your home was built or renovated before the UK's ban on asbestos in 1999, there's a chance it may contain asbestos cement.
Here are some common places within residential properties where asbestos cement might be found:
Roofing and Siding: Asbestos cement was frequently used in roofing materials and exterior siding due to its durability and resistance to weather. It often appears as corrugated roofing sheets or flat siding panels.
Garages and Sheds: Outbuildings like garages and garden sheds are likely places to find asbestos cement, again primarily in roofing and walls.
Gutters and Downpipes: Asbestos cement was used in the manufacture of gutters and downpipes due to its resistance to corrosion and weathering.
Flue Pipes: Asbestos cement was used in flue pipes for boilers, heaters, and stoves because of its heat resistance.
Bathrooms and Kitchens: In the interior of homes, asbestos cement was often used as a backing for tiles in areas exposed to moisture, such as bathrooms and kitchens. It could also be found in walls, ceilings, and floors in these areas.
Underfloor Sheeting: Asbestos cement sheeting may also be found underneath the flooring material as a form of underlay, particularly in older properties.
Fencing: Asbestos cement was also used in fencing materials, particularly for boundary fences.
How Dangerous Is It?
The inherent danger of asbestos cement lies in the asbestos fibres that it contains. When these fibres are inhaled, they can cause serious health problems. The risk arises when the cement material is disturbed or damaged, causing the asbestos fibres to become airborne.
Asbestos is a known carcinogen and can lead to diseases such as asbestosis, lung cancer, and mesothelioma. Asbestosis is a chronic lung disease that causes shortness of breath, coughing, and permanent lung damage. Mesothelioma is a rare form of cancer that most commonly affects the lining of the lungs and abdomen.
However, it's important to note that asbestos cement in good condition and left undisturbed is generally not a health risk. The asbestos fibres are bound within the cement matrix, and as long as the material remains intact, the fibres are unlikely to be released into the air.
The danger increases when the asbestos cement is broken, drilled, sawn, scrubbed, or otherwise disturbed, as these actions can release harmful asbestos fibres. This is why it's crucial to take proper precautions if you suspect the presence of asbestos cement in your home and are planning any renovations, demolitions, or other activities that might disturb it.
Asbestos-related diseases often take a long time – sometimes decades – to develop after exposure. Therefore, it is essential to minimize exposure as much as possible, even if no immediate health effects are evident.
Do Asbestos Cement Products Have to Be Removed?
The necessity to remove asbestos cement products largely depends on their condition and whether they are likely to be disturbed. If asbestos cement products are in good condition and are not likely to be disturbed during normal activities or future renovations, they can often be left in place safely. Regular inspections should be carried out to ensure the material remains in good condition.
However, if the asbestos cement is damaged, deteriorating, or likely to be disturbed, it should be removed by a professional asbestos removal contractor. This is particularly crucial during home renovations, demolitions, or any other activity that could disturb the asbestos cement and release harmful asbestos fibres into the air.
Before any work is done, it is recommended to have the material tested for asbestos by a professional. If asbestos is confirmed and the material is likely to be disturbed, you should contact a licensed asbestos removal contractor to safely remove and dispose of the asbestos cement.
Remember, health and safety regulations in the UK require that work involving asbestos must be done by trained professionals. Therefore, it's not only a matter of health safety but also legal compliance to ensure asbestos cement removal is handled correctly.
How Should It Be Removed?
The removal of asbestos cement should always be undertaken by a licensed professional who is trained and experienced in handling asbestos-containing materials. They will follow strict safety procedures to ensure the asbestos fibres are contained and do not become airborne, posing a risk to health.
Here is a general outline of the professional asbestos cement removal process:
Risk Assessment and Planning: The first step is to conduct a thorough risk assessment to identify the potential hazards and plan the removal process accordingly. This includes determining the extent of the asbestos cement presence, its condition, and the potential for fibre release.
Safety Measures: Before starting the removal work, the area should be isolated to prevent asbestos fibres from spreading. This may involve setting up a physical barrier or using negative air pressure units. All workers should wear appropriate personal protective equipment (PPE), including respirators and disposable coveralls.
Removal Process: The actual removal process involves carefully taking out the asbestos cement materials without breaking them up unnecessarily. This helps limit the release of asbestos fibres. Wetting the material can also help keep the dust down.
Decontamination: After the asbestos cement has been removed, the area should be thoroughly cleaned to remove any residual asbestos fibres. This involves a meticulous process of vacuuming with a special asbestos-rated vacuum cleaner and wet wiping surfaces.
Waste Disposal: All removed asbestos cement and disposable PPE should be placed in special sealed containers or bags for safe disposal at a licensed asbestos waste disposal facility.
Air Monitoring: After the removal, air monitoring may be conducted to ensure no residual asbestos fibres remain in the air.
Remember, while this description may make it sound straightforward, asbestos removal is a complex process that requires specialized training and equipment. It's not a DIY job and should always be left to professionals to protect your health and the health of others.
Can I Remove Asbestos Cement Myself?
The short answer is: it's not recommended. Asbestos is a dangerous material and removing it safely requires specific knowledge, skills, and equipment. While UK law allows non-licensed work on asbestos cement – under very specific conditions and only if it's in good condition and the work is minor – it is strongly recommended to hire a licensed professional for any asbestos removal work.
Here are the main reasons:
Health Risks: Asbestos fibres are harmful when inhaled. Without appropriate safety measures, DIY removal could lead to exposure and potential health risks such as lung cancer, asbestosis, and mesothelioma.
Safety Procedures: Professional asbestos removers follow strict safety procedures to prevent the release of asbestos fibres. These include isolating the work area, using specialised equipment, and wearing appropriate personal protective equipment (PPE).
Waste Disposal: Asbestos waste must be disposed of safely at a licensed facility. It's illegal to put asbestos waste in your regular household or construction waste bins. Professionals will handle this aspect of the job.
Legal Requirements: While non-licensed work is allowed in some situations, there are still legal requirements that must be followed, such as notifying the relevant enforcing authority, and providing training and health surveillance for the workers.
While it may be tempting to save money by attempting to remove asbestos cement yourself, it's important to remember that the potential costs – to your health and potentially in legal penalties – are far higher. The safe removal of asbestos is not a DIY task; always hire a licensed professional.
Read More