Areas of Liverpool: Buy-to-Let Property Investment Hotspots
Liverpool is world-famous for the Beatles, Liverpool Football Club (and Everton Football Club of course) and even the ferry across the Mersey. What it isn't so famous for is something that will appeal to shrewd property investors everywhere – low property prices and excellent buy-to-let rental yields!
Why Invest in Liverpool?
Liverpool suffered from an economic decline in the 70s and 80s but there's been massive regeneration over the last two decades and more is planned. If big investors are keen to invest their money here that makes Liverpool a great place for property investors to invest their money too.
Some of Liverpool's past regeneration projects include the Albert Dock with its shops, bars and eateries and the renowned Tate Liverpool art gallery and museum. The once-derelict riverside area has also been transformed into a smart waterfront where visitors can admire the famous Three Graces, visit the impressive Museum of Liverpool (all for free) or take a trip on the ferry across the Mersey.
So what of Liverpool's newest regeneration plans? These include Liverpool Waters – a 60-hectare regeneration project with five new neighbourhoods including new homes and commercial space. There's a similar but smaller scheme at Wirral Waters across the River Mersey.
Plans have also recently been passed for a new Isle of Man ferry terminal and a new cruise ship terminal. Liverpool now receives around 100,000 cruise ship visitors every year boosting the city's economy.
Everton Football Club have plans for a new 52,000 seater stadium at Bramley-Moore Dock. It's expected this will regenerate and boost the property market across the entire area.
There are also early plans for a high-speed railway to Manchester and Leeds, which could make Liverpool much more accessible and attractive for business investment.
Liverpool's key industries include chemicals, food processing, business and financial services, retail, tourism and motor manufacturing. Liverpool is a major port city and the port is being expanded further which should bring more trade and more jobs. Under development at the moment is the Knowledge Quarter Liverpool. The aim here is to develop the life sciences, innovation and higher education sector and bring more jobs to Liverpool.
Join our Property Club, TODAY, for FREE, to become part of the Property Investments UK community.
Members get first dibs on exclusive, high-yield, off-market property deals, as soon as they go live, as well as access to all of our content. There might even be a few special promotions for investors, in there as well. >>>> LEARN MORE AND SIGN UP >>>
The City of Liverpool itself has a population of around 484,500 but the wider Merseyside area has 1.4m. So investors looking for a Liverpool property investment might also consider Merseyside property in the adjacent boroughs of Knowsley, Sefton and also Wirral across the River Mersey.
Amenities
The choice of Liverpool as European Capital of Culture in 2008 left a lasting legacy. The city is now a visitor destination in its own right – attracting 839,000 visits a year according to Visit Britain.
On a more practical, day-to-day basis Liverpool has more shops than you could ever visit in a week, including the huge Liverpool One shopping mall. There's a vibrant social scene with pubs, clubs, bars, restaurants, theatres and music venues including the world-famous Liverpool Philharmonic Hall plus its own Chinatown.
Liverpool is one of the few cities outside London to have its own underground and commuter railway known as Merseyrail offering fast access around the city centre and to the Wirral, Southport and Chester amongst other places.
Liverpool is also a major student city, creating a huge demand for student accommodation. This Liverpool Echo article says there are 50,000 students with 34,000 students requiring student accommodation. The University of Liverpool and Liverpool John Moores University (known as LJMU) have their main campuses on the fringes of the city centre. The University of Liverpool is planning a £1 billion redevelopment of its campus which is certain to benefit the city.
The most popular student property areas in Liverpool are Kensington, Edge Hill, Wavertree, Childwall, Aigburth, Mossley Hill and Allerton.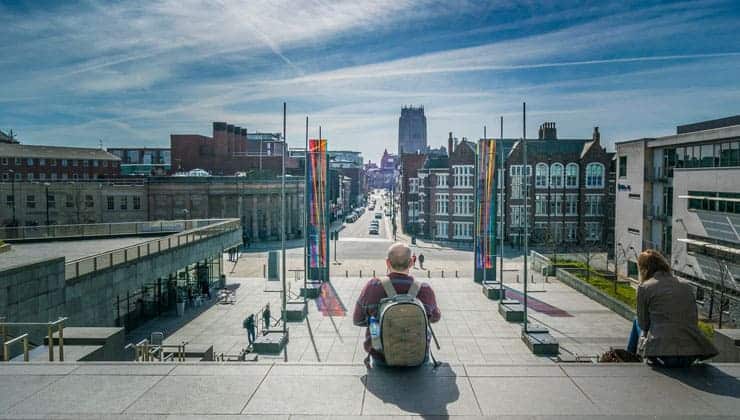 Rental Demand
Thanks to a combination of low prices alongside city-sized rents Liverpool scores very highly in most yield rankings. Totally Money says that not just one but six Liverpool postcodes are in its top 25 best buy to let areas.
Of those, L7 ranks highest, delivering an average rental yield of 9.79%. The postcode covers the city centre, Edge Hill, Fairfield and Kensington – popular student areas.
They say other good-yielding Liverpool postcodes include L1 offering 9.33% and L6 offering 7.85%. The L2 postcode also makes it into the top 25 buy-to-let hotspots with a 6.8% yield.
According to letting agency Portico Host, long-term landlords in the Fairfield area of Liverpool could enjoy a 12.52% yield. If, however, a landlord wanted to get involved in short-term Airbnb type lets in the Walton area they could enjoy the highest yields in the country at 30.68%!
Investors in Liverpool need to know that the City of Liverpool has a landlord licensing scheme meaning that all landlords need a licence to rent their property. While the other boroughs don't have landlord licensing some have selective licensing in certain streets.
(If you aren't sure which council a property falls under you can find out by entering the postcode at www.gov.uk/council-tax-bands.)
Investment in Liverpool
Liverpool is a very varied area in property terms with some pricey districts but many others offering cheap buy to let property. Here we'll offer a few tips on what areas of Liverpool to invest in:
City Centre
Population: 33,000
Average House Price: £136,904
Liverpool has a sizable city centre living market so it can offer good opportunities for buy-to-let landlords. As well as some period conversions there are lots of new-build blocks and many more are being built or in planning. The areas, known as the Baltic Triangle and the Ropewalks, and anything with a waterfront view, are really popular letting locations. The Georgian Quarter, an area of renovated grand Georgian houses, has been named as one of the best city centre places to live by The Times.
More and more students are being attracted to live in Liverpool city centre housing, often in purpose-built student accommodation (known for short as PBSA) too.
Yields here range between 9.33% in L1 and 6.8% in L2.
South Liverpool
Population: 63,000
Average House Price: £136,651 (Toxteth)
The inner-city area south of the city centre – including Edge Hill, Toxteth and Dingle – is one of Liverpool's cheaper areas for property, with lots of terraced property in particular. Once a run-down, fairly undesirable part of Liverpool some areas have undergone regeneration and are now considered up-and-coming. They attract students and others looking for good value accommodation and house shares.
It's in this area (L7 postcode) where Totally Money say 9.79% yields are possible.
North Liverpool
Population: 223,000
Average House Price: £98,000 - £130,000
The area north of the city centre is the city's main low-mid priced residential area and includes terraced housing and many social and private housing estates. It includes suburbs such as Bootle, Kirkdale, Anfield, Everton, Walton, Norris Green, Fazakerley and Croxteth, covering both the City of Liverpool and Sefton Borough.
Overall it's a great area for finding good value buy-to-lets and offering HMO shared accommodation, although some inner-city areas are quite deprived. Bootle is one of the few areas in the country where you can buy property for under £100,000 (current average price £98,308) although in other areas the average price is above £130,000 (for example, Fazakerley, £132,081).
It's in part of this area (the L6 postcode) where Totally Money say 7.85% yields are possible. Yields elsewhere, based on the L20 (Bootle) area, should still be a healthy 5%.
South East Liverpool
Population: 95,000
Average House Price: £223,000 - £352,000
The south-east of the city, beyond the Queens Drive ring road, includes suburbs such as Childwall, Bowring Park, Gateacre, Woolton, Hunts Cross, Aigburth, Allerton and Roby. This is Liverpool's favourite mid-priced residential area and is particularly popular with families. Average prices vary from £223,456 in Aigburth to £351,957 in Allerton where there are some really expensive streets but it's still possible to find some good buy-to-let family houses.
Yields here, mainly L17, L18 and L19, are around 3-4%.
North of Liverpool
Population: 43,500
Average House Price: £299,445 (Crosby)
On the northern fringes of the city, Crosby and, further out still, Formby, are amongst Liverpool's smartest districts. They have good rail links into the city so are popular with commuters and families. Prices are above average here, so buy-to-let yields are tight at around 3%.
Birkenhead and Wallasey
Population: 148,000
Average House Price: £115,000 - £156,000
Birkenhead and Wallasey are in Wirral Borough across the River Mersey. But property investors should still consider them because they are within 10 minutes of Liverpool city centre via Merseyrail or the Mersey Tunnels. A few areas, particularly in Birkenhead, are quite deprived but more regeneration is planned.
Average house prices in Birkenhead are £115,232 and in Wallasey, £156,378.
That means yields are about 4% but 6% could be possible in the cheaper CH41 (Birkenhead) postcode.