Areas of Nottingham: Buy-to-Let Property Investment Hotspots

by Property Investments UK

The Property Investments UK editorial team have been researching and writing about the UK's property market for more than a decade.
First things first: The really important thing to know about investing in Nottingham property is that it offers some of the cheapest property of any UK city – and so some of the best yield potential for landlords and buy-to-let investors.
Why Invest in Nottingham?
Look at Nottingham today and you'd scarcely realise it has an industrial past being a one-time world leader in – of all things – lace-making, bicycles and pharmaceuticals. Today its main industries are future-orientated ones like financial and business services, logistics, advanced manufacturing, clean technology, life sciences and digital.
There are big plans being announced in 2023, including a 4bn development programme across the city centre that will create 7,000 new homes and 15,000 new jobs.
Mark Carney, Bank of England Governor, has previously called Nottingham a bellwether for the UK economy. He meant that Nottingham is a leading example of a city which is successfully transitioning to a new, modern economy.
The Nottingham and Derby Enterprise Zone is central to the economic life of the city as it is to Derby, which can very much be thought of as an economic partner. The zone consists of two clusters. One is focused on life sciences, medical research, beauty and health and the other is on advanced manufacturing, engineering and supply chains.
Nottingham is home to not just one but two universities, meaning there is a large student property market. The University of Nottingham has 46,000 students and Nottingham Trent University has 40,000. Another noteworthy Nottingham institution is the Queen's Medical Centre. QMC is a regional 'super hospital' and the largest teaching hospital in the UK. Six thousand people work here, creating a massive demand for property to buy and rent.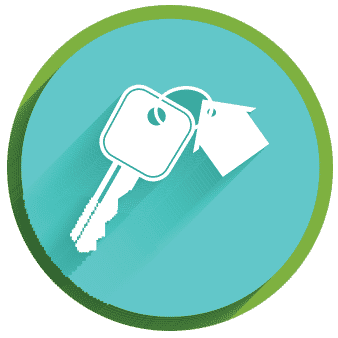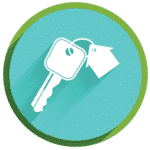 Access our selection of exclusive, high-yielding, off-market property deals and a personal consultant to guide you through your options.
Amenities
Nottingham is often described as a place that's big enough to offer a city lifestyle but small enough to still be human-sized and personal. As of 2023, the population of Nottingham's metro area is 807,00, a 0.88% increase from 2022.
Nottingham is very much the capital of the East Midlands and its biggest centre for shopping, leisure, culture and sport. The city also has a growing visitor economy with 267,000 visits a year. thanks to the legend of Robin Hood and more contemporary attractions including Nottinghamshire Country Cricket Club's Trent Bridge ground – world famous in cricket circles.
The Nottingham Express Transit or NET tram network deserves a mention too. Lines run from the city centre north to Hucknall and Phoenix Park, south to Wilford and Clifton and to Toton Lane via the university – with plans for further expansion.
Buy-to-lets near tram stops have lots of appeal to tenants, with tram lines boosting property prices.
Property experts tip anywhere on the future HS2 network is good for house prices. Nottingham's HS2 station will be at Toton on the Birmingham-to-Leeds section of the line.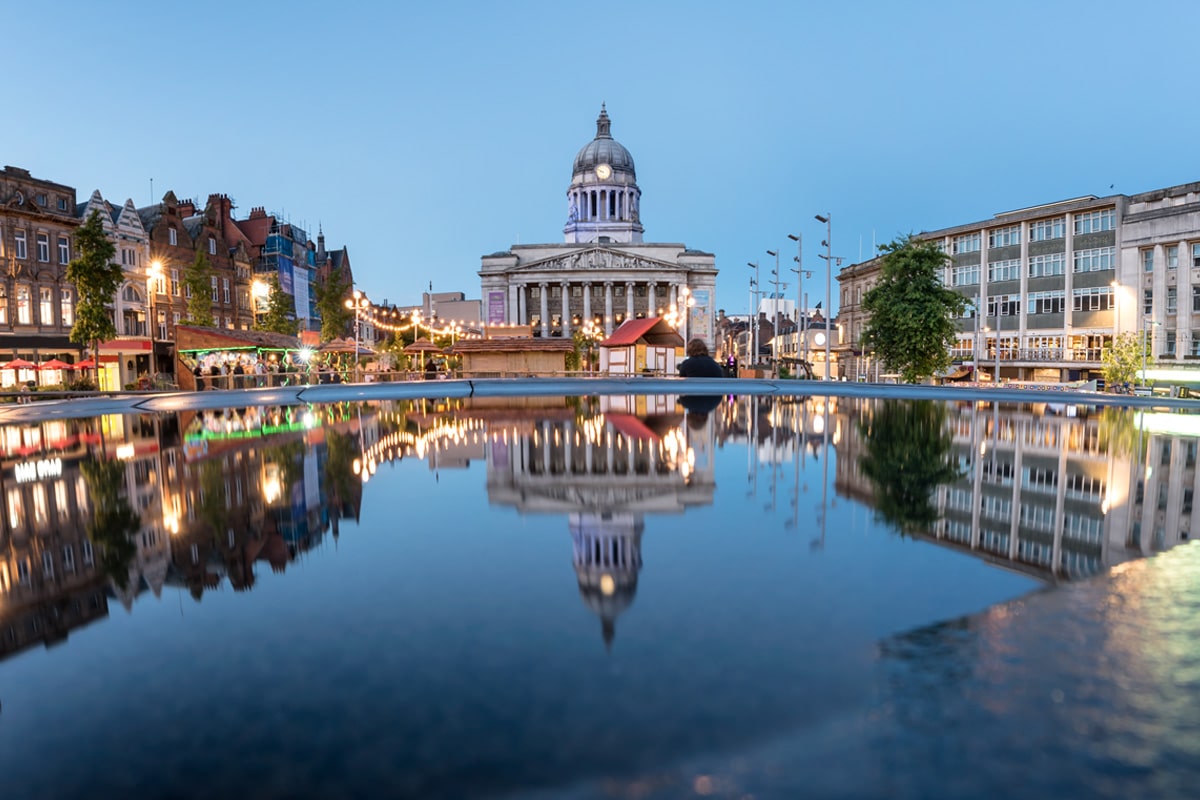 Property Values
According to Rightmove, the average price of a property in Nottingham is around £256,514 compared to a national UK average of £285,000. Terraced houses sell for an average of £183,010, with detached houses fetch around £389,975. This is up 6% on last year, however, there is evidence that house prices are now falling in Nottingham, as they are across the UK.
Nottingham itself is spread over several different local authority boroughs including the City of Nottingham plus Rushcliffe, Gedling, Broxtowe and Erewash.
If you aren't sure which council a property falls under you can find out by entering the postcode at www.gov.uk/council-tax-bands.
The Nottingham rental market is generally performing well and is boosted by the city's large student population and contract workers at the city's hospitals, universities and major companies, though as with many UK cities it currently faces challenges, with interest rates causing landlords to sell up, meaning that rent is increasing.
It's also worth knowing that in 2023, according to Provestor, who are getting their figures from Zoopla, Nottingham has a gross rental yield of 6.49%, which is very high compared with the national average.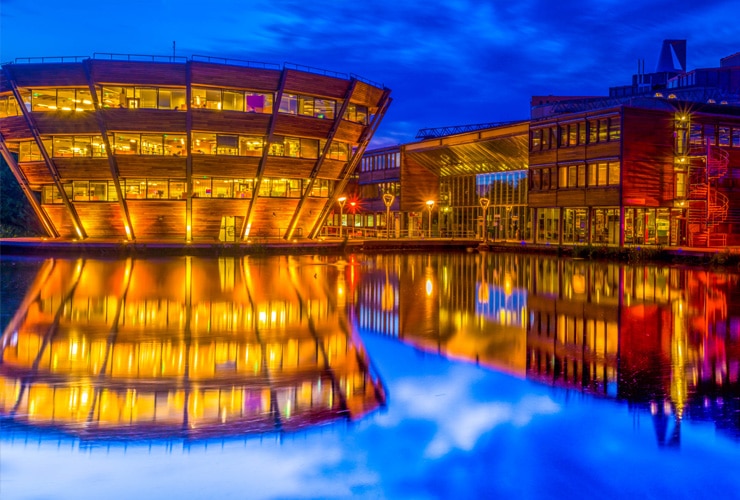 Landlord Licensing
Much of the City of Nottingham area has a selective licensing scheme for landlords on all rental properties in place. This means almost all landlords in the city will need to have a license which will be conditional on a number of factors including that the property in question meets a certain standard.
A second scheme of selective licensing was agreed upon by the council's executive in January 2023 and was sent to the Secretary of State in March 2023 for confirmation.
There are also Article 4 Directions in place across most of the city, which cover the permissions that landlords must have obtained for changing of use of a residential property into an HMO.
Nottingham Population Growth
This interactive line chart visually represents the population growth for Nottingham from 1995 to 2035, with actual data up to 2023 and projected growth from 2023 onwards.
Source: World Population Review
Property Investment in Nottingham
Here we'll look at a few of the most popular areas for property investments, and at prices and what sort of rental yields you might expect.
Student Areas
Population: 44,400
Average House Price: £194,000
There are several different student property areas in Nottingham as there are campuses across the city. Generally, though Lenton and Dunkirk tend to be the most popular areas for University of Nottingham students. The city centre and Arboretum district tend to be most popular with Nottingham Trent University students. Radford also attracts some students as it's cheaper.
Average prices are £220,705 in Lenton (reflecting its popularity for student houses), £184,938 in Dunkirk and £175,825 in Radford. It's in these districts (based on the NG7 postcode) where Totally Money say 8.89% yield is possible.
City Living
Population: 8,000 approx.
Average House Price: £169,716
Compared to some cities Nottingham doesn't have a massive city living market but more people are discovering the benefits of living close to work and the Nottingham city centre amenities. There are new-build blocks, period conversions and townhouses to choose from. Popular spots are Hockley in the Creative Quarter, especially the Lace Market area, the city end of Derby Road as well as The Park.
A city centre apartment could be expected to earn a 5-6% yield.
Inner City
Population: 45,700
Average House Price: £120,000
Nottingham's inner-city suburbs are where the city's lowest-priced housing is found. Excluding Radford and Lenton these areas include Hyson Green, St.Ann's, The Meadows and Sneinton. It's worth noting that all these areas receive a lot of coverage in the press for their social issues, but they appeal to investors looking for cheap buy-to-lets.
Average prices (NG1 postcode) range from around £116,000 in Sneinton to around £124,000 in St.Ann's. It is NG1 where Totally Money say 11.99% yield is possible.
Beeston
Population: 53,148
Average House Price: £259,072
Beeston is one of Nottingham's most popular and fashionable residential areas. As well as having Nottingham University, QMC, Nottingham Science Park and the Boots' Company site on the doorstep it has great accessibility. It is close to the M1, has tram links around the city plus four mainline trains hourly taking just 10 minutes into the city centre. Beeston is in the Broxtowe Borough rather than the City of Nottingham, as such.
The good accessibility and popularity of this area are reflected in house prices. The average price in Beeston is £259,072 and yields (based on NG9) are 4%. Nearby, Stapleford (£208,569) and Chilwell (£221,577) are cheaper but also popular for Nottingham buy to lets.
West Bridgford
Population: 47,670
Average House Price: £276,896
West Bridgford sits just across the River Trent from Nottingham city centre in the Rushcliffe Borough. It's an upmarket location – sometimes called the Chelsea of Nottingham – and it's popular with more affluent city centre commuters and especially families.
As you might expect, West Bridgford and the Rushcliffe Borough, generally, is one of the priciest areas around Nottingham. That means tight yields of 3% are normal.
Long Eaton
Population: 39,348
Average House Price: £164,437
Long Eaton is close to Nottingham but technically is in the Erewash Borough or Derbyshire. It is popular with families, those who work in either Derby or Nottingham, those who want good access to the M1 – as well as workers at East Midlands Airport and the nearby logistics parks.
Long Eaton is a good value area for property prices. Average prices in the Erewash Borough as a whole are £164,437 and yields (based on NG10) are 4-5%.
North East Nottingham
Population: 48,500
Average House Price: £185,896
Suburbs to the northeast of the city include Carlton, Arnold, Sherwood (don't expect to find the famous Sherwood Forest here though, it isn't), Mapperley and the smart Mapperley Park... A stereotypical leafy suburb. They're all popular family suburbs in the mid or mid-higher property brackets. Part of northeast Nottingham is in the Gedling Borough rather than the City of Nottingham itself.
The likely yield here (NG3, NG4 and NG5) is 4-5%.
North West Nottingham
Population: 68,000
Average House Price: £162,500
Northwest Nottingham consists of mainly residential suburbs with many large housing estates. Within that, there's a real mixed bag of local authority/social housing, ex-local authority and privately owned properties. Buy-to-let investors can find good value here but you'll need to check out what rental demand and likely rents are possible in the particular areas you're looking at.
Average prices range from around £131,000 in a cheaper area like Bulwell to £194,000 in a higher-priced one like Bilborough.
Expect yields (based on NG6 and NG8) in the 3-5% range.