Areas of Wolverhampton: Buy-to-Let Property Investment Hotspots
Wolverhampton isn't a place that often comes to mind when you think of the UK's biggest cities. But Wolverhampton IS one of the UK's biggest cities. And that means it's one of the UK's biggest property markets too. That Wolverhampton also has some of the cheapest investment property in the country only adds to its attraction for property investors.
Why Invest in Wolverhampton?
Wolverhampton has a population of around 251,000. That makes Wolverhampton amongst the top ten largest cities in England. Wolverhampton is part of the West Midlands region which has a total population of around 5.75 million people.
Wolverhampton only became a city in 2000. City status has helped to raise Wolverhampton's profile and attract more investment and development to the city. Wolverhampton is historically part of Staffordshire, although local services are now provided by the City of Wolverhampton Council.
Surprising to some is that Wolverhampton is a historic place. The original town was named after Wulfruna, an Anglo Saxon noblewoman, and dates back to 985 AD. People who come from Wolverhampton are known as Wulfrunians.
Wolverhampton grew fast during the industrial revolution when it became a centre for heavy industries including foundries and metalworking. The area around the city is known as the Black Country as a result of its smoky, industrial past. The Black Country covers parts of the boroughs of Wolverhampton, Dudley, Sandwell and Walsall.
Today Wolverhampton is still an industrial centre but has more modern industries in manufacturing, technology and engineering. The city is considered to be the centre of the UK aerospace industry.
Wolverhampton has great transport links. That makes it attractive to businesses to locate. It's also a popular commuter location for those who work around the West Midlands region. Wolverhampton is close to the M5, M6, M6 Toll and M54 motorways. There are direct rail services around the area and to Birmingham (approximately 20 minutes), London, Manchester and further afield. The city also benefits from a direct tram link on the West Midlands Metro into Birmingham city centre. Bus, train and tram services all connect at a brand-new Wolverhampton Interchange.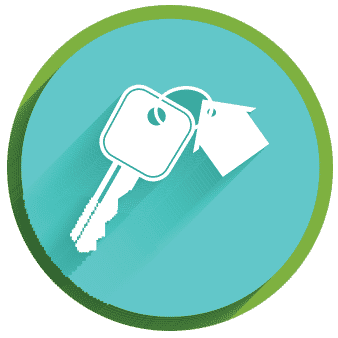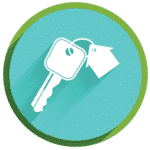 Access our selection of exclusive, high-yielding, off-market property deals and a personal consultant to guide you through your options.
It's fair to say that Wolverhampton is a practical, workaday place rather than being a city that attracts visitors but the city has all the amenities residents could need. The Mander Centre and the Wulfrun Shopping Centre are located in the city centre together with a number of retail parks in the suburbs. The city is also known for Premier League football club Wolves – Wolverhampton Wanderers Football Club – who play at Molineux Stadium. There's also horse racing at Wolverhampton Racecourse.
Like many industrial areas, Wolverhampton has suffered from a decline in recent decades. However, there's been lots of regeneration in the city and more are planned with the aim of making it more attractive as a place to live, work and do business. The City of Wolverhampton Council says that around £4.4 billion is likely to be invested in the city over the next few years.
Recent and upcoming projects include the £175 million new Wolverhampton Interchange and the i9 and i10 grade A office developments. Westside is a £55 million development of a 6.4-acre city centre site with a leisure-led development offering a multi-screen cinema, family leisure attractions and restaurants. A major new city living scheme called Brewers Yard is planned together with Canalside, a new city quarter offering urban living.
The Ministry of Housing, Communities and Local Government has recently announced plans to create a second headquarters in Wolverhampton.
Wolverhampton has seen lots of industrial regeneration too, which has helped to attract new businesses and new jobs. Pendeford Business Park provides modern business space to the west of the city where large occupiers include Lloyds Banking Group. The nearby i54 business park is now a major employment site where more than 2,700 people work. Companies here include a Jaguar Land Rover advanced engine manufacturing plant.
One thing that could be really important for the economy and property market in the Wolverhampton area is that the West Midlands Combined Authority (WMCA) has devolved powers from the Government. This means that the region can run its own affairs in areas such as transport, housing and economic development.
The Midlands Engine coalition is also working, to promote Wolverhampton and the wider West Midlands, as the place to invest, and to attract foreign investment to the area.
As well as being one of the UK's newest cities Wolverhampton is also one of the UK's newer university cities, which means it might also appeal to student property investors. The University of Wolverhampton was founded in 1992 and has expanded fast with new buildings and more students in recent years.
Wolverhampton appeals to students thanks to its low living and accommodation costs, while also being within easy reach of the bright lights of Birmingham. Locations within walking distance or a short bus ride of the City Campus in the city centre are popular places for students to live.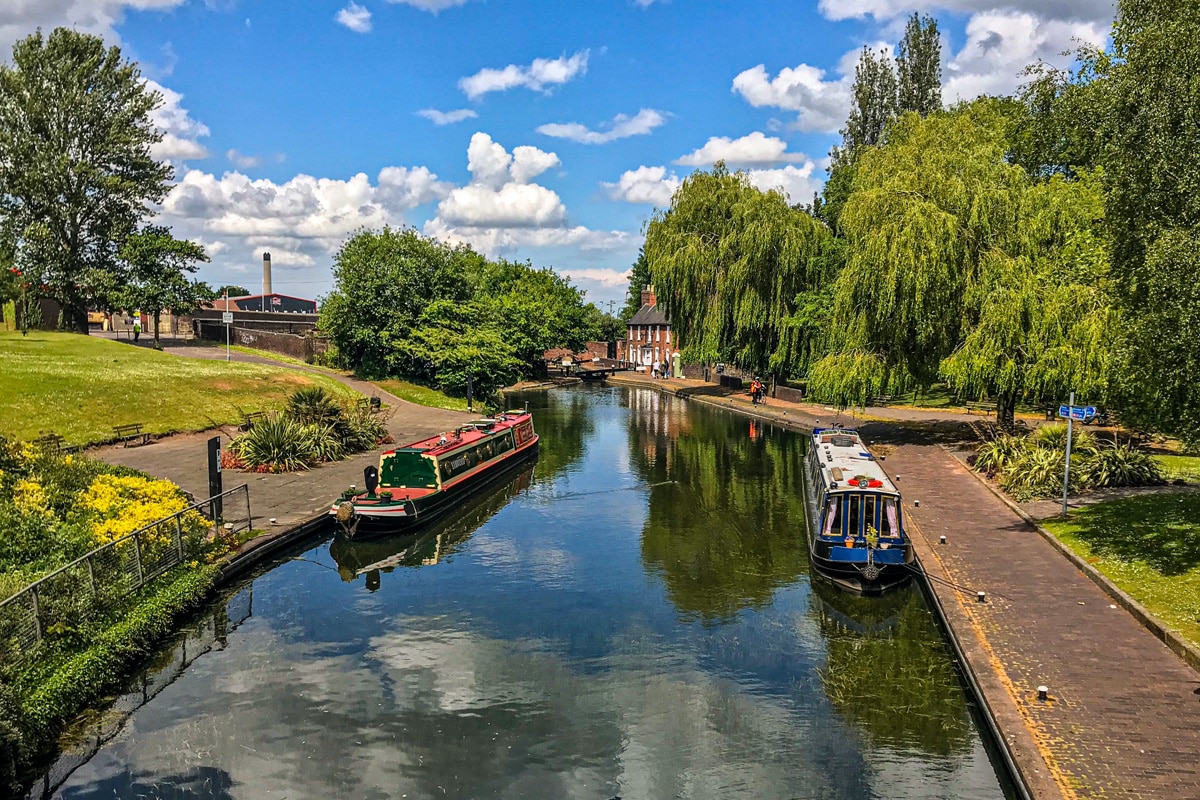 Property Values in Wolverhampton
The West Midlands region generally has good value property prices. Wolverhampton in particular has low property prices compared to most of the country and even compared to much of the West Midlands.
The average house price in Wolverhampton is currently £164,350 according to HM Land Registry figures. This compares with an average house price for the West Midlands of around £206,00 and an average price in England of around £270,000.
It's possible to invest in Wolverhampton property for much less than this though. The cheapest property you can buy in Wolverhampton is currently around £60,000 according to Rightmove and Zoopla.
A study by Halifax says that Wolverhampton has experienced some of the fastest-growing house prices in the country in recent times, with some properties rising in value by 10%.
Rental Demand in Wolverhampton
Wolverhampton landlords will find buy to lets here mainly let to local residents, those coming to work in the area, as well as students.
Landlords can gain an understanding of how much they might be able to make from a Wolverhampton property from the Wolverhampton Market Rent Summary. Their figures calculate that the average monthly rent in Wolverhampton is £701. The figures show that average rents for different types of Wolverhampton buy to let are £498 PCM for a one-bed property, £681 PCM for a two-bed property, £827 PCM for a three-bed property, £1,228 PCM for a four-bed property up to around £1,502 PCM for a five-bedroom.
This report suggests that the Wolverhampton letting market seems to be benefitting from changing working patterns at the moment – something that could be of benefit to landlords here. It says that while rents in nearby Birmingham have fallen by 3.4% rents in Wolverhampton have risen by 5% on average in the last year.
Low property prices and strong rents mean that Wolverhampton landlords can find very competitive rental yields here. Research on Property.xyz suggests that investors can find yields from around 4% up to 9.7% in the Wolverhampton WV postcode areas.
Low property prices also mean that investing in an HMO (a house in multiple occupation or shared property) could be one option for investors to consider. The City of Wolverhampton Council provides more information about what HMO licences are needed, here. Wolverhampton also has an Article 4 direction meaning that planning permission is needed to convert a house into an HMO.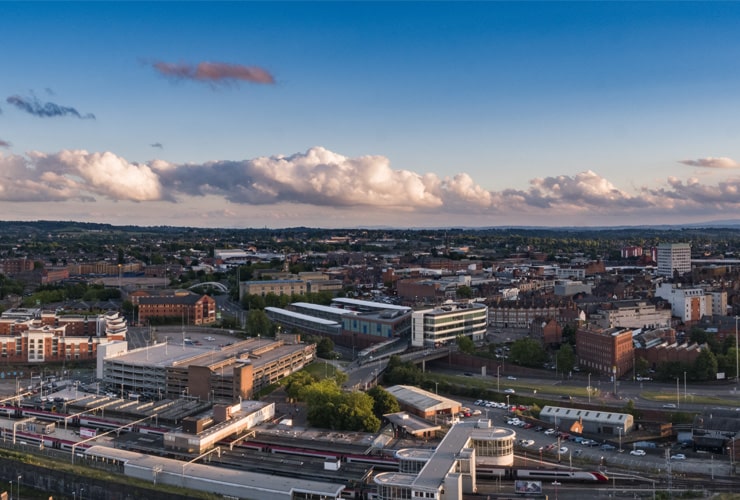 Property Investment in Wolverhampton
Population: 251,000
Average House Price: £164,350
Wolverhampton city centre is mostly a commercial and light industrial area. However, there are some residential streets offering traditional terraces, period houses and flats. There are plans for more city living type developments and it is also a popular area for student accommodation. Central Wolverhampton is generally a good value property area.
Some of the areas around Wolverhampton fall into different local authority areas. You can find which local council covers any area you are interested in, here: Find Your Local Council.
North Wolverhampton districts include Bilbrook, Bushbury, Codsall, Fordhouses and Pendeford. These areas have good access by road to the M54, M6 and M6 Toll for those working around the region. There are several modern housing estates in this area. Properties here are also ideally situated as lettings, for those who work at the i54 and Pendeford business parks.
Codsall together with Bilbrook is a separate large village with its own shops, schools and other amenities and two stations offering services to Wolverhampton, Birmingham New Street, Telford Central and Shrewsbury. These are popular residential and commuter areas.
Districts to the east side of Wolverhampton include Bushbury South and Low Hill, Hayes, Heath Town, Moseley, New Cross, Portobello, the Scotlands Estate, Wednesfield, Wood End and Wood Hayes.
The eastern areas are mainly mixed commercial and residential areas with several large housing estates and business parks. Wolverhampton's main hospital, New Cross Hospital, is located in Heath Town. The University of Wolverhampton Science Park, which is home to many small businesses particularly in science and tech is just to the north-east of the city centre.
These areas of the city have great access into the city centre as well as to the motorway network, nearby Walsall and into Birmingham itself. Some of these areas offer good value property which has proved popular for buy to let.
South Wolverhampton districts include All Saints, Graisley, Goldthorne Hill, Lanesfield, Merry Hill, Parkfield and Upper Penn. These areas run into Sedgley and Coseley which are in Dudley Metropolitan Borough.
The inner areas are mixed residential and commercial areas, with some good-value properties. Areas further out are more suburban and semi-rural. These areas are well located for travel into Birmingham, West Bromwich, Dudley and the wider West Midlands area.
Areas to the west of Wolverhampton include Tettenhall and Tettenhall Wood, Perton, Wergs and Wightwick. The Tettenhall area retains a villagey atmosphere, has local shops and is known for its good schools making it particularly popular with family renters.
There are also a number of small villages to the west of the city stretching out into rural Shropshire. These areas don't have quite such good access to the rest of the West Midlands, but some of Wolverhampton's most popular and pricier residential areas are on this side of the city.
About Our Data
Note: Population estimates are based on information provided by Localstats. Current average asking prices are taken from HM Land Registry data and Zoopla. Buy-to-let yields by postcode are taken from Property.xyz.