Edwardian Houses | A Guide for Property Developers and Buy-to-Let Landlords

by Trevor Yorke

Trevor Yorke is an experienced author and artist who specialises in period architecture. For more information and to see a selection of his books you can visit his website, here.
Investing in an Edwardian House
If you are nervous about buying an old Georgian house with their misaligned windows, or you're tired of modern houses with their fragile plasterboard walls, then you should look no further than early 20th-century property.
Edwardian building standards were a great improvement on those of previous generations and the quality of materials that were used has rarely been surpassed.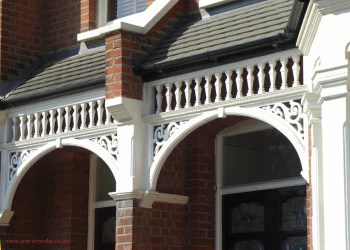 The majority of houses built from the 1890s through to the outbreak of the First World War in 1914 used bricks which were dense and durable, the timber was of a high quality and windows and doors, which with a bit of maintenance, can last for centuries.
Their appearance is also timeless. Architects used Tudor timber-framed buildings and stout, early 18th century houses as their inspiration to create Arts, Crafts and Neo-Georgian style properties.
Speculative builders then applied many of their features onto the mass market of semis and terraces. At the same time, an obsession with privacy meant houses were set back from the road, creating front gardens which today can make for an attractive feature or space for a drive. This feature is something lacking in earlier properties.
Ten Ways to Spot an Edwardian House
Despite the wide range of styles and materials used in this period, there are certain characteristics from the roof down to the ground which helps pinpoint their construction to the decades either side of 1900.
Some of these features listed will be found in other periods but a number of them together in one house and the chances are that it's Edwardian.
1. Chimneys
Chimneys were often sited halfway down the slope of the roof so they stood directly above the fireplace. On Arts and Crafts houses they were often made into a prominent feature with decorative brickwork or in a form which looked like it had been plucked from a rustic cottage.
2. Roofs
Roofs were generally steep pitched with gable ends which often meant there was space in the loft for additional accommodation.  Dormer windows featuring little-pointed barge-boards are hence a common feature. Slate was still widely used but ceramic roof tiles which looked more traditional were becoming common. Ridge tiles tend to be plain compared with Victorian types.
3. The Upper Storey
The Upper Storey at the front of the house was often clad with mock timber frame patterns, hanging tiles, a coat of pebbledash (originally unpainted), or a plain render with patterns pressed into it. Tall, thin bay windows were popular and the barge-boards on the gable end at the top were generally plainer than earlier types with only a simple profile along the bottom edge at best.
4. Sash Windows
Sash windows often had the upper section divided with glazing bars while the lower one was left plain. This gave the facade an appropriate rustic appearance while the clear pane below allowed an unobstructed view for residents. By the early 1900s side-hinged casement windows were becoming more popular with distinctive little openings along the top filled with coloured glass in stylised floral patterns.
5. Porches and Balconies
Porches and Balconies edged with timber railings and fretwork patterns (now usually painted white) are a distinctive feature of Edwardian houses. On more modest terraces a single bay window was added at the front capped off by a short sloping roof which continued right across the front of the house forming a porch above the door.
6. Front Doors
Front doors typically had the upper two-thirds glazed. This could be a single or pair of openings filled with coloured glass or a series of small arched openings which became smaller towards the top (a unique Edwardian style). Panels formed in the door often had raised mouldings around the edge to make them appear deeper. By 1910 doors with just the upper third glazed and three vertical panels below become popular although these are more common in the 1920s and 30s properties. If there was not an external porch then the door was usually recessed into the house.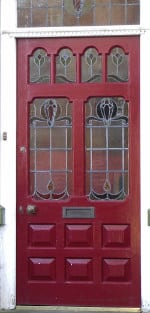 7. Damp
Edwardian houses had measures taken to reduce the problem of rising damp. Bitumen or slate damp proof courses and bands of engineering bricks were used as a barrier and the ground floor was raised up so air bricks could be fitted front and back to allow a breeze to pass beneath and ventilate the underfloor space.
8. Tiles
Ceramic tiles often in black and white were used to decorate the pathway up to the house and the floor of the entrance hall. Colourful glazed ones were often applied to the walls either side of a front door.
9. Ceilings
Ceilings tend to be very high in this period originally with a picture rail and the area above it originally filled with a decorative frieze.
10. Design
Edwardian houses tend to be tall and thin and were built along relatively straight streets whereas 1920s and 30s houses which share much in common with them were usually wider with hipped roofs and are found along winding lanes, crescents and cul-de-sacs.
Seven Problems to Look For
Despite the quality of build, these houses are now over a hundred years old and there are certain common problems which any prospective buyer should be aware of and get checked out.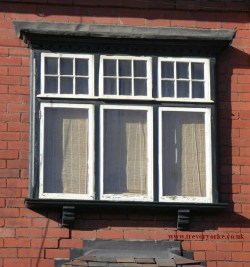 1. Foundations
Edwardian properties usually had shallow foundations so can be vulnerable to ground movement caused by trees and shrubs being too close to the walls, leaking drains and certain clay soils. Look for any signs of cracking or gaps in the mortar especially if there is a lot of greenery close by.
2. Ventilation
Make sure the air bricks at the front and rear are not blocked up, they can often be hidden by soil or paving as the level of the garden has been progressively raised over the years. Rising damp is not usually a major problem in most Edwardian houses unless there have been changes or cracks which have caused the damp proof course to fail.
However, patches of mould can appear due to condensation as the walls are usually solid and hence cold (especially lower down) and the blocking of old fireplaces hinders ventilation.
3. Windows
Previous owners will have often replaced the original timber sash or casement windows with modern uPVC types.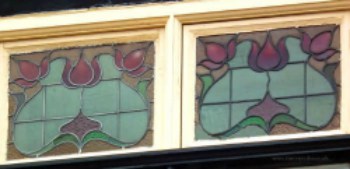 Be wary where they have been inserted into bay windows as the original timber ones were designed to carry the load of the walls and roof above but modern plastic ones need extra support and there are cases of sagging and leaking bays where this has not been done. If you have original Edwardian windows then they can now be fitted with inset brush seals to make them airtight and modern secondary glazing which is better at reducing noise than double glazing (due to the larger air gap).
4. Doors
Edwardian doors are now seen as a desirable asset however you may want to make improvements to the hinges, locks and glazing to make them more secure. An outer plain glass door, sealing strips to cut out drafts, or a heavy curtain hung inside of it will also help save energy.
5. The Roof
It is also important to check the roof as slate and ceramic tiles may be getting near the end of their life and in need of repairs. If it has been replaced with modern concrete tiles these could be heavier than the original types so look for any signs of sagging if extra supports were not put in.
6. The Eaves
Also, make sure that the eaves still allow air to pass into the loft space, these gaps can often get filled with carelessly laid insulation which can result in condensation building up and damp in the timbers becoming an issue. If there are rooms within the roof then look for signs of leaks especially around dormer windows and skylights.
7. The Chimney
Also get the chimney checked out while carrying out roof work, due to being prominent they are vulnerable to the weather and the mortar, flashing and pots on top often need attention even if they seem satisfactory from the ground.