Selling Problem Properties: How to Sell a House with Wet Rot
Thanks to the wet climate in Britain, wet rot is a problem that threatens many homes. A severe case of wet rot can make your home uncomfortable, uninhabitable, knock thousands of pounds off its value and make it difficult to sell. Here's our simple guide to wet rot, how to solve it, and how to sell your house quickly for cash even if it has wet rot.
What is Wet Rot?
Wet rot is a common name for fungi that attack and destroy timber.
There are many different types of wet rot fungi, including both the brown-rot and white-rot fungi. The most common type of wet rot fungus found in homes is a brown rot fungus known as Coniophora puteana.
Coniophora puteana is also known as cellar fungus... but it's not just restricted to cellars.
The Causes
Wet rot is caused when timber is exposed to the wet, as the name suggests.
Wet rot is usually caused by a building fault that allows the timber in your home to become wet.
It is the amount of wetness that makes wet rot wet rot: Once the timber in your home has a 50% moisture content wet rot can start to take hold.
Prevention
Wet rot can be prevented by regularly checking your home for anything that can cause timber to get wet and good preventative maintenance. You should: Check roofs, pointing, chimneys and gutters. Check for leaking and broken pipes and drains. Check for plumbing problems like leaks in bathrooms and kitchens. Check for blocked air bricks and air vents. Check for damp patches and find out what is causing them. Check out condensation problems.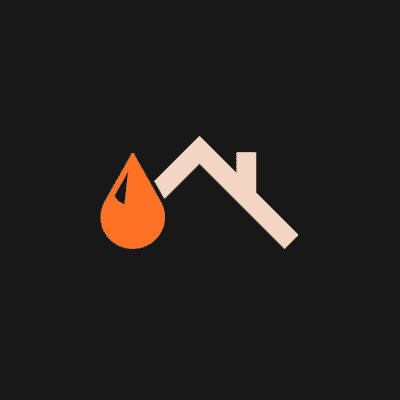 If you own a property with wet rot that you need to sell we can put you in touch with one of our partners who will buy properties in any condition for 100% market value in just 28 days. Click here to find out more.
The Tell-Tail Signs
Here are some of the tell-tale signs of wet rot:
A damp smell. If your house smells damp then wet rot may be one of the causes.
Crumbling and cracked masonry or plaster. Although wet rot does not attack masonry and plaster the dampness that causes wet rot can cause it to crumble or crack.
Peeling wallpaper and peeling or flaking paint. Again, these can be symptoms of damp that may also be causing wet rot.
Springy, spongy or bouncy floors. Wet rot can affect floorboards and floor joists. If a floor feels springy, spongy or bouncy then it is a good idea to check for wet rot below.
Darkened timber. Timber affected by wet rot appears darker than the healthy timber nearby.
Timber that is soft and spongy. Timber affected by wet rot may appear firm on the surface but will give way when pressed.
Timber that is cracked. Cracks caused by wet rot may be linear or cuboidal (cube-shaped).
Fungal growth. Wet rot fungus is likely to be black, white or yellow in colour.
Timber Affected with Wet Rot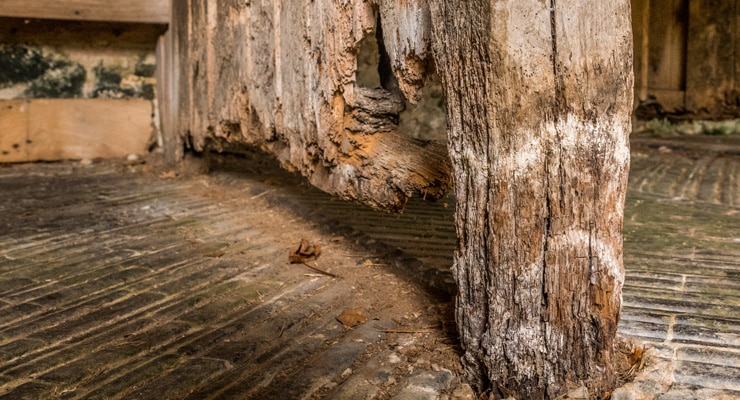 The Coniophora puteana M

ycelium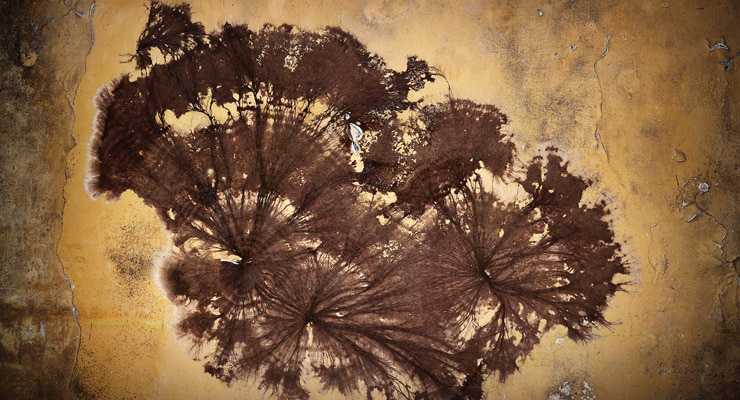 How Serious Is It?
Wet rot is not usually quite as serious as dry rot.
However, the conditions that cause wet rot can still make your home feel damp and cold, and can also make it unhealthy and uninhabitable. In extreme cases, wet rot can affect the structural integrity of your home and make it unsafe.
Associated Problems
The damp conditions that cause wet rot can also cause other problems in your home. Some of these are more serious than wet rot.
According to the British Pest Control Association (BPCA) some household pests which favour damp conditions include silverfish, fungus beetles, booklice and woodboring insects such as the furniture beetle or woodworm.
Damp, old buildings may also be affected by death watch beetle which can be a very serious problem.
Wet Rot Vs. Dry Rot
The main difference between the types of timber rot (wet and dry) is the moisture content of the timber. Wet Rot requires the timber to have at least 50% moisture content. Dry Rot only requires 20% moisture.
Wet rot fungus tends to be black, white or yellow in colour. Dry rot fungus tends to be rusty red or orange in colour. Dry rot fungus will also usually have extensive mycelium growth.
Wet rot fungus is mainly confined to the area that is wet. Dry rot fungus spreads extensively to the surrounding area.
For more information about Dry Rot, we have an article on that too, that you can read, here.
Treatment
The best way to treat wet rot is to stop the source of the wetness. Once the timber stops being wet the wet rot will stop.
The first step in the treatment of wet rot is to identify what has caused it in the first place and then fix it. For example:
Fix broken, missing or slipped roof tiles, which are typical causes of penetrating damp.
Fix leaking gutters and downpipes.
Fix leaking gutters and downpipes.
Fix leaking pipes and drains.
Fix leaking baths, showers, sinks and washing machines.
Fix missing or defective damp proof courses, which can cause rising damp.
Clear blocked air bricks and air vents.
The second step in the treatment of wet rot is to repair the damage that has been caused to the timber.
In serious cases of wet rot, where the structural strength of the timber has been affected, it may be necessary to cut out the damaged timber and replace it with new.
Less severe cases of wet rot can be treated by using a wet rot fungicide and applying a wet rot wood hardener solution. Wet rot wood hardeners work by soaking deep into the timber. They leave the wood hard and protect it from further moisture penetration. Wet rot wood hardeners also provide a base for the timber to be filled and painted.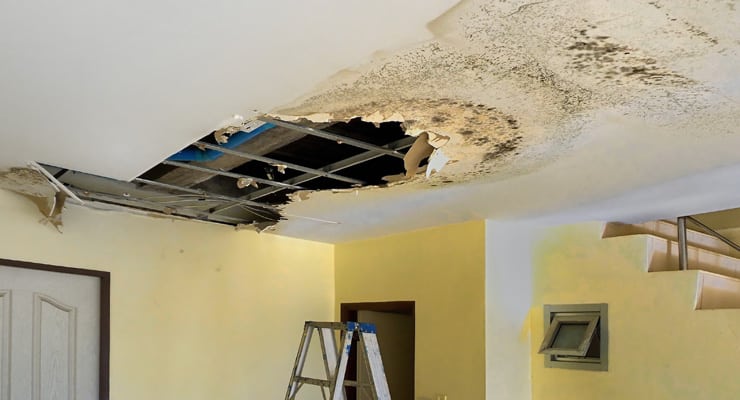 Can I Cure Wet Rot Myself?
You can treat wet rot yourself, in theory. Here's a suggested procedure for DIY wet rot treatment:
Access the affected area safely and inspect it carefully.
Diagnose the wet rot correctly. Ensure it is not a case of more serious dry rot.
Assess whether the structural safety of the building is at risk.
Remove and replace any timber that is beyond repair.
Apply wet rot wood hardener and/or fungicide as necessary.
Repaint and redecorate.
Unless you are competent in doing these jobs it is advisable to get a specialist wet rot treatment company to treat your wet rot. A wet rot specialist can also provide you with a guarantee that your wet rot has been cured.
You can find details of specialist wet rot treatment companies from The Property Care Association.
Selling a House with Wet Rot
A house with wet rot can be difficult or even impossible to sell.
Your buyer's surveyor will check for damp using a damp or moisture meter. The damp or moisture meter will reveal the true moisture content of timber and other building materials. If the surveyor suspects wet rot is present this will be noted on the Homebuyer's Report or valuation survey.
Once your buyer finds out about the wet rot they may ask for a specialist damp survey to be carried out or ask you to fix the wet rot. They may reduce their offer or pull out of the sale altogether.
Once wet rot is reported in the survey it is likely that the bank or building society will only offer a mortgage on condition that the wet rot is expertly treated. They may only offer a reduced mortgage or even refuse a mortgage. That would mean that no one buying with a mortgage will be able to buy your house.
So, If your house has wet rot you could look at fixing the problem before putting it onto the market. Find out how expensive it will be first to help you decide.
There is also a way to successfully sell your wet rot affected house without having to fix it first. This is to sell it direct to a cash buyer.
If you sell to a cash buyer they won't need a mortgage and so a bank or building society won't be able to delay or stop the sale. The cash buyer will be able to offer you a fixed cash price and guaranteed completion. Your house will be sold, the cash will be in the bank and your wet rot worries solved within a few short weeks.