Cardiff is the affordable capital city for property investors! When it comes to property investment, capital cities can make a very sound investment – plenty of jobs and plenty of visitors all support strong demand for property. But, many capital cities – especially London – are well out of most investors' budgets. With prices from about £60,000, however, Cardiff offers affordable property investment.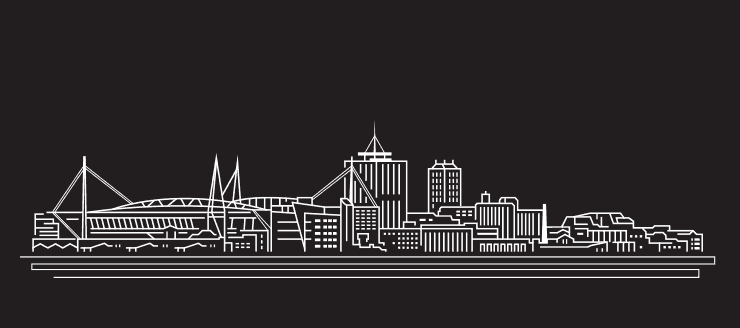 Why Invest In Cardiff?
Cardiff (or Caerdydd as it's known in Welsh) is not only the capital of Wales but its biggest city by far. The city population is 357,200, while the greater metropolitan area has 1.1 million residents. Official figures say Cardiff will grow by 20% by 2035 – the highest population increase in Wales by far, as people move from around Wales and into Cardiff.
Although Wales' economy generally lags much of the UK Cardiff has a strong economy. In recent years the economy here has grown faster than any other UK capital city including London! The city has a service economy with well-paid jobs, based on health, education and public administration, financial and business services, ICT, tourism, growing digital and bioscience sectors and a TV, film and media industry too. Cardiff is a filming location for Doctor Who and many other TV programmes and films.
Cardiff suffered from a decline in the 70s and 80s but has benefitted from huge regeneration since, turning it into a modern European city. Cardiff Bay, centred around Mermaid Quay and the Senedd, the home of the National Assembly for Wales, is said to be Europe's largest waterfront development. It has been completely transformed into a smart waterfront district for leisure, culture and city living.
Good news for property investors is that there's lots more redevelopment ongoing or planned: Central Square, in the Central Cardiff Enterprise Zone, is designed to be a new gateway to the Capital of Wales. BBC Wales and HMRC will have huge new offices here, bringing 4,000 staff to work in the city centre. Central Quay is another huge new neighbourhood in planning. There's also a plan for a £500m redevelopment at Cardiff Bay which is based around a 15,000 seat indoor arena with bars, restaurants and apartments.
The local economy is also benefitting from the removal of tolls on the Severn Bridge in 2017. This article says the region's property prices are rising as a result. Electrification of the railway line to Bristol due in 2020 will make it easier for business travellers and tourists to Cardiff and could help the property market too.
The Cardiff Capital Region City Deal is a deal between Cardiff area local authorities and the Government to invest £1.2 billion in the area. It aims to deliver 25,000 jobs and attract £4 billion of private sector investment on top.
Cardiff is Wales' largest student accommodation market by far. Cardiff University has around 30,600 students here. The University of South Wales has around 25,000 students mainly in Cardiff. Cardiff Metropolitan University has 11,500 students.
Good places for student accommodation investment are those within a 10-20 minute walk from the various universities' buildings, especially Cathays and Roath, plus Adamsdown, Splott, Heath and Plasnewydd. There have been lots of purpose-built student accommodation blocks built in Cardiff in recent years too.
Amenities
Cardiff has all the capital city amenities you would expect, with great shopping centred on Queen Street and Cardiff's famous Victorian arcades, plus bars, restaurants and nightlife.
Cardiff is also a hotspot for sport and culture with attractions including Cardiff Castle, the National Museum Cardiff and the St. Fagan's National Museum of History. The 74,000 seater Principality Stadium is the home of Welsh rugby union and hosts other major sporting events and major music concerts.
Join our Property Club, TODAY, for FREE, to become part of the Property Investments UK community.
Members get first dibs on exclusive, high-yield, off-market property deals, as soon as they go live, as well as access to all of our content. There might even be a few special promotions for investors, in there as well. >>>> LEARN MORE AND SIGN UP >>>
All this means Cardiff has a thriving visitor economy, with around 372,000 visitors a year, all helping to support the property market. This press article says Airbnb hosts in Cardiff are doing very well indeed from renting out rooms for sporting events.
Property investors might like to keep an eye on plans for the South Wales Metro – an exciting scheme to make public transport here some of the best in the world! There are also plans for new railway stations including a new Cardiff Parkway station making the surrounding St. Mellons area a development hotspot!
Property Values in Cardiff
Cardiff property prices are actually some of the most expensive in Wales. But they are comfortably below the UK average and less than half the price of London. Hometrack says the average Cardiff house price is £207,600, a 3.1% rise over the year.
Look on property portals like Rightmove and Zoopla and you'll find Cardiff property prices start from around £60,000.
Cardiff property could be a great long term hold too. This report says Cardiff property prices have risen 240% in two decades and forecasts future strong growth, with demand rising in areas just outside the city as a result.
Rental Demand in Cardiff
Rental demand in Cardiff is buoyant and means some attractive yields for buy to let investors. Totally Money includes the Cardiff CF10 postcode – the city centre and Cardiff Bay area – in its 'top 20' best rental yields in the UK offering 6.88%. Other good yielding spots include CF11 with 5.55%, CF37 with 5.02% and CF31 with 4.54%.
Property investors wanting to buy to let anywhere in Wales need to know about the Rent Smart Wales scheme. Landlords need to apply and register and take a training course, either in person or online. More details here.
Cardiff Council rules mean you need to apply for planning permission if you want to set up a new shared house or HMO. More details here. There's also an additional licensing scheme in two localised areas, Cathays and Plasnewydd.
Investment in Cardiff
Moving on now, here are a few pointers on the different areas of Cardiff for property investors:
City Centre & Cardiff Bay
Population: 44,400
Average House Price: £194,000
Cardiff has a small but buzzing city living scene with apartments in period buildings and new-build blocks. Further out Cardiff Bay has new build apartments, many in a waterfront setting and with great sea and city views, which are ideal for buy to let.
Reasonable property prices but strong rents mean some really attractive yields can be had here with careful buying – in CF10 this could be up to about 7%.
Inner City Suburbs
Population: 97,000
Average House Price: £190,000-£230,000
Cardiff's inner-city suburbs are characterised by rows and rows of traditional terraced houses originally built for dock and factory workers. These types of property will often make a great buy-to-let buy for investors. Cathays and Roath are particularly popular with young people and students – with some areas having a trendy vibe – while Canton and Grangetown are more up and coming.
Yields here, east of the centre and based on CF24, are a solid 4%. But west of the centre in CF11 up to 6% is possible.
Outer Suburbs
Population: 182,000
Average House Price: £132,000-£364,000
Cardiff's outer suburbs offer opportunities for property investors of all budgets. In general terms, the east and west sides of the city offer lower-priced properties which are good for offering budget rentals. These areas include, on the east side, Llanedeyrn, Pentwyn, Llanrumney, Trowbridge and St. Mellons, with several large estates in each. On the west side, similar lower-priced areas include Ely and Pentrebane.
The northern suburbs tend to be Cardiff's more desirable (and pricey) residential areas appealing to professionals and families. Llandaff, Roath Park and Penylan are closer in and have good city centre access. Whitchurch, Cyncoed, Llanishen and Thornhill are upmarket commuter locations. To the west of the city, the one-time seaside resort of Penarth is also popular with families and retirees.
Yields in these areas are likely to be 3% in CF5 and CF14 – and 4% in CF3.
Other Areas To Consider
Rising property prices in Cardiff itself have encouraged buyers to look outside the city boundaries in search of property bargains. So Cardiff property investors might like to look further out too. Here are some other areas you could consider:
Barry
Population: 54,000
Average House Price: £157,500
The one-time industrial, coal exporting port of Barry is now mostly known as a residential and seaside town. Property prices here are much lower than Cardiff itself making it popular with landlords offering budget buy to lets.
Yields here are a steady 4% (CF62 and CF63).
Caerphilly
Population: 30,300
Average House Price: £177,300
To eight miles north of Cardiff Caerphilly is already a popular commuter town. It offers a quieter setting than the city itself but with good local amenities. Commuters can reach Cardiff city centre by train in 20 minutes.
Yields here (CF83) are 4%.
Newport
Population: 145,000
Average House Price: £181,000
Just to the east of Cardiff the separate small city of Newport is just 16 minutes away by train. It has seen lots of regeneration in recent years and is considered up and coming. While prices have risen it's still good value compared to Cardiff.
Yields are 3-4% across most central Newport postcodes.
Pontypridd
Population: 32,000
Average House Price: £157,000
Pontypridd (or 'Ponty') sits up in the Welsh valleys, 12 miles from Cardiff. A one-time mining town, property here is good value and the road and rail links into Cardiff are better than most valley locations. As a result, Pontypridd has become really popular with those who need good access to Cardiff but are on a budget.
Yields here (CF37) are 5%.
---
Property in the Cardiff area may come within the Cardiff Council area or another borough. You can check which council areas apply here.
---
Note. Population estimates are based on ward population information provided by Localstats. Current pricing levels are asking prices taken from Zoopla. Buy to let yields by postcode are taken from Totally Money Buy-to-Let Rental Yield Map 2018/2019.