Areas of Walsall: Buy-to-Let Property Investment Hotspots
Walsall benefits from a great location at the heart of the West Midlands alongside some very good value property prices. Here's more about the very best areas of Walsall to invest in buy-to-let.
Why Invest in Walsall?
Walsall is only around 9 miles northwest of Birmingham and 7 miles from Wolverhampton.
Walsall is part of the West Midlands region.
Walsall is one of the Midlands' largest towns and has a borough population of around 269,000.
Walsall is historically part of Staffordshire. Today Walsall is within the Walsall Council area.
area. Other places in the area include Aldridge, Bloxwich, Brownhills, Darlaston, Pelsall and Willenhall.
Walsall is traditionally a market town. However, the town grew fast during the industrial revolution when it became an industrial centre known for coal and iron. Walsall was at one time known as a major centre for the leatherworking industry and particularly the saddle making industry. The area around the town is known as the Black Country as a result of its industrial past. The Black Country covers parts of the boroughs of Dudley, Wolverhampton and Sandwell too.
Today Walsall's local industries are mostly in light manufacturing, services and distribution. The RAC has its HQ and contact centre in a landmark building by the M6 in Walsall. Walsall Healthcare NHS Trust is also a major employer with 4,000 staff including at Walsall Manor Hospital.
Walsall alongside nearby Wolverhampton were rated as the top improving UK cities on PwC's Good Growth for Cities 2019 index. They scored well on both transport and income distribution.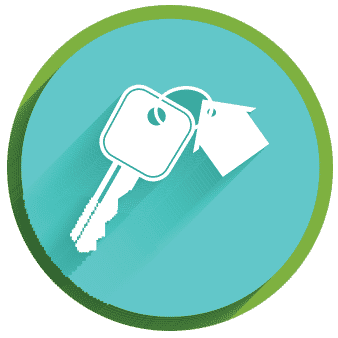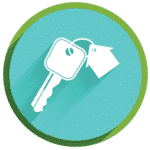 Access our selection of exclusive, high-yielding, off-market property deals and a personal consultant to guide you through your options.
Walsall benefits from a great location in the centre of the country making it attractive as a place for businesses to locate. It's also a popular commuter location for those who travel and work around the West Midlands area. Walsall is right by the M6 and M5 motorways. There are direct rail services from Walsall train station to Birmingham, Wolverhampton and other locations. Walsall to Birmingham New Street is only around 20 minutes by train.
Commuters in the area can also connect to the West Midlands Metro tram network at Wednesbury and travel by tram into Birmingham city centre or Wolverhampton. A new tram line will enable travel to Dudley and Brierley Hill, as also Solihull and Birmingham Airport in the future.
Walsall Council has a 15-20 year master plan for regenerating the town centre. There is an ambition to become the healthiest town centre in the UK encompassing all of the elements which make a healthy town from a vibrant economy, low vacancy rates, a diverse range of uses, including high-quality town centre living, leisure attractions and an evening economy for all. It aims to provide positive experiences for visitors within a safe, clean and attractive environment.
A separate scheme called Phoenix 10 will bring 44 acres of industrial wasteland close to the M6 back into use after nearly two decades. The plan is to create a new 21st-century industrial and business park and bring up to 1,100 jobs to the area.
The Black Country Enterprise Zone is partly within Walsall and is aimed at attracting new industries and new jobs, which should boost the Walsall property market. The zone is focused on the production of components for the advanced engineering and manufacturing sectors, logistics and distribution and environmental technologies.
Places to visit in Walsall include the Walsall Leather Museum, the New Art Gallery, Walsall Arboretum, Aston Manor Road Transport Museum and Barr Beacon which offers panoramic views of the West Midlands region.
The University of Wolverhampton has a campus in Walsall. Some students live in the university's student village but some privately rent student houses in the area.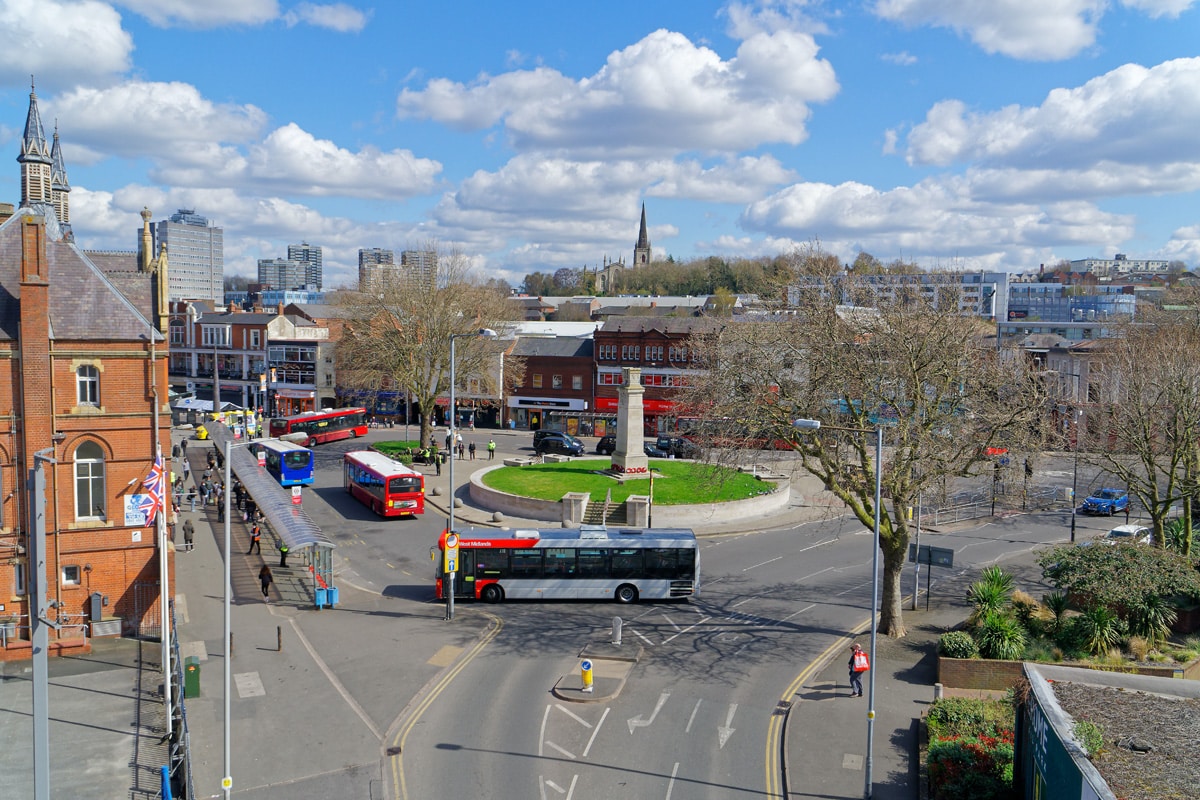 Property Values in Walsall
The West Midlands region overall has good value property prices. Walsall, in particular, has cheap property compared to most of the country and even compared to much of the Midlands.
The average house price in Walsall is currently £186,817 according to HM Land Registry figures. This means that property in Walsall is around 35% cheaper than the average property price in England. Walsall property is also around 12% cheaper than nearby Birmingham.
It's possible to invest in Walsall property for much less than this though. The cheapest property you can buy in Walsall is currently around £50,000 according to Rightmove and Zoopla.
Research on property xyz suggests that some property in Walsall has returned up to 22.5% growth over the past five years.
Rental Demand in Walsall
Demand for Walsall buy to lets comes mainly from locals and those who come to work in the Walsall area. Walsall can also be a popular place to rent with those who need to commute and travel around the West Midlands area.
The Walsall Market Rent Summary from Home.co.uk says that the average rent landlords can earn in Walsall is currently £686 per month. Average monthly rents for different property types are £536 PCM for a one-bed property, £646 PCM for a two-bed property, £918 PCM for a three-bed property and £1,065 PCM for a four-bed property in Walsall.
Investors will also want to consider where the best letting yields are in Walsall. Below average property prices and strong rents mean that Walsall can offer some attractive rental yields. Walsall and the surrounding area is covered by some or all of the Walsall WS1, WS2, WS3, WS4, WS5, WS8, WS9 and WS10 postcode areas.
Current figures from property xyz suggest that investors can find an average long let gross yield of 4.2% in WS1, 5.4% in WS2, 4.4% in WS3, 3.1% in WS5 and 4.5% in WS10. (No current yield information is available for the other districts of Walsall.)
HMO or shared accommodation is one opportunity property investors in the Walsall area might consider. More information on HMO licence requirements for the area is available from Walsall Council, here. Some areas of Walsall have an additional HMO licensing scheme.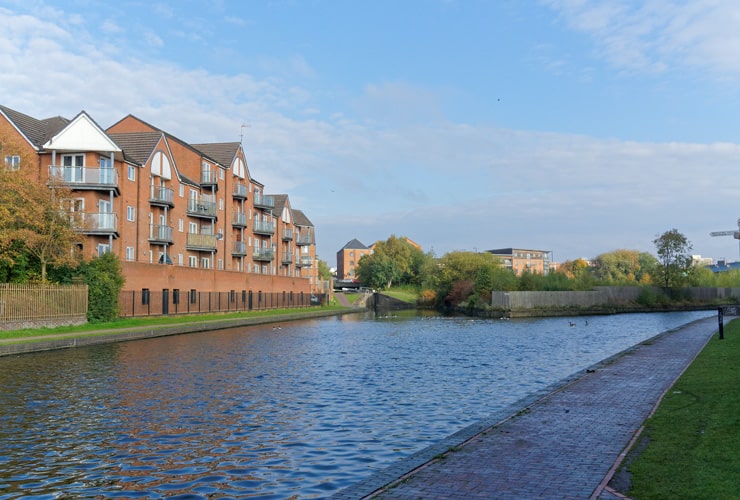 Property Investment in Walsall
Population: 269,000 approximately
Average House Price: £186,817
Walsall offers a range of property types for investors. However, the main Walsall property types include traditional terraces and semi-detached and detached houses on suburban housing estates. In recent times many flats in 1960s tower blocks have been demolished and replaced with modern low rise housing.
Central Walsall is a mixed commercial and residential area. There are plans to develop more homes in the centre of town and make it more attractive as a place to live.
North Walsall areas include Beechdale, Blakenhall Heath, Bloxwich, Birchills, Dudley Fields, Harden and Leamore. Bloxwich is a separate small town with its own amenities. Bloxwich has railway stations at Bloxwich and Bloxwich North which have services to Birmingham New Street in around 30 minutes.
The separate small town of Aldridge is to the north east. Aldridge is a popular residential spot with its own shopping centre and local employment. Further north Brownhills is a separate small town but still within the Walsall borough. Brownhills has its own local amenities and good links for travellers on the A5, M6 (Toll) and A38.
East Walsall suburbs include Chuckery, an inner-city area with many good value properties. Further out is Daisy Bank a popular semi-rural suburban area close to Barr Beacon.
South Walsall districts include Caldmore, Fullbrook, Highgate, Palfrey and Yew Tree. Locations on this side of town offer good access to the M6 motorway and into Birmingham
Areas in the west of Walsall include Alumwell, Bescot and Pleck. These areas have good access to the M6 and the workplaces on this side of Walsall and elsewhere in the region.
Further out are the separate towns of Darlaston, Wednesbury (in Sandwell borough) and Willenhall. These areas have good transport links but are also busy commercial areas with many workplaces. They are also convenient for those who need to commute or travel to Wolverhampton.
Property investors who are interested in investing in Walsall property may also be interested in Wolverhampton, Birmingham or Dudley.
About Our Data
Note: Population estimates are based on information provided by Localstats. Current average asking prices are taken from HM Land Registry data and Zoopla. Buy-to-let yields by postcode are taken from Property.xyz.