Areas of Eastbourne: Buy-to-Let Property Investment Hotspots

by Property Investments UK

The Property Investments UK editorial team have been researching and writing about the UK's property market for more than a decade.
Once overlooked as not very interesting property markets seaside towns like Eastbourne have come into their own post-pandemic – as people look for more space and a good quality of life. Eastbourne has a truly scenic location on the south coast and still has very good value property prices.
Why Invest in Eastbourne?
Eastbourne is a traditional seaside town. It is located in East Sussex at the foot of the South Downs and the Eastbourne Downland.
Eastbourne is a tourist spot known for its Victorian seafront, its shingle beach, Eastbourne Pier and the spectacular cliffs at nearby Beachy Head. However, Eastbourne is also the main retail and service centre as well as the main employment centre for this part of East Sussex.
Eastbourne also lays claim to being the sunniest place in the UK.
Local services in the area are provided by Eastbourne Borough Council and East Sussex County Council. Eastbourne currently has a population of around 90,500.
Eastbourne is well located for travel to regional towns such as Hastings, Lewes and Brighton by both road and rail. There are also direct trains to Ashford International, London Gatwick Airport and London Victoria with a journey time to London of around 95 minutes.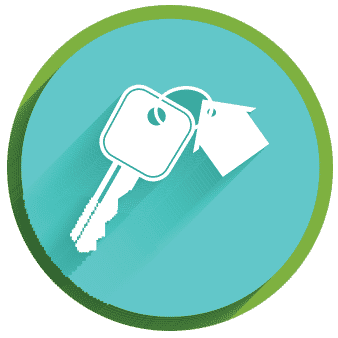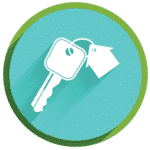 Access our selection of exclusive, high-yielding, off-market property deals and a personal consultant to guide you through your options.
The visitor economy is still important to Eastbourne with the town attracting holidaymakers and day visitors. This provides many jobs in tourism, although many of these are only in the season. Other important Eastbourne employers include public services, distribution, technology and creative industries.
As well as tourism, Eastbourne has a reputation for its arts and cultural scene. Venues in Eastbourne include the Congress Theatre, Towner Gallery, Devonshire Park Theatre and Royal Hippodrome Theatre. It hosts many arts and cultural events, including the Eastbourne Feastival, the Beach Life Music Festival and the Eastbourne Performing Arts Festival.
Eastbourne is popular as a retirement location. Eastbourne also attracts some commuters who work in Brighton, as property prices here are significantly cheaper than in Brighton. (Eastbourne house prices are around 35% cheaper than Brighton.) Both these factors help to support the property market here.
In recent years Eastbourne has been a student town with the University of Brighton having a campus here. However, the Eastbourne campus has been scheduled for closure.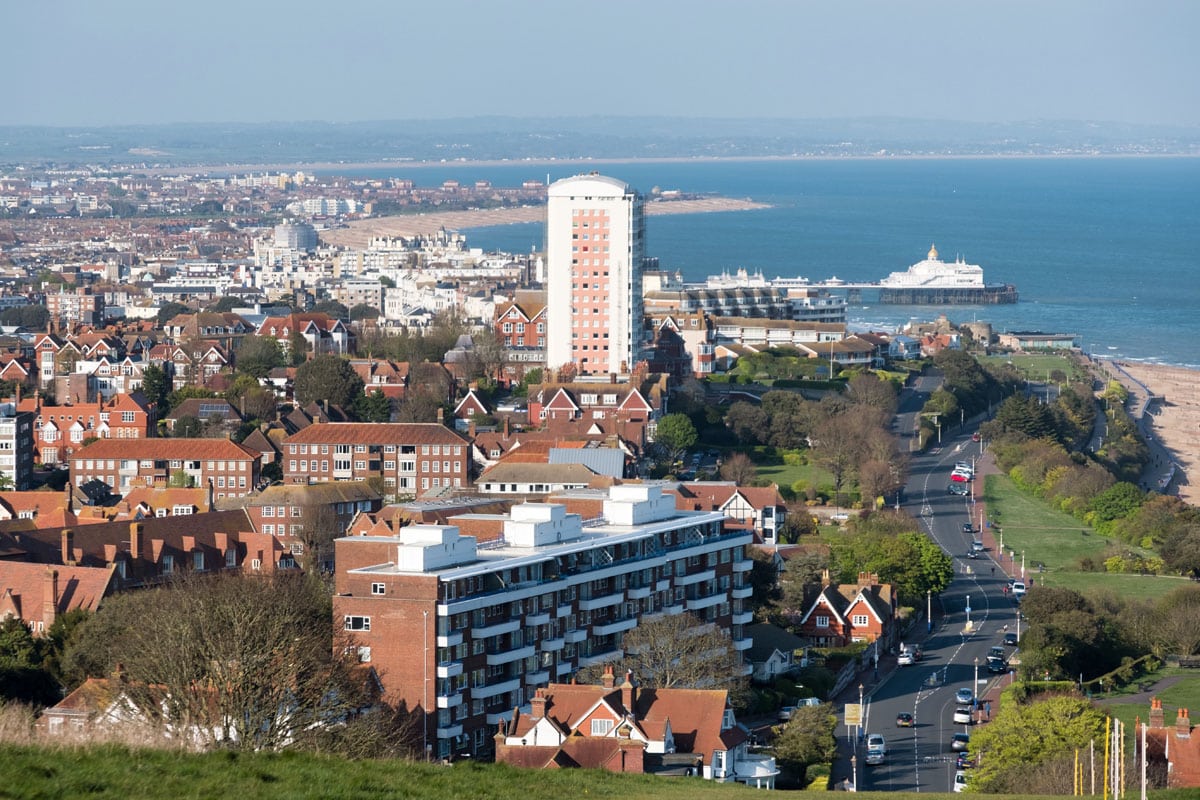 Property Values
Eastbourne is part of the southeast of England which is generally a high property price area. Some parts of Sussex have an average property price of well over £400,000. The good news however is that Eastbourne has very good value property compared to most of Sussex.
Property in Eastbourne only costs around the national average for England. The average house price in Eastbourne is currently £309,587 according to HM Land Registry figures. This compares to a national average for England of £308,365.
Property investors will find that there is even cheaper investment property to be located in Eastbourne too. The cheapest property you can buy in Eastbourne is currently around £74,950 according to Rightmove and Zoopla.
Capital Gains
While past performance shouldn't be taken as an indication of future performance Eastbourne property investors have made good capital gains in recent years. According to data from Property.xyz property prices in some parts of the town have risen by 21.5% over the last five years.
Rental Demand
Property investors in Eastbourne can find good rental demand letting to locals and those moving into the area. There is also a demand for short-term and Airbnb-type lets to tourists and visitors to the town, particularly in the season.
Rents
The Eastbourne Market Rent Summary produced by Home.co.uk says that the average rent landlords can earn in Eastbourne is now £1,305 per calendar month. Average monthly rents for different property types here are £815 PCM for a one-bed property, £1,493 PCM for a two-bed property, £1,508 PCM for a three-bed property, £1,556 PCM for a four-bed property and £2,367 PCM for a five-bed property in Eastbourne.
According to Cottages.com a holiday home to sleep a family of four in Eastbourne rents for between £829 and £2,120 per week during the summer holiday season, depending on the location and quality of the property.
Yields
The Eastbourne area is covered by the Brighton BN20, BN21, BN22 and BN23 postcode areas. Current figures from property xyz suggest that letting yields are currently between 3.5% and 4.5% across these areas. An Eastbourne house in multiple occupation (HMO) or a holiday let here should achieve a much higher yield.
It is always advisable to check likely achievable rents and yields for a particular property with a letting agent.
Investors can locate the current letting yields in any area of the country using property.xyz.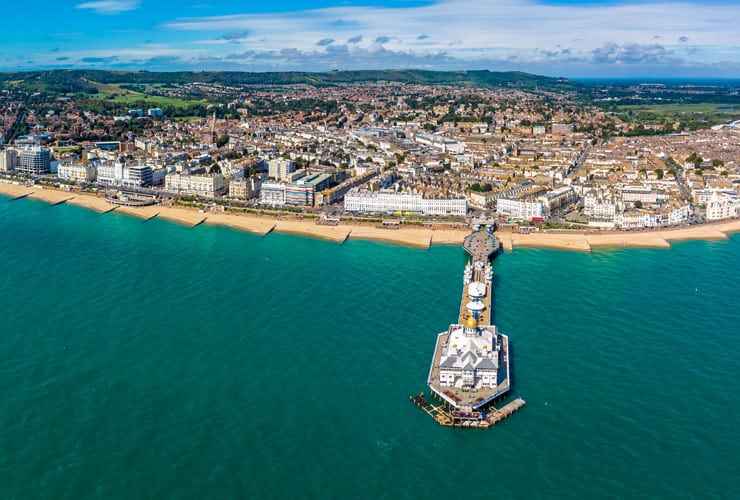 Landlord Licensing
HMO or shared accommodation is one opportunity property investors in Eastbourne might want to consider. HMO yields generally are higher than for a property let as a whole. More information on current HMO licence requirements for the area is available from the Lewes and Eastbourne Councils website here.
Eastbourne Borough Council does not currently operate selective or additional licensing. However prospective landlords and investors should check the latest situation direct.
Property Investment in Eastbourne
Population: 90,500 approximately
Average House Price: £309,587
Eastbourne grew fast in Victorian times, so property investors will find many Victorian properties in Eastbourne. These include terraces, townhouses and grand period properties some of which have been converted into flats, especially in and around the town centre. The Eastbourne suburbs have more contemporary properties including detached and semi-detached family houses and bungalows.
Some of the different Eastbourne suburbs which may be of interest to property investors are:
Hampden Park is in the north of Eastbourne. It is a residential area with good access to transport networks and workplaces in the town and has mainly 20th-century property types. It benefits from having its own train station. There are good value streets in this area.
Langney and Friday Street are to the northeast of the town centre. They are residential areas with more contemporary housing. They have their own local amenities and good access to the A27 and A22 for those who need to travel outside Eastbourne. There are some good-value property areas in this part of town.
Meads and Holywell are to the west of the town centre. They are mainly residential areas with access to the seafront. The Eastbourne Campus of the University of Brighton is here (although scheduled to close). Meads is a particularly popular residential area with higher-priced properties.
Old Town is, as the name suggests, the original old town centre of Eastbourne from before it was expanded as a resort. It is a popular residential location.
Polegate is a separate small town just to the northwest of Eastbourne and is in the Wealden district. It has its own shops and local services, good road access around the region and its own train station with services into Eastbourne (10 mins), Brighton and London.
Roselands is to the northeast of the town centre, close to several parks and beaches. There are good value streets in this area.
Sovereign Harbour is on the east side of town and consists of Inner Harbour, North Harbour, South Harbour, West Harbour and Outer Harbour. It is a new build development that commenced in the 1990s and comprises a large marina, shops and services plus residential developments. Sovereign Harbour is popular for residential buy-to-lets and holiday lettings.
St. Anthony's Hill is on the east side of town. It is a residential area with good value property and benefits from access to the town centre and seafront.
Wannock and Lower Willingdon are to the northwest of town, fringing the Eastbourne Downland. It is a residential area. Willingdon Village is a sought-after area of Eastbourne with mainly higher-priced properties.
Westham and Pevensey are villages to the northeast of Eastbourne and are popular with those who want or need to live outside the town. They are close to the A27 and A259 and have their own railway station. They are in the Wealden district rather than Eastbourne as such.
Read More
About Our Data
Note: Population estimates are based on information provided by Localstats. Current average asking prices are taken from HM Land Registry data and Zoopla. Buy-to-let yields by postcode are taken from Property.xyz.