How to go about finding Repossessed Houses for Sale, in the UK: A Guide
Repossessed houses can offer a lot of potential for property investors in the buy-to-let market not least of all because they are often sold below market value. The truth is however that mortgage companies and estate agents will do anything in their power to hide the fact that they have been repossessed.
So the secret is in knowing how to find them, right?
Keep on reading and I'll show you exactly what to do...
Dealing With Mortgage Companies
Mortgage companies often try to hide the fact that they are selling repossessed houses as they feel it may devalue the property and lead to a lower sale. Often these are known as below market value houses.
This is misguided as, in my opinion, when buyers know it's a repossession it can generate a lot more interest and push up prices (good old supply and demand).
But until mortgage companies have a change of heart it can be difficult to spot which sales are repossessions. That is unless you know where to look.
This is where I would like to give you the upper hand in your property search and help guide you on how to find repossessed properties for sale.
So, mortgage companies will choose to sell the properties in one of three ways...
Estate Agents
As a rule of thumb, most individual repossessions that were once owner-occupied will be sold by estate agents.
LPA (Local Property Administrator) Receivers
Most portfolio properties that were on buy to let mortgages and owned by landlords will be sold by LPA receivers.
Auction Houses
Auction houses tend to pick up all of the properties that fall through the cracks and can't be sold for a suitable price using either an estate agent or an LPA receiver. This is because, when it comes to auctions, all being fair and equal, are used when a mortgage company has tried to sell a property for the best price and failed. Remember, auction houses are still a very good way of picking up a bargain, buy-to-let property.
Focussing on Estate Agents
For the purposes of this post, however, as buying properties at auctions and through LPA receivers is more specialist than the average investor may want to try, I'm going to concentrate on estate agents. I mention those other methods just so you are aware they exist.
When I used to work for an estate agent in 2006-2007 we dealt with quite a few repossessions. The script was always the same, 'Don't tell any buyers it's a Repo'! ... and this message was passed down to us from the bosses.
So as an agency we were told to market a repossession as normal and manage the viewings, same as every other property.
This is all well and good until you get to the property and you have to explain why the windows have boards on (note: not all repossessions do so keep a lookout for other tell tale signs), the toilets and sinks have what looks like police tape across them saying 'do not use' and the place looks like a ghost scene with personal items left throughout the house. The feeling is clear, it's not lived in.
It's a weird feeling and quite eerie, and pretty hard to explain to interested viewers without them asking the question...
"Is this a repossession..?"
You see mortgage companies aren't that hands-on with repossessions. They have to be seen to get the best possible price but they're no experts in selling houses, they're finance companies. As such they like to pass the buck on to agents to do the work. The problem is that then they often tie the agent's hands throughout the whole process and have a tendency to stop them from doing their work properly.
This relationship leaves trails, signs that the property is a repossession. And these signs are very difficult for the estate agent to hide as much as they might want to.
Some properties are more obvious than others. But, if you know what you're looking for then you can turn detective, spot the signs, get a deal. If you have the right property investment education then finding repossessed properties for sale will become much easier.
How To Spot Repossessed Houses for Sale
There are things to consider when trying to spot repossessed properties that are for sale and the first thing before you even get to the viewings stage, is the probable auction strategy of the mortgage company promoting the sale.
As the mortgagee (lender) needs to be seen to achieve the best possible price (as they are legally bound to do), they always invite extra bids on a property once an offer has been made until the sale is exchanged.
This can be infuriating for buyers and agents alike as it slows the process, can often cause sales to fall through... and it doesn't always lead to a better price.
I'm afraid that this just part of the game when buying repossessions...
Local and Online Advertising
So as part of this process, the estate agent will often be asked to put an advert in their local paper and on property listing sites such as Rightmove or Zoopla.
For Example...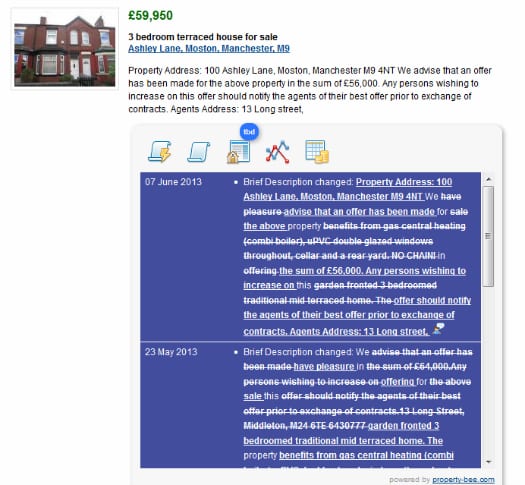 So the first thing you have to do when you're looking for repossessed houses for sale is to check your local property listings online for wording similar to the above and your local papers for 'public notices'.
If you don't live in the area in which you want to invest and don't know what the local papers are then it's worth calling estate agents in the area and asking which papers they use to list their public notices/final offer notices for repossessed houses for sale.
Alternatively, there are websites that list all local papers for the country and of course, you can always contact the papers directly to see if they will send you copies.
What Should I Look For When Viewing the Property?
The next avenue to explore in your quest to spot repossessed properties for sale is by knowing what to look for when you're out viewing or, if you've got good eyesight, you can sometimes spot some tell-tail signs in the pictures included with the property listings.
These signs (in no particular order) are...
Metal grates or wooden boards on windows and/or doors
'Do not use' tap on plumbing items as the water has been drained down to prevent leaks
Chattel Notices in the window giving owners notice to collect personal belongings
What Happens Next?
So now you know how to find the repossessed houses in your area and what to look for when you're out viewing.
But be careful! Not all repossessed properties are gems. For more information check out my post on how to spot the pitfalls of investing in repossessed houses and ask yourself whether buying a repossessed property really fits in with your buy to let strategy.
If you would like help in finding your next buy to let investment or building a property portfolio, then take a look at how I can help save you time and make you more money with your investments.
Sign Up for Our FREE Training
Thank you for reading this article. If you liked this content then why not join our free online property training course?
In there we cover a range of different property strategies to help you get started on building a long-term property portfolio or creating a cash-flowing property business.
We also look at ways to increase your return on investment with any of the properties you may be considering and we also have a couple of cheat sheets and downloadable documents.