Areas of Blackburn: Buy-to-Let Property Investment Hotspots
In times of fast-rising property prices, Blackburn remains a cheap property hotspot. For the price of one house in an average UK town, property investors can buy two in Blackburn. Here's the lowdown on the best areas of Blackburn to invest in buy-to-let.
Why Invest in Blackburn?
Blackburn has a town population of around 120,000. That makes Blackburn one of the largest towns in northwest England.
Blackburn is part of the county of Lancashire. However, Blackburn is part of the Blackburn with Darwen local authority area together with the small town of Darwen just to the south. Local services are provided by Blackburn with Darwen Borough Council.
Like many northern towns, Blackburn was once a major textile manufacturing centre. Today the main employers in the Blackburn area include health, manufacturing, retail and wholesale, education and business administration and support services.
Well-known Blackburn employers include Crown Paints, Graham & Brown, EG Group (Euro Garages), Thwaites Brewery, Akzo Nobel Industrial Coatings and BAE Systems MA & I at Samlesbury just to the northwest of the town.
The Samlesbury Aerospace Enterprise Zone is located just to the northwest of the town. It is designed to be a national centre of excellence for advanced engineering and manufacturing.
Blackburn is well located for travel by road to the rest of Lancashire and over into Yorkshire. Blackburn is connected by the M65 motorway, A59 and A666 to other regional towns including Burnley, Bolton and Preston and is also within easy reach of the M6 motorway.
The Blackburn train station has services to nearby towns and to destinations across Lancashire and Yorkshire including Blackpool, Preston, Rochdale, Manchester, Leeds and York.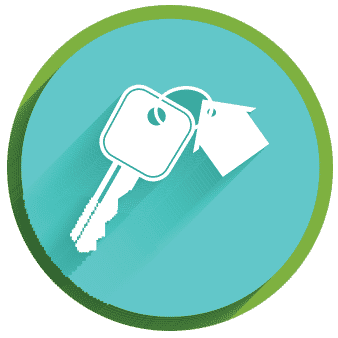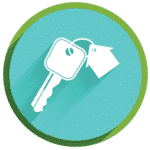 Access our selection of exclusive, high-yielding, off-market property deals and a personal consultant to guide you through your options.
Blackburn isn't all about industry. Blackburn is surrounded by lots of green space including the West Pennine Moors and the Forest of Bowland AONB. Blackburn cultural and leisure attractions include Blackburn Cathedral, Blackburn Museum & Art Gallery, Blackburn Empire Theatre, King George's Hall, Witton Park and Blackburn Ice Arena. The Mall Blackburn is also the area's main retail centre.
Blackburn is well known for Blackburn Rovers, a founding member of the Football League, whose home ground is at Ewood Park.
The local authority has a six-point local plan to regenerate the town and make it more attractive as a place to live and work. The plans could include new housing sites, new business parks and redevelopment of the town centre. The plans include building up to 5,000 new houses in Blackburn and creating up to 5,000 new jobs. As part of this, the Darwen Town Investment Plan includes a £100 million growth programme with a series of wide-ranging improvements in the town of Darwen.
Blackburn has also applied for city status. If granted city status would raise Blackburn's profile and could help attract new businesses and more jobs to the area.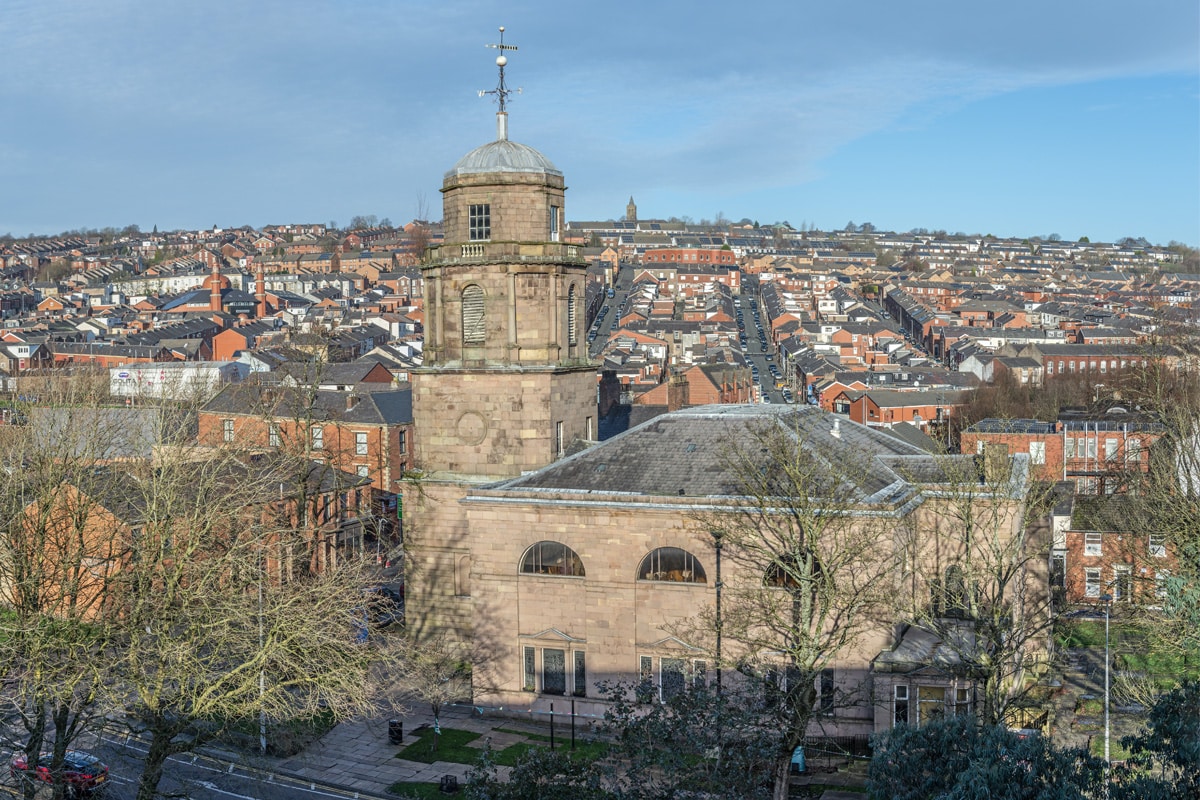 Property Values in Blackburn
Blackburn is a very good value property area compared to the rest of the country. The average property price across the Blackburn and Darwen local authority area is currently £135,650 according to HM Land Registry figures.
Property is Blackburn and Darwen is around 50% cheaper than the national average house price for England. Blackburn and Darwen are also amongst the top ten cheapest places to invest in property in England.
Blackburn itself has even cheaper property than the rest of the council area, however. Zoopla listings show that it is possible to find a buy to let property to buy in Blackburn starting at around £50,000.
Research on property xyz suggests that property in Blackburn itself has returned up to 25% growth over the past five years.
A survey by data insight company, Address Intelligence, placed Blackburn amongst the top 10 most profitable places in the country to invest in rental property. Blackburn was placed at second position in their ratings, after Sunderland.
Rental Demand in Blackburn
Home.co.uk's Blackburn Market Rent Summary shows that the average rent in Blackburn is £614 per month according to their figures. Blackburn landlords might expect to earn an average of £453 PCM for a one-bed property, £618 PCM for a two-bed property, £704 PCM for a three-bed property, £1,175 PCM for a four-bed property and £1,475 PCM for a five-bedroom property.
On letting yields in Blackburn buy to let investors can find very attractive letting yields in the area. Blackburn itself is mostly covered by the Blackburn BB1, BB2 and BB3 postcode areas. Research on property xyz suggests that investors can find good long-let gross yields of 4.1% in BB1, 4.9% in BB2 and 5% in BB3.
Blackburn with Darwen has a selective licensing scheme in the Infirmary area of Blackburn and in parts of Darwen, meaning all rental properties in certain streets need a licence.
Blackburn with Darwen Borough Council has an Article 4 direction in certain wards within the town. This means planning permission is needed to turn a house into an HMO. More information is available here.
Investors who are considering operating a shared property or HMO in Blackburn can find out about HMO licences from Blackburn with Darwen Borough Council.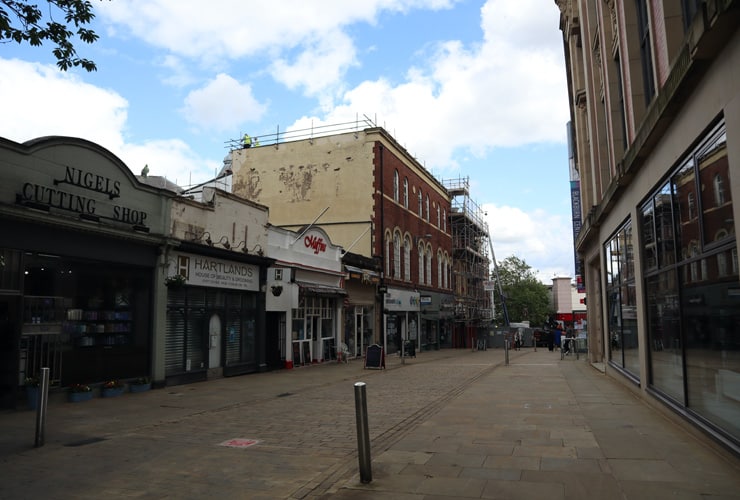 Property Investment in Blackburn
Population: 120,000 approximately
Average House Price: £135,650
Blackburn has a very mixed property market. Some areas of Blackburn are deprived. These areas tend to be where the cheapest property can be found. They appeal to budget buy to let landlords and HMO landlords, however. Further out some of the areas surrounding Blackburn are semi-rural and villagey in nature. These areas tend to be very popular with commuters. Property prices in these areas are higher than in the centre of Blackburn itself.
Blackburn offers a range of property types. The town itself offers large numbers of traditional terraced houses and stone period properties. Further out housing estates with more modern detached and semi-detached properties are the predominant property type.
Blackburn town centre and Ewood is mainly a retail and commercial area rather than a residential area.
North Blackburn districts include Beardwood, Four Lane Ends, Pleckgate and Roe Lee. There are some good value property areas to this side of town.
Further out are areas such as Brownhill, Mellor, Mellor Brook and Wilpshire. These areas have good access into Blackburn itself as well as to the A59, M6 and Preston. Fringing the Ribble Valley there are some of the area's most popular residential spots. They are in the Ribble Valley borough where average house prices are around double those in Blackburn itself.
To the east of Blackburn centre are the areas of Knuzden Brook, Little Harwood and Shadsworth. These areas have good access to the workplaces on this side of town, such as at Shadsworth Industrial Estate, and to the M65.
Further out are the separate small towns of Accrington, Clayton le Moors, Great Harwood, Oswaldtwistle and Rishton. These places are within the Blackburn commuter area although they are in the separate local authority borough of Hyndburn. The average property price across Hyndburn is lower than Blackburn itself at around £122,500.
Districts to the south of Blackburn town centre include Cherry Tree, Earcroft, Feniscowles Hollins Bank, Lower Darwen and Mill Hill plus the separate small town of Darwen. These places benefit from easy access to the M65 motorway and there are also train stations offering commuter access to places like Preston, Accrington, Burnley and Blackburn itself. They are popular Blackburn residential suburbs.
Darwen has a population of around 31,000, its own local amenities and a train station with services to places including Blackburn, Bolton and Manchester Victoria. Darwen is generally a good value property area.
Property investors who are interested in Blackburn property investments could also consider property investments in nearby Preston.
About Our Data
Note: Population estimates are based on information provided by Localstats. Current average asking prices are taken from HM Land Registry data and Zoopla. Buy-to-let yields by postcode are taken from Property.xyz.