Areas of Telford: Buy-to-Let Property Investment Hotspots
As a new town, Telford in Shropshire isn't known for its history and culture. Its town centre doesn't have any grand old buildings, any city walls nor a medieval castle on a hill. What Telford does have though is great amenities, great transport links and property prices that are well below average... all things that can make for finding a sound property investment.
Why Invest in Telford?
Telford is in the Midlands, midway between Shrewsbury and Wolverhampton and around 27 miles northwest of Birmingham. Telford has a population of 142,700.
Telford was originally part of Shropshire but today is part of Telford and Wrekin borough and local services are provided by Telford and Wrekin Council.
Telford is a fast-growing town with a growing population. The surrounding borough has a population of around 170,000 and this is expected to grow to 196,900 by 2031.
Telford is a new town first established in the 1960s. Telford was developed by expanding the original old towns and villages of Dawley, Madeley, Oakengates and Wellington. The town was originally planned as a new town to which people living in the industrial West Midlands including Birmingham and Wolverhampton could move for more space and a greener, cleaner environment.
Telford has great connectivity making it popular with commuters and travellers into the West Midlands conurbation and Shropshire. Telford is right on the M54 which connects to the M6 and M5 as well as the A5. There are train stations at Wellington, Oakengates and Telford Central. Telford Central has direct services to Birmingham New Street, Birmingham International, Shrewsbury, Wolverhampton and many other places.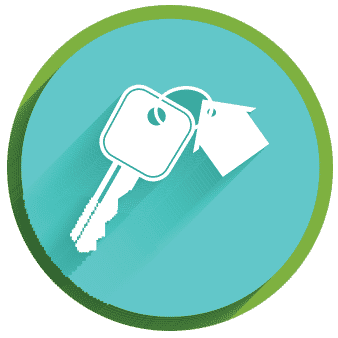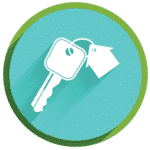 Access our selection of exclusive, high-yielding, off-market property deals and a personal consultant to guide you through your options.
Telford is named after Thomas Telford (1757-1834) who is known for many key civil engineering projects across Shropshire and the rest of the UK.
Telford has its own local industries providing employment on business parks around the town including Hadley Castle, Halesfield, Hortonwood, Telford 54 and Stafford Park. According to Enterprise Telford, the town is home to over 6,250 businesses, from micro start-ups to large multinationals, across a diverse range of sectors with employment levels above the national average and a skilled workforce of over 600,000 within a 30-minute drive.
Key Telford industries include advanced manufacturing, automotive, defence and cyber security and the food and drinks sectors. Telford employers include Craemer UK, Hitachi Capital, Capgemini UK, Cosma Casting UK, Lyreco UK and Ricoh UK.
Telford and Wrekin Council has plans to invest £90 million in Telford over the next four years. It has plans to boost town centre high streets, improve roads, build homes and support businesses.
Telford is also the main shopping and entertainment destination for the whole area with a purpose-built town centre rather than a traditional high street. The Telford Centre offers around 160 shops in an indoor shopping mall. Southwater offers a library, IMAX cinema, ice rink, ten pin bowling and a range of eateries.
Telford is close by to a number of popular sights and attractions so the area has a visitor economy. Ironbridge Gorge is considered to be one of the birthplaces of the industrial revolution and is a UNESCO World Heritage Site. The historic town of Shrewsbury is just to the west.
Telford International Centre part of the Convention Quarter is a major regional centre for events, exhibitions and conferences.
The University of Wolverhampton Telford Campus is located in Telford. Harper Adams University, a specialist agricultural university, is just a few miles away at Newport.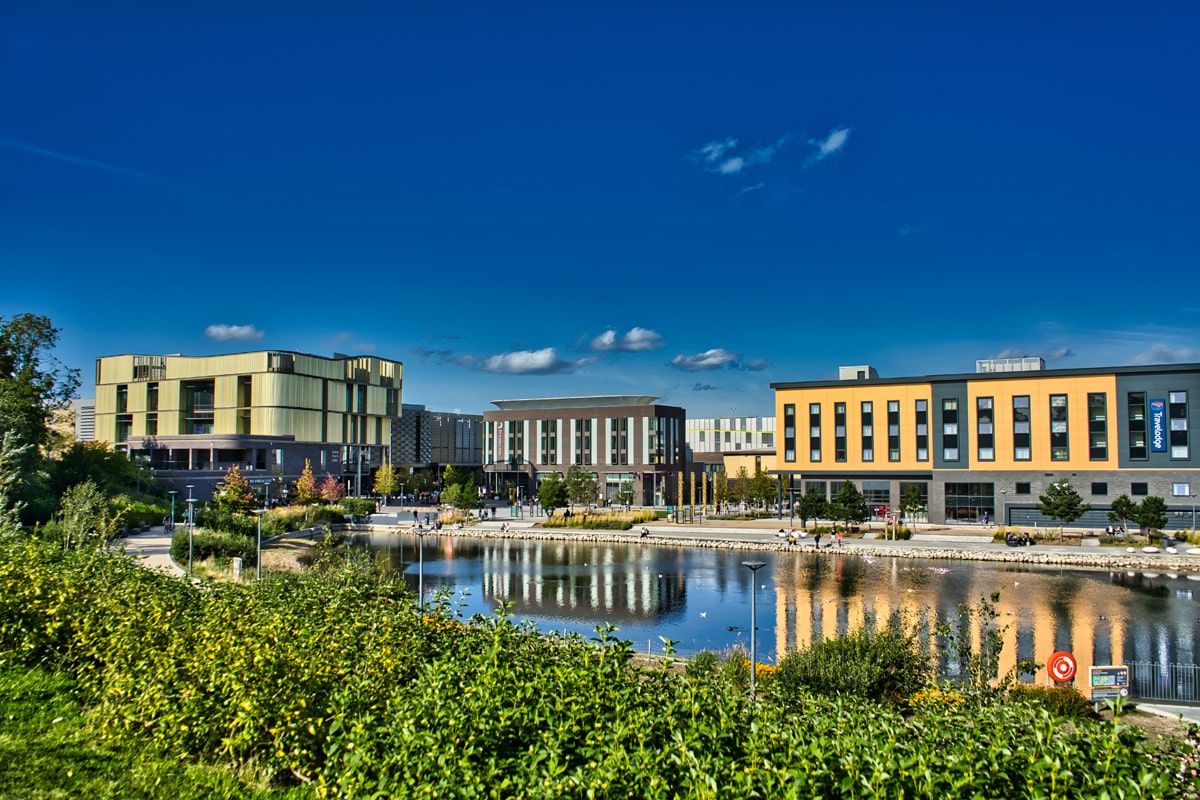 Property Values in Telford
Telford is a good value property area compared to most of England. The average property price across Telford and Wrekin Borough is currently £199,978. That means Telford property prices are around 25% less than the national average in England.
Property investors can find a cheaper buy-to-let property in Telford. Zoopla listings show that it is possible to buy an investment property in Telford starting at £48,000.
Research on property xyz suggests that property in Telford postcode areas has returned up to 41% growth over the past five years.
Rental Demand in Telford
The buy-to-let market in Telford is mainly for local residents and those who come to work in Telford.
Home.co.uk's Telford Market Rent Summary shows that the average rent in Telford is £646 per month according to their figures. Landlords in the Telford area could expect to earn an average of £499 PCM for a one-bed property, £603 PCM for a two-bed property, £767 PCM for a three-bed property, £1,084 PCM for a four-bed property and around £1,175 PCM for a five-bed property.
Buy to let investors can find attractive letting yields across Telford. Research on property xyz suggests that investors can find long let gross yields of 3.9% in the Telford TF1 postcode area, 4.2% in TF2, 4.4% in TF3, 3.8% in TF4, 4% in TF5 and 4.5% in TF7.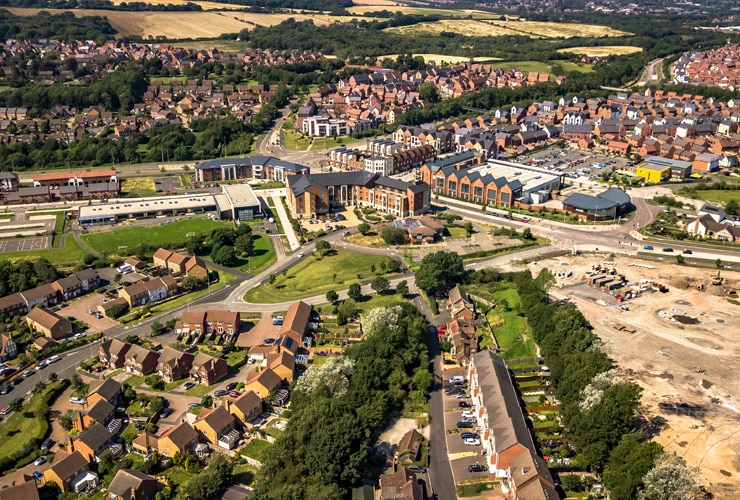 Property Investment in Telford
Population: 142,700 approximately
Average House Price: £199,978
When buying property in Telford it's important to note that the town has its origins as a planned community. Most housing in Telford consists of individual estates both private and social housing, each having its own local amenities and schools, in garden suburbs around a new town centre. Most areas offer property buyers and tenants lots of green space and easy access to the Shropshire countryside.
As a new town, most property available in Telford dates from the 1960s to present-day new builds. However, there are some older period properties, especially Victorian properties, in the original town and village centres. Main Telford property types include detached and semi-detached houses alongside apartments in some areas.
Districts to the north of Telford, across the M54, include Apley, Arleston, Beveley, Donnington, Ercall, Hadley, Haybridge, Ketley, Leegomery, Muxton, Oakengates, Park, Priorslee, St. Georges, Trench, Trench Lock, Wellington and Wombridge. These areas have good access to the M54 and A5. The Wrekin Retail Park, The Princess Royal Hospital and Telford College are on this side of town.
Apley near the hospital is a sought after area. Leegomery also is within this area and is a good value area. Trench is popular with buy-to-let tenants thanks to good access to the business parks around Hortonwood and Hadley and is a good value area. Wellington is an original old market town with local amenities and its own train station.
Districts to the south of Telford, on the same side of the M54 as the town centre, include
Brookside, Dawley, Lawley, Hollinswood, Madeley, Malinslee, Newdale, Old Park, Stirchley, The Rock, Woodside, Sutton Hill. These areas have good access to the shopping and leisure amenities available in Telford Town centre, Telford Town Park, the Wrekin and the Ironbridge Gorge. The Halesfield and Stafford Park business parks are also on the south east side of town.
Dawley is one of the original old villages from which Telford was formed and with good access to the town centre. Hollinswood, Malinslee and Stirchley largely date back to the 60s and 70s and are good value areas. Brookside has some of the cheapest properties in Telford. Lawley and Lawley Village is one of the newest districts in Telford with lots of recent and new builds.
Plans have recently been approved to build around 1,000 new homes and community facilities on the site of the former Ironbridge power station to the south west of Telford.
Property investors who are considering a Telford property investment might also consider buy-to-lets in the many small villages surrounding the town. These are where the area's older properties and country cottages will be found and they're popular with tenants who commute to Telford, Shrewsbury and Wolverhampton.
About Our Data
Note: Population estimates are based on information provided by Localstats. Current average asking prices are taken from HM Land Registry data and Zoopla. Buy-to-let yields by postcode are taken from Property.xyz.