Type in best buy to let locations in Google and what you'll get is a list of all of the latest articles from newspapers or mortgage lenders talking about the best property hotspots or the greatest cities for buy to lets…
If you look at these articles as a bit of entertainment then that's fine, but if you use them to choose the best location for your next investment, then you're making a very big mistake
You see…. these articles and reports are fundamentally flawed because they only take in to account one set of data
The data they use is typically 'average rental yields', which although can be a good general indicator, the problem here is in the word 'average'.
An article here from the Telegraph is a prime example, which refers to a report put out from HSBC on the top 50 buy to let hotspots.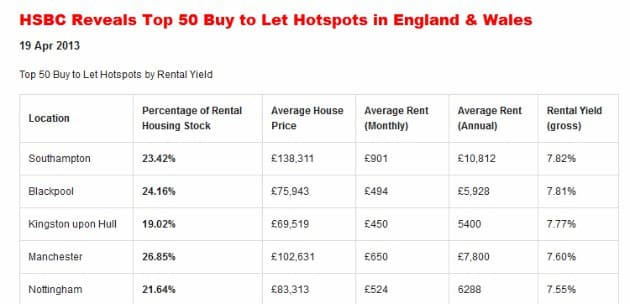 For great investments, rental yields shouldn't be the only thing you look for to choose an area to invest in, otherwise your missing out on lots of key factors that will make or break your buy to let investments.

Why Yield Shouldn't Be Your Only Decision When Choosing Your Investment Area
To give you a real life example, in 2008 I purchased a buy to let investment in a town that was brand new to me (which on its own is no problem if you have the contacts), but my first mistake, was that I didn't know anybody  in the area.
No lettings agents, no maintenance contacts, nobody I knew who had invested there before. I had no one who could help advise me on if the deal was good or bad, so I was investing completely blind.
The reason I chose the area was because on paper the rental yields were showing as 10%+ and the particular property I purchased was negotiated at a massive discount.
All good so far…. but this was mistake #2 , because I accepted the high rental yield to mean a great deal
Fast forward 5 years and to date this has been my worst performing property, as it has consistently had problems with tenants, rent arrears, damage and void periods.
What looked like a great yield on paper has never materialised
Now don't get me wrong i'm not saying that all areas with high rental yields come with terrible tenants…they don't
And since then I have learnt from my mistakes, focused the areas I invest in and found some cracking properties with high yields.
What i'm saying is that you must consider more than just the yield when deciding on the best buy to let location for you.
Sure rental yield is definitely part of the mix that makes up a good investment, and in my blog on best buy to let deals I share with you exactly how to calculate rental yields and source these high yielding properties.
But to find the very best buy to let locations, you need to consider more than just the yield.
From experience I now have 7 rules when investing in property , which include:
1). The area
2). The tenant profile
3). Your rental yield
4). The potential for capital growth
5). Your exit strategy
6). The potential to add value
7). Discounts achievable
So don't just take the next newspaper article you read as gospel … choose your investments, and most importantly the buy to let locations for your properties carefully
—–
It would be great to hear from you, so let me know
What's the most important thing that you look for in your buy to let properties?
…. in the comments at the bottom of the page.