Areas of Derry City and Strabane: Buy-to-Let Property Investment Hotspots
Derry, or Londonderry to use its formal name, is the second largest city in Northern Ireland after Belfast. Here we'll look at where are the best areas of the Derry City & Strabane area to invest in buy-to-let.
Why Invest in Derry City & Strabane?
Derry City & Strabane is one of the 11 local authority areas of Northern Ireland. The population of Derry City & Strabane is around 150,500.
The main settlement within Derry City & Strabane is Londonderry. Londonderry is commonly known as Derry however. The city is also known as the Maiden City to some.
Derry city itself is a historic old walled city. The city is divided into Cityside and Waterside by the River Foyle and it is located at the head of Loch Foyle.
Other settlements in the area include the town of Strabane, Castlederg, Eglinton, Sion Mills, Donemana and Claudy.
Derry City & Strabane District Council provide local services in the area.
Derry City has been named as one of the Top 20 Best Places to live in Ireland.
The area is the most rural part of Northern Ireland with Belfast being around 71 miles away or around 90 minutes by road. The new North West Transport Hub has an hourly train service to Belfast serving towns such as Coleraine, Ballymena and Antrim along the way. Derry is also a hub for bus services around the area and into County Donegal. The City of Derry Airport has a small range of scheduled services and holiday flights.
The period known as The Troubles or Northern Ireland Conflict hit the economy across Northern Ireland. In recent years the area has benefitted from a fast growing economy and this has helped to boost the property market in the city.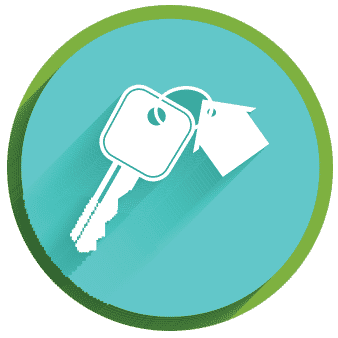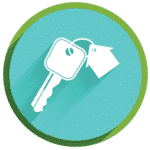 Access our selection of exclusive, high-yielding, off-market property deals and a personal consultant to guide you through your options.
The local economy was historically based around textiles, being particularly noted for shirt making. Today the economy is more diversified. Key employers in the area include light manufacturing, tech., business services, public services and agriculture in the rural parts of the district. Important Derry employers include Seagate Technology where around 1,400 people work making it one of the area's largest employers. The city is the main medical centre for the region and the Altnagelvin Area Hospital provides many jobs.
Londonderry Port operated by Foyle Port at Lisahally is an important port. The port is a major import-export port for the entire region and supports around 1,000 direct and indirect jobs.
Derry is also the largest regional shopping, nightlife and services centre serving not only the surrounding towns and villages but County Donegal in the Republic of Ireland.
Derry has a growing visitor economy. The city walls are regarded as some of the best-preserved in Europe. The wider area also has a tourist trade with the world-famous Giant's Causeway a UNESCO World Heritage Site being within 50 miles. Sites in Derry itself include the Guildhall, the Peace Bridge, Tower Museum, Museum of Free Derry, St. Columb's Park and the Craft Village.
Derry has a student accommodation market so there may be opportunities for student property investment. The University of Ulster has around 4,000 students at Magee. Popular places for students to rent include close to the Magee Campus and in the city centre.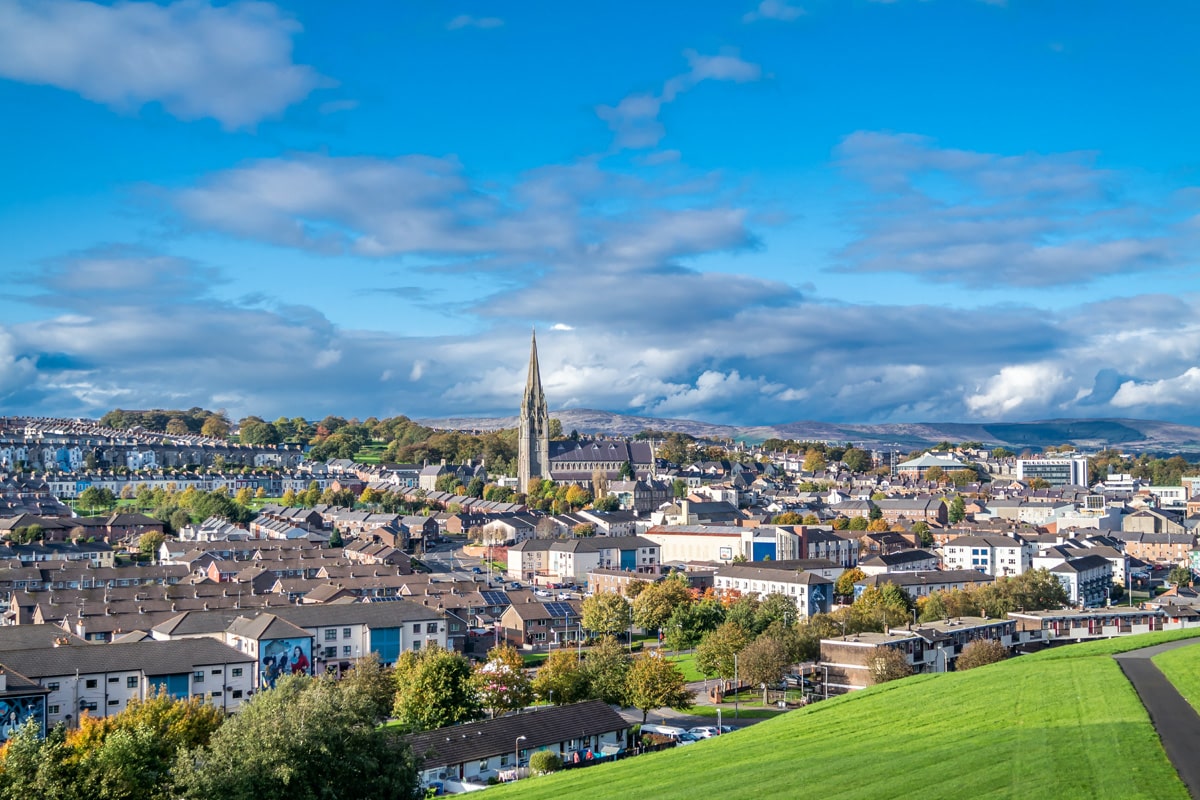 Property Values in Derry City & Strabane
Northern Ireland is generally a good value property location compared to other places, even though Northern Ireland property prices have risen strongly of late.
The average price for a house in Northern Ireland is £153,449 and ranges from £134,091 in Armagh City, Banbridge and Craigavon to £180,067 in Lisburn and Castlereagh according to the current Northern Ireland House Price Index.
The average Derry City & Strabane property price is below the Northern Ireland average at £135,176 according to the Index. Derry City & Strabane is the second cheapest place to buy property in Northern Ireland.
It is possible to find even cheaper property in the city, however. Zoopla listings show that it is possible to buy a buy to let here starting at around £50,000.
A recent report, the Royal Institution of Chartered Surveyors (RICS) and Ulster Bank Residential Market Survey, suggests Northern Ireland house prices are set for more rises as demand outstrips supply.
Rental Demand in Derry City & Strabane
The Derry buy to let market offers opportunities to buy to let to local residents, those who come to work here and to students.
The Market Rent Summary produced by Home.co.uk suggests that the average rent in the city itself is £479 per month at the moment. Landlords could expect to earn an average of £466 PCM for a one-bed property, £545 PCM for a two-bed property and £523 for a three-bed property.
Moderate property prices and strong rents mean property investors can find attractive yields in Northern Ireland. This research suggests Northern Ireland can offer better average yields than England and Wales, although slightly less than Scotland. It says the average yield across Northern Ireland is 5.2%. Liveyield suggests up to 16% yield may be possible in parts of Derry City & Strabane however.
Property investors who are interested in buying or setting up a shared house or house in multiple occupation (HMO) will need a licence. More information about HMO licences in Derry City & Strabane can be obtained from Belfast City Council who manage the HMO licensing scheme on behalf of the local authority. HMO investors in the area may also need planning permission for a new HMO.
All of Northern Ireland has a Landlord Registration Scheme. All landlords who let properties under a private tenancy in Northern Ireland must register. You must provide accurate and up to date information about yourself and your properties.
Investors who wish to offer holiday accommodation in Northern Ireland may need a certificate from Tourism NI.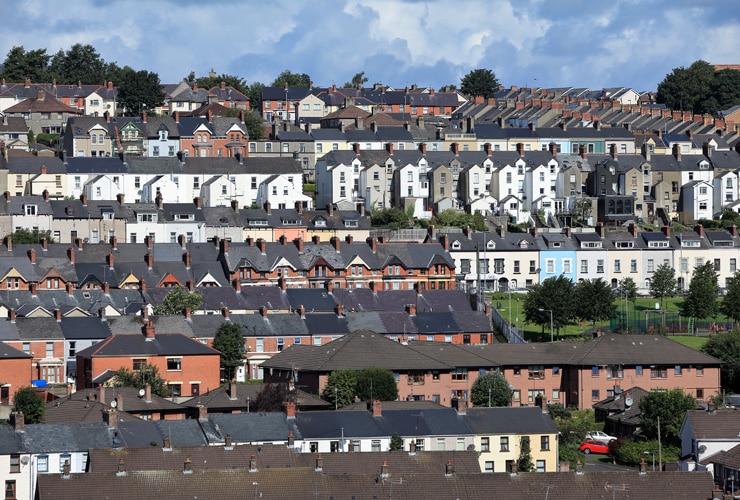 Property Investment in Derry City & Strabane
Population: 150,500 approximately
Average House Price: £135,176
Derry City & Strabane offers a wide range of property types from city flats and traditional terraces to semi-detached and detached homes. While the city itself offers urban living many of the surrounding areas are very rural stretching out into the Sperrin Mountains and also offer cottages, large detached houses and farms with land.
The area can offer good yields to buy to let landlords. Here we'll look at buy to let yields in the different postcode areas of Derry City & Strabane.
The Belfast BT47 postcode area covers Derry City, Waterside, Claudy, Feeny, Dungiven, Eglinton, Park and New Buildings village. According to Liveyield property in this area can offer yields of between 2.5% and 16%.
The BT48 postcode area covers Derry City, Cityside, Ballynagard, Coshquin, Rosemount, The Collon and Culmore areas. According to Liveyield property in this area can offer yields of between 2.6% and 15.1%.
The BT81 area covers the separate village of Castlederg on the River Derg in the south of the area plus Aghyaran, Clare, Garvetagh, Killen, Killeter, Mournebeg, Scraghey and Spamount. Liveyield says that property in this area can offer yields of between 4.7% and 7%.
BT82 is the Strabane area. Strabane is a separate small town on the River Foyle with a population of around 14,000. It includes Artigarvan, Ballymagorry, Bready, Clady, Douglas Bridge, Dunamanagh, Sion Mills and Victoria Bridge. According to Liveyield property in this area can offer yields of between 3.3% and 9.2%.
About Our Data
Note: Population estimates are based on information provided by Localstats. Current average asking prices are taken from HM Land Registry data and Zoopla. Buy-to-let yields by postcode are taken from Property.xyz.