Areas of Glasgow: Property Investment Buy-to-Let Hotspots
Glasgow is sometimes called Scotland's second city after the capital, Edinburgh. But in every other way Glasgow is bigger, much bigger – Glasgow has a bigger population, a bigger economy and a bigger property market too. So there are lots of good reasons to consider Glasgow property investment. Not in the least as it is one of the cheapest places in the UK to buy property too.
Why Invest in Glasgow?
A third of Scotland's entire population live in or around Glasgow. While Glasgow City itself has a population of 626,400 the wider Greater Glasgow area has a population of around 1.8 million. That makes it something of a no-brainer for those who want to invest in property in Scotland.
Glasgow has the largest economy in Scotland too... and the fourth-largest economy in the whole UK. It's worth almost £27 billion a year according to the Centre for Cities.
Glasgow's economy was traditionally heavy industrial based on engineering and, especially, shipbuilding. Today key industries in the city are education, health, financial and business services, transport and logistics and construction. There are also new, emerging industries including digital and creative, engineering design, marine technology, biotechnology, health and life sciences, and low carbon industries.
Once grimy, Glasgow has been reinventing itself into a modern city. Clyde Waterfront is a massive 20km-long regeneration project that started in the early 2000s. Some of the former shipyard areas have been transformed with successful projects including the Scottish Event Campus (former SECC), the SSE Hydro arena, Pacific Quay and the International Financial Services District (IFSD) where thousands of people work. The newest regeneration area is the Clyde Gateway east of the centre, originally established for the 2014 Commonwealth Games.
Glasgow is one of the UK's biggest student centres so good for student landlords. The University of Glasgow has 27,000 students with its main Gilmorehill campus in the West End – it has a £1 billion campus expansion plan. The University of Strathclyde has around 21,500 students with the main campus to the northeast of the city centre. Its students tend to look for accommodation in the East End. Glasgow Caledonian University in the city centre has around 16,500 students. Students also look for student lettings in the Southside.
The University of Glasgow is planning a new campus at Govan – the Clyde Waterfront Innovation Campus – that it's said could make Glasgow the next Silicon Valley!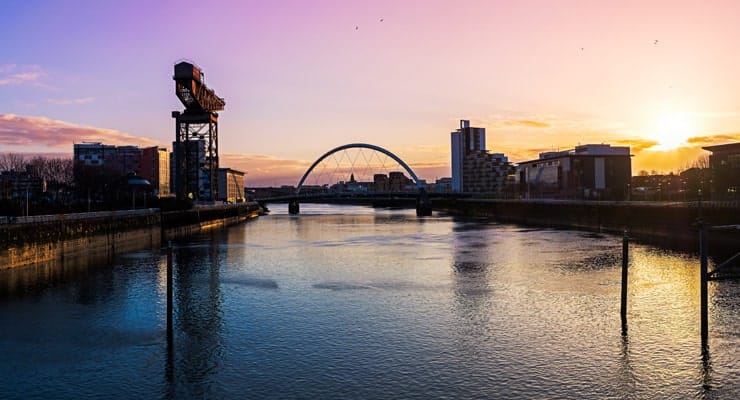 Amenities
Glasgow was one of the first European Capitals of Culture back in 1990. It told the world what Glaswegians already knew – Glasgow is a city packed with arts, music, theatre, leisure, sporting venues and events spaces – with 20 museums and art galleries alone. It is also one of the biggest shopping centres in the UK let alone Scotland, centred on the famous Sauchiehall Street and Buchanan Street.
Though often thought of as just a working city Glasgow has a tourist trade too! It's a springboard for tourists visiting the Scottish Highlands and Islands. Lonely Planet has previously rated Glasgow a 'top ten' world tourist city alongside such cities as Chicago, Lisbon and Mexico City!
Also worth knowing for property investors is that Glasgow has an underground line, known as the Subway, running in a loop around the city. Local lettings agent DJ Alexander Lettings say proximity to a Subway station pushes up rents, particularly in desirable spots like Hillhead or Kelvinbridge
There are early plans to build a city-wide Glasgow Metro tram system which could create some new Glasgow property hotspots in the next decade.
Property Values in Glasgow
Glasgow is the cheapest city in the UK according to Hometrack. The current average price of £123,900 across the area as a whole represents a 5% rise over the year or 23.7% over the last decade. You can buy two average houses in Glasgow for the price of one in Edinburgh, or almost four average houses for the price of one in London.
Glasgow is certainly the place for the bargain-priced property. Rightmove shows that there are Glasgow flats for sale from as little as £30,000.
Glasgow might not always be a place to invest in cheap property though. This article says it is one of the top UK cities for house price growth, with only Liverpool, Leicester and Manchester prices growing faster.
Property Investment in Glasgow
As with any property investment in Scotland, the process of buying property in Glasgow is quite different to England and Wales. The Money Advice Service explains, here, how buying property in Scotland works.
When you buy property here you'll pay Land and Buildings Transaction Tax (or LBTT) instead of Stamp Duty. This is also quite different to England and Wales. It could be more or it could be less. The Scottish Government outlines the latest rates for Land and Buildings Transaction Tax.
Buy to let landlords in Glasgow, as well as the rest of Scotland, must join the landlord registration scheme (not needed for holiday lets). And the laws applying to tenants and tenancies are different from England and Wales too. See the Scottish Landlord Register for more information.
One more important point if you are planning to invest in short term rentals in Glasgow, such as on Airbnb. Glasgow City Council is clamping down on planning permission rules which mean you need planning permission to use some kinds of flats for short term Airbnb rentals. So you must check that any Glasgow property you buy is able to be used for short-term lets. This article from a leading Glasgow-based solicitors' firm gives more information.
Now, let us look at some of the main areas for Glasgow property investment. Glasgow is a huge city and has a  very diverse property market so it would be hard to cover every possible area. This section is just a guide to a few of the main areas for Glasgow property investment.
City Centre
Population: 50,000
Average House Price: £132,000
Glasgow has a busy city living market, offering both traditional properties and new build blocks. Bear in mind though that the West End (which as you might expect is west of the centre) is the big draw for those who want to live close to Glasgow city centre but not actually in it.
Areas for investors to consider are the more upmarket Merchant City close by the city centre, Townhead and Collegelands which are good for student property, and Charing Cross and Cowcaddens which have more affordable property.
Average rental yields across the G1 postcode area are 6%.
West End
Population: 92,000
Average House Price: £170,000-£310,000
The West End – a slice of west Glasgow around the A82 and A814 roads, is one of Glasgow's favourite residential areas. It's especially popular with young professionals and young families and also, as Glasgow University is here, some parts are big student property areas. The popularity of the West End makes it kind of pricey, but great for buy to let as demand is high.
Byres Road is thought of as the very centre of the West End. Popular areas of West End include Hillhead (especially for student property), Dowanhill, Kelvinside, Broomland and Anniesland.
Areas fringing the West End like Garnethill, Yorkhill and Partick are cheaper and thought of as more up and coming.
Yields based on G11 and G12 are 5%, while in G13 are 6%.
East End
Population: 110,500
Average House Price: £120,000-£180,000
The East End of Glasgow, from Glasgow Cross on the edge of the city centre, is the more workday side of the city... it's often called the 'real' Glasgow. It's fair to say parts of it are run-down but others have an alternative, fashionable vibe. There's been a fair bit of regeneration here, much of it connected with the 2014 Commonwealth Games, though some areas, like Shettleston, have high levels of deprivation. Glasgow property investors will be interested to know it's much cheaper than the West End so there could be opportunities to pick up a bargain in an up and coming spot.
Yields based on the G32 district are around 6%.
Southside
Population: 98,600
Average House Price: £150,000
Traditionally anywhere south of the River Clyde has been less popular with buyers and tenants, as some of the districts like Govan, Ibrox and Gorbals are ex-heavy industrial areas. That means that prices here are generally lower than north of the Clyde, offering some bargains for investors.
Within Southside there's a lot of variation, however. Govanhill is a low priced property area with some social problems but is popular for budget housing and shared accommodation. Shawlands has a fashionable vibe and is sought after by young tenants. Further out Newton Mearns and the surrounding area is an upmarket, high price district.
Yields in Govanhill (based on G43) are about 5% but in Shawlands (G41) are tighter at 4%.
East Dunbartonshire: Bearsden and Milngavie
Population: 38,000
Average House Price: £380,000
Bearsden and Milngavie are technically in East Dunbartonshire, not Glasgow itself. They're favourite mid-upper market residential areas, particularly popular with commuters and families. They're also popular as they offer easy access to the famous Loch Lomond, The Trossachs and the West Highlands.
Yields in Bearsden (G61) and Milngavie (G62) are about 4%.
Paisley
Population: 77,200
Average House Price: £117,000
To the west of Glasgow Paisley is a separate town and in Renfrewshire rather than the city. Paisley has good motorway access, is right by Glasgow Airport and has frequent trains into the city centre. It is attractive for buy to let investors as prices are lower than some Glasgow districts, although so are rents. Expect a rental yield of 4% based on PA1.