Areas of Warrington: Buy-to-Let Property Investment Hotspots
At first glance, Warrington is a middle-of-the-road kind of town that doesn't seem that exciting. But Warrington has one of the most successful, productive economies – and the highest wages – in north-west England. So Warrington is just the sort of place that property investors should find exciting.
Why Invest in Warrington?
Warrington was originally a new town, formed in the 1960s by combining and developing the existing small town and several villages.
Warrington has grown fast over the last few decades. The original population was planned to be under 100,000, but the Warrington population is now around 210,000.
Warrington is technically in Cheshire, although it used to be part of Lancashire. Today Warrington comes under the auspices of Warrington Borough Council which actively promote Warrington as a place to live, work and do business.
Warrington has enjoyed an economic boom over the last few years, according to a report from CityMetric. It is by far the most productive town in north-west England, and its wages are on a par with those in big cities like Manchester and Liverpool – something which helps to support the property market here.
Much of Warrington's fast growth over the years has been due to its highly accessible location. Warrington is midway between Manchester and Liverpool with good access by train and road to both, making it a good place for businesses to locate and commuters to live.
Warrington is right by the M6, M56 and M62 motorways. Warrington also has great rail connections. It is on the West Coast mainline railway with direct trains to many UK towns and cities including London and Birmingham plus Manchester Airport. There are stations at Warrington Central, Warrington Bank Quay, Warrington West, Birchwood, Padgate and Sankey for Penketh, making all these areas attractive for commuter buy to lets.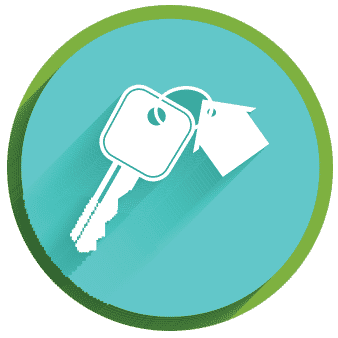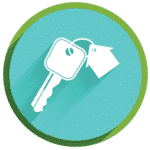 Access our selection of exclusive, high-yielding, off-market property deals and a personal consultant to guide you through your options.
As a new town with few old heavy industries, Warrington's economy is based around new modern industries including logistics, professional services, science and technology, digital, energy and advanced engineering and manufacturing. Companies located in Warrington include fast-growing Amazon and The Hut Group, AECOM, United Utilities, Plastic Omnium and Sellafield Ltd. Warrington is also infamous for being the home of the first-ever IKEA store in Britain!
Warrington has a number of business parks which have helped to expand the economy here. The areas around them could offer good buy to let opportunities for landlords letting to the people who come to work at them. Birchwood Park to the east of Warrington is home to more than 165 companies with 6,000 employees. Omega in north-west Warrington is an ongoing project to create a world-class, sustainable, highly accessible mixed-use development providing quality, bespoke commercial premises, along with a range of new homes plus retail and leisure opportunities within areas of green space. The Omega development is expected to provide up to around 24,000 jobs on-site when fully built out.
A town centre regeneration project, Time Square, with a new market hall, civic centre, multiplex cinema, shops and restaurants is helping to regenerate Warrington town centre. Warrington Borough Council also has an exciting 20-year vision, the Warrington Town Centre Masterplan, to make Warrington's town centre a vibrant, dynamic destination and a better place to live work, visit and do business. It includes regeneration projects, improved infrastructure and up to 8,000 new homes in the town centre.
Warrington could expand even faster in the future. There are also plans for a new Garden Suburb to the south-east of Warrington. This could have up to 7,400 homes plus new employment land attracting more new businesses and jobs to Warrington.
It's not often realised that Warrington is one of the north west's university towns too. The University of Chester has a small campus at Padgate, in the east of Warrington.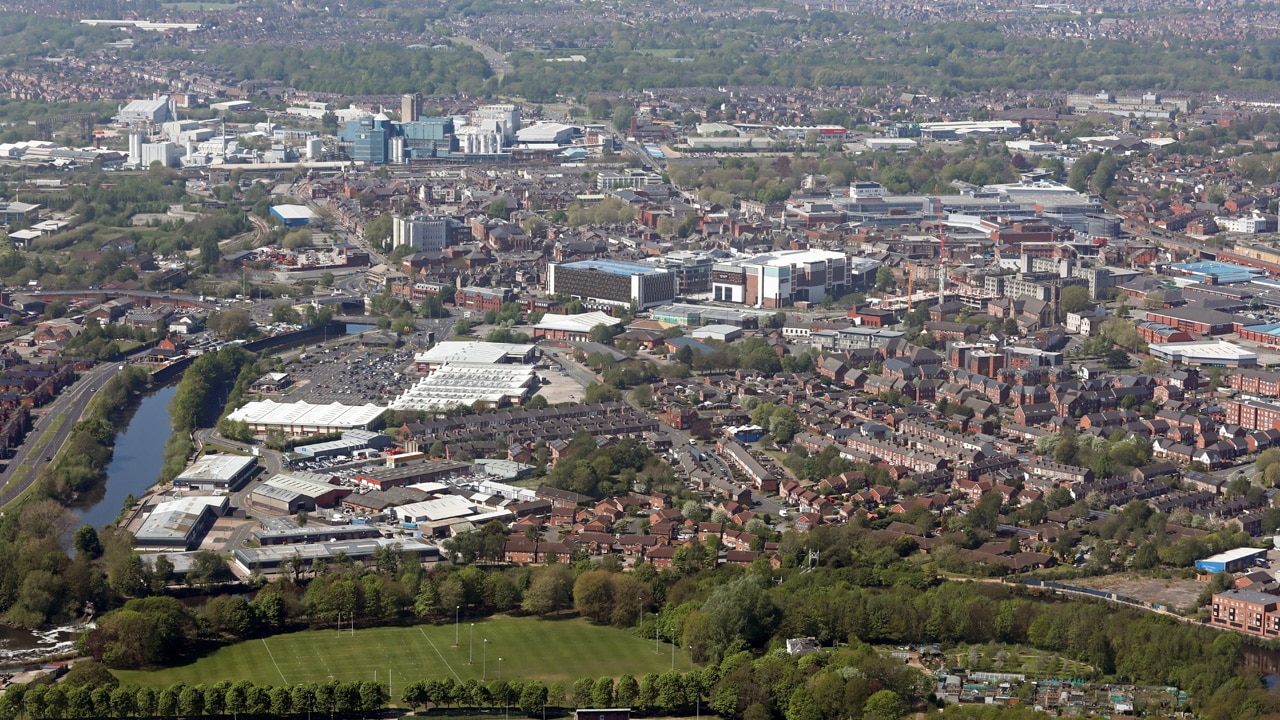 Property Values
House prices are above many other north-west towns and cities but Warrington house prices are still well under the national average. The average house price in Warrington is currently around £195,750, according to HM Land Registry figures.
Zoopla and Rightmove show that it is possible to find investment property in Warrington from as little as £57,500.
Although it's not a guide to the future Warrington property owners have done well in recent years. This report says that Warrington had the fourth fastest rising house prices in the entire country in 2018.
Rental Demand
Home.co.uk's Warrington Market Rent Summary says that the average monthly rent in Warrington is currently £554. The figures show that landlords in Warrington might expect to earn an average £504 PCM for a one-bed property, £626 PCM for a two-bed property, £856 PCM for a three-bed property and £885 PCM for a four-bed property.
Warrington can offer good rental yields for investors. Liveyield report that Warrington yields are up to 5.7% depending on the area.
Investors who are interested in setting up or buying an HMO or house in multiple occupation in Warrington can find more information about HMO licences and permissions you might need from Warrington Borough Council, here.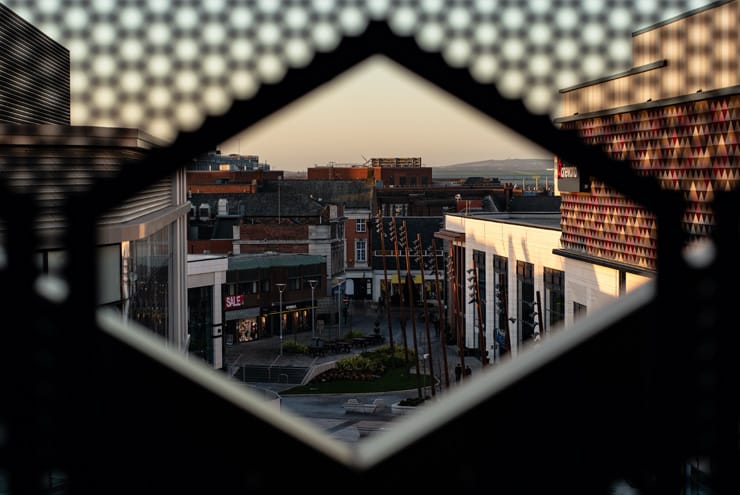 Property Investment in Warrington
Population: 210,000
Average House Price: £195,750
Warrington doesn't have a city living scene as such but there's plenty of property in Warrington town centre. Property here offers good access to all the amenities plus Warrington Central and Warrington Bank Quay stations, so has great potential for Warrington buy to lets. Investors can choose from traditional terraces, some larger family houses and new-build apartment blocks too. Warrington town centre offers good value property and yields here, based on the Warrington WA1 postcode area, are around 4.8%.
North-east Warrington suburbs include the separate village of Winwick across the M62 plus Hulme, Cinnamon Brow, Longford and Orford. Like other areas of Warrington, they are one-time villages which developed fast with new-build estates from the 1960s onwards. They are generally good value property areas of Warrington.
The north-west Warrington suburbs of Bewsey, Dallam and Callands have good access to the town centre, the M62 at J8 and J9, Omega and the Gemini Business Park for jobs.
Padgate is a large suburb to the east of the town centre. It has its own railway station with services to Liverpool and Manchester and the University of Chester's Padgate campus is here.
Yields, based on the WA2 postcode, are around 5.7%.
Birchwood together with nearby Risley are across the M6 from Warrington itself. The area has three large residential housing estates and is home to the Birchwood Park business park where a number of large companies are based. Birchwood has a railway station and its own amenities at Birchwood Shopping Centre.
In Warrington, WA3 landlords can expect to earn yields of 5.3% according to Liveyield.
Latchford and Westy are between the River Mersey and the Manchester Ship Canal giving these suburbs something of an island feel yet still good access to Warrington town centre. They were mainly built up between the world wars and have good value properties.
Across both the River Mersey and the Manchester Ship Canal from the town centre are the suburbs of Lower Walton, Stockton Heath, Grappenhall and Thelwall. These are older parts of Warrington that still retain a 'villagey' atmosphere, with lots of period properties as well as new builds and good local amenities including shops and eateries. They are amongst the most popular residential areas of Warrington and are generally higher-priced residential locations. Further west Lymm is a separate large village and one of the north west's most upmarket residential locations.
Further out the suburbs of Hillcliffe, Cobbs and Appleton Park have more new build properties and larger properties and are popular family areas. They have good access to the M6 and M56 and to the rest of Cheshire.
Yields in this area, which comprises mainly the WA4 area, are 4.8%. In WA13 (Lymm area) higher prices mean yields are tighter at around 3.6%.
To the west of Warrington itself are the suburbs of Great Sankey plus Sankey Bridges, Penketh, Lingley Green, Old Hall and Westbrook. The Great Sankey area has its own local amenities, two railway stations on the Liverpool to Manchester line, good access to the M6 and the industrial areas around Widnes and Runcorn for those who work there. It is a popular residential area for commuters who work around the area and at the Omega site just to the north where there are also lots of new-build estates.
Yields in these areas based on WA5 are around 3.9%.

About Our Data
Note: Population estimates are based on information provided by Localstats. Current average asking prices are taken from HM Land Registry data and Zoopla. Buy to let yields by postcode are taken from Liveyield.