Manchester is the largest economic area outside of London with £56 billion gross value added. The city boasts two internationally renowned football clubs, a world-class orchestra, a film and TV production industry and rich musical heritage. But, more importantly, it's the favourite property investment area of 2019.
You only need to look towards the Manchester skyline for evidence of the region's booming property development market and the flurry of regeneration that is happening. During the 2014-2020 European Structural Funds programme, Greater Manchester was allocated €414 million (about £366 million) to support its regional development; investing in businesses, job opportunities, education and agriculture. This investment has assisted in seeing the city and its surrounding regions not just improved, but totally transformed.
Why Invest in Manchester?
Manchester is a city on the rise. The technology and digital sectors have greatly evolved over the past five years and Manchester now thrives alongside the best tech cities in Europe. There is a buzzing social scene available to techies, founders and start-up entrepreneurs; the result is that Manchester has become a cosmopolitan place to live, where affordable property prices, thriving business, world-class leisure facilities and excellent transport links provide a fabulous lifestyle for young professionals and their growing families.
Amenities
New bars, restaurants, gyms and shops are seemingly opening on a daily basis, drawing thousands of more people into the city centre than ever before. For southern property financiers who are being priced out of their local area, Manchester is an obvious choice: who wouldn't want to hold an asset in a vibrant city which is continually developing and evolving?
Property Values in Manchester
Whilst property values across the south are at last slowing down, the value of the capital's market is very difficult to rationalise. Meanwhile, Manchester is currently leading the way in house price growth. Yet, the average house price in Greater Manchester is almost eight times higher than the average salary – pushing the dream of home ownership out of many people's reach.
According to research compiled by Hometrack, the average house price in Manchester itself is now £168,900, with the surge in growth at 6.6% compared to a year earlier.
Rental Demand in Manchester
In December 2018, a report by regional daily newspaper, the Manchester Evening News revealed that the rental market is booming in Manchester, with high demand leading to fast-rising rents for buy to let investors.
The MEN found that the average cost of renting in Manchester has gone up by 30% in the last four years. Manchester remains the joint most expensive borough to rent in Greater Manchester alongside Trafford at £775 a month based on figures from October 2017-September 2018. That's an increase of 7% in Manchester compared with the same period in 2016/17.
The report said that Bury is the second quickest growth area, with rents having risen by 20% in the past four years closely followed by Salford, which has increased by 18%. Bolton (17%), Stockport (13%) and Trafford (11%) have also witnessed double-digit rental income growth in the same period.
Investment In Greater Manchester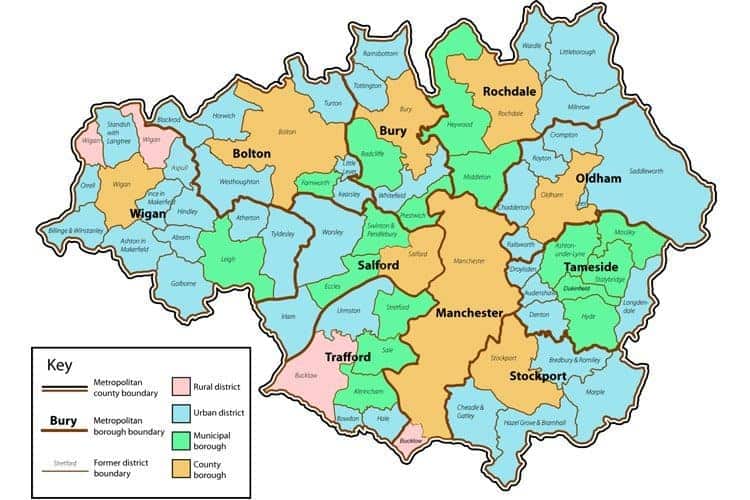 Of course, central Manchester isn't the only place to invest if you want to take advantage of all the city has to offer. The region of Greater Manchester has a population of around 2.5 million and is made up of 10 authorities. The City of Manchester is the largest and most central.
The ten Greater Manchester boroughs are each governed by their own local council. They all co-operate in some matters via the Greater Manchester Combined Authority headed by Greater Manchester mayor Andy Burnham. However, each council has a degree of freedom to interpret central government guidelines, so it is important to check out the correct website for the area if you are researching an investment in Greater Manchester.
If you aren't sure which council a property falls under you can find out by entering the postcode at www.gov.uk/council-tax-bands.
Manchester
Population: 545,500 (2017)
Average Price: £175,233 (avg. all property types, Feb 2019, HM Land Registry)
The City of Manchester is the commercial and economic heart of not only Greater Manchester but the whole northwest. Thousands of people work in well-paid sectors like finance, law, media and public services. It's a fast-growing centre for tech with Amazon moving here soon plus a new GCHQ office due to open. On top of that, it's one of Europe's largest university cities (around 100,000 students) and a hotspot for culture, leisure and retail.
As you might expect Manchester has a varied property market making it one of the best buy to let cities for choice. Manchester has the biggest city living market outside London with over 50,000 residents so you'll find lots of buy-to-let apartments in the city centre. The M1 postcode offers a steady yield of 5%.
City suburbs like Levenshulme to the south-east and Newton Heath in the north have the cheapest Manchester investment property with plenty of cheap buy-to-let houses. Here careful buying could offer a 5-6% yield. Didsbury is south Manchester's swishest suburb, popular with families and young professionals. It's also quite pricey so 3-4% yield is considered fair.
South of the city centre, particularly Rusholme and Fallowfield, is popular for student buy to let property being close to the Manchester university campuses. Totally Money's Buy To Let Rental Yield Map says this is one of the best buy-to-let areas in Manchester – the M14 areas offer yields over 7%. An HMO type property could, however, return 12% or more.
Salford
Population: 251,332 (2017)
Average Price: £162,553 (avg. all property types, Feb 2019, HM Land Registry)
Salford directly adjoins Manchester city centre. This means that Salford is – odd as it might seem – one of the most popular places for buy to let property in Manchester. Salford is also a university city, making it good for student buy to let too.
The interesting thing about Salford is that property is around 12% cheaper on average than Manchester, making it fertile territory for bargain hunters. The M3 postcode, for example, although in Salford is part of Manchester city centre and can return a yield of 6%.
Salford's residential suburbs, like Ordsall, Weaste and Eccles also have some surprisingly low prices (from £50,000) which means yields can top out at around 6.5%.
The Salford Quays/Media City area is a huge regeneration area based around the old docklands. Started in the late 80s the arrival of the BBC in 2011 put the area on the map – it's also home to the Lowry Theatre, Imperial War Museum and the ITV Coronation Street set. Media City is still expanding with new commercial and residential developments. Yields are similar to the city centre at around 5%.
Stockport
Population: 291,045 (2017)
Average House Price: £229,488 (avg. all property types, Feb 2019, HM Land Registry)
Stockport sits just to the south of Manchester city centre and as such is popular with commuters – Manchester's Piccadilly Station is just a 10-minute train ride from Stockport or 20 minutes by the fastest bus. The Heatons are popular commuter areas while further out places like Marple, Hazel Grove and Bramhall are right on the edge of the Peak District.
Stockport town centre has been hit by a decline in retail in recent years but a £1 billion regeneration plan is underway.
Stockport overall is Greater Manchester's second most expensive borough so yields are around 3-4% across the area.
Trafford
Population: 235,493 (2017)
Average House Price: £287,251 (avg. all property types, Feb 2019, HM Land Registry)
Trafford borough stretches right out from inner city Manchester to the edge of rural Cheshire. It's famous for Manchester United's Old Trafford ground, the Lancashire County Cricket Club ground and the 'mega mall' that is the Trafford Centre.
Although it's often overlooked, Trafford is home to Trafford Park – one of Europe's largest business parks – where thousands of jobs are based.
Trafford generally is Greater Manchester's most affluent borough with Altrincham and Sale having the area's priciest property and so tight yields around 3-3.5%. Inner areas like Stretford still offer good value though and 6% should be possible.
Trafford is one of Manchester's most accessible areas as the Metrolink tram service runs every 12 minutes throughout the day right into Manchester city centre. A new tram line opens to the Trafford Centre next year.
Bury
Population: 189,628 (2017)
Average House Price: £178,036 (avg. all property types, Feb 2019, HM Land Registry)
North of Manchester, Bury's claims to fame include having Britain's biggest and best regular market (around 400 stalls) and being the home of Bury black pudding.
In property terms, Bury is a very diverse area. The northern districts like Ramsbottom and Tottington are in semi-rural Lancashire. Yields are around 5%. But the southern districts like Radcliffe, Whitefield and Prestwich are popular with Manchester commuters. House prices are higher here so average yields hover around 4-4.5%.
Bury also has a direct tram link to Manchester city centre which takes around 40 minutes serving Radcliffe, Whitefield and Prestwich along the way.
Bolton
Population: 194,189 (2011)
Average House Price: £138,577 (avg. all property types, Feb 2019, HM Land Registry)
Bolton itself is one of the furthest towns from Manchester city centre. But that doesn't mean it isn't very well connected, being right on the M61 and close by the M60. When it's completed, hopefully, later this year, Bolton will also benefit from new superfast trains on the newly electrified Manchester-Preston railway line.
Bolton's town centre is another that's suffered from retail decline, but a £1 billion regeneration plan is underway. It's also the only Greater Manchester location other than Manchester and Salford to have a university.
In common with most of the boroughs north of the city, Bolton is one of the cheapest for investment property in Manchester. Rents are competitive too though, pegging yields down to around 4% maximum.
Rochdale
Population: 248,549 (2017)
Average House Price: £140,682 (avg. all property types, Feb 2019, HM Land Registry)
Like several of the towns around Manchester, Rochdale is a former textile town that was hit hard by the decline of the textile industry. However, there's been much regeneration and more is underway. For example, a recent scheme opened up a smart waterfront area in the town centre along the River Roch.
Plus points for investors in Rochdale are its transports links: Rochdale is on the Metrolink tram network, has up to five fast trains an hour into Manchester Victoria and is right on the M62. The huge Kingsway Business Park provides lots of employment and is undergoing expansion.
Rochdale is one of the cheapest Greater Manchester boroughs with lots of low-cost property. Expect about 3.5-4.5% yield.
Oldham
Population: 223,759 (2017)
Average House Price: £131,235 (avg. all property types, Feb 2019, HM Land Registry)
Although just a short distance from Manchester Oldham sits in the Pennine foothills. Accessibility is also a plus here: Oldham has good transport links being right by the M60 and M62 while frequent tram services run through various Oldham districts into Manchester city centre.
There is a £350m regeneration plan for Oldham town centre. Further out, places like Chadderton, Royton and Shaw are popular residential areas yet still have a good property value. Yields are a consistent, 3% across the area.
Wigan
Population: 324,750 (2017)
Average House Price: £132,291 (avg. all property types, Feb 2019, HM Land Registry)
Look at any map and you'll see that Wigan sits almost exactly between Manchester and Liverpool – it's most definitely in Greater Manchester though. It is also right by the M6 motorway, meaning that logistics and distribution are now important to the economy.
One snag with Wigan is that the centre doesn't currently have great connections into Manchester, so it's not attractive to commuters. That could change though, as a future tram-train link into the city is now being considered. Wigan will also be at the northern end of the future HS2 line and so be within 90 minutes of London.
Wigan is the cheapest part of Greater Manchester right now (if only just). So it could be one to watch for those looking for armchair investments that could produce a big return in the long term. Currently, at least 4% yield is possible in most areas although the WN1, WN2 and WN3 areas offer 5%.
Tameside
Population: 324,750 (2017)
Average House Price: £224,119 (avg. all property types, Feb 2019, HM Land Registry)
Tameside is the borough surrounding Ashton Under Lyne. In property terms, it's one of the cheaper Greater Manchester boroughs but also quite a diverse area. Areas like Denton and Hyde are suburban, while areas like Stalybridge, Mottram and Mossley are quite rural. Yields across the area are typically at least 3.5%.
Stalybridge could also be one to watch as it's now being proposed that the Manchester to Ashton Under Lyne tram line will be extended here. The town already has fast express train services into Manchester as well as into West Yorkshire.
About Our Data
Read More