Manchester is the largest economic area outside of London with £56 billion gross value added. The city boasts two internationally renowned football clubs, a world-class orchestra, a film and TV production industry and a rich musical heritage. But, more importantly, it's the favourite, property investment area of 2018.
You only need to look towards the Manchester skyline for evidence of the region's booming
property development market and the flurry of regeneration that is happening. During the 2007-
2013 European Structural Funds programme, Manchester received £136.2m to support its regional
development; investing in businesses, job opportunities, education and agriculture. This investment has assisted in seeing the city and its surrounding regions not just improved, but totally transformed.
Why Invest in Manchester?
Manchester is a city on the rise. The technology and digital sectors have greatly evolved over the past five years and Manchester now thrives alongside the best tech cities in Europe. There is a buzzing social scene available to techies, founders and start-up entrepreneurs; the result is that Manchester has become a cosmopolitan place to live, where affordable property prices, thriving business, world-class leisure facilities and excellent transport links provide a fabulous lifestyle for young professionals and their growing families.
Amenities
New bars, restaurants, gyms and shops are seemingly opening on a daily basis, drawing thousands of more people into the city centre than ever before. For Southern property financiers who are being priced out of their local area, Manchester is an obvious choice: who wouldn't want to hold an asset in a vibrant city which is continually developing and evolving?
Property Values in Manchester
Whilst property values across the south are at last slowing down, the value of the capital's market is very difficult to rationalise. Meanwhile, Manchester is currently leading the way in house price growth. Yet, the average house price in Greater Manchester is almost eight times higher than the average salary – pushing the dream of home ownership out of many people's reach.
According to research compiled by Hometrack, the average house price in Manchester is now £153,600, with the surge in growth at 8.8 compared to a year earlier.
Rental Demand in Manchester
In September 2016, a report by regional daily newspaper, the Manchester Evening News revealed that it is becoming increasingly difficult for renters to find the perfect property, with agents stating they receive up to ten enquiries for every city centre flat listed. Analysis of data from the Valuation Office Agency shows average rental prices in Greater Manchester increased by 22.4% over the previous 12 months.
The MEN also found:
Each apartment to rent is receiving 3 or 4 offers
Some properties are let after just one hour
Prices are rising by up to £75 a month in some city centre hot spots.
Investment In Greater Manchester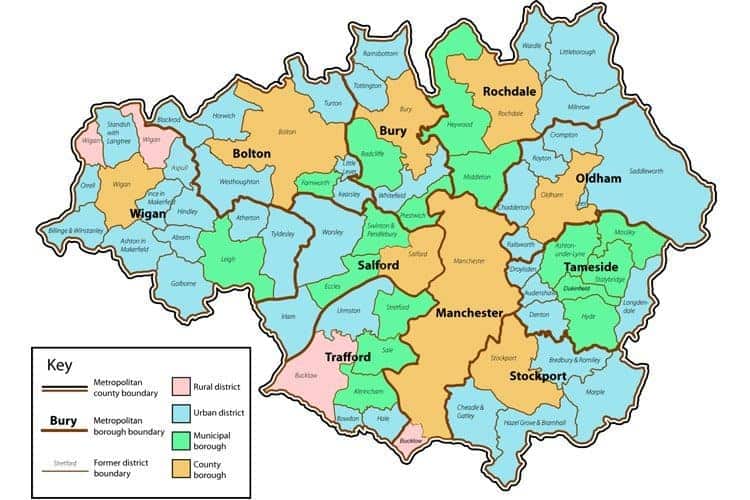 Of course, central Manchester isn't the only place to invest if you want to take advantage of all the city has to offer. The region of Greater Manchester has a population of around 2.5 million and is made up of 10 authorities. Manchester City is the largest and most central.
The ten Greater Manchester boroughs are each governed by their own local council. Each council
has a degree of freedom to interpret central government guidelines, so it is important to check out the correct website for the area if you are researching an investment in Greater Manchester.
If you aren't sure which council a property falls under you can find out by entering the postcode at www.gov.uk/council-tax-bands.
*NB Population figures taken from Wikipedia and the Office for National Statistics
Manchester
Population: 541,300 (Office for National Statistics)
Overall average property price £181,707
Thriving major city. The University of Manchester is the largest single-site university in the UK, with the biggest student community. Article 4 Direction.
Salford
Population: 248,700
Overall average property price: £177,122
The arrival of the BBC and Media City in 2011 has been a hugely positive addition. Over the past
decade, Salford has undergone a massive transformation, with hundreds of millions of pounds
invested in the area. House prices in Salford have soared as homeowners saw prices rise by almost double the national average – rising by 13.1% in 2016.
Stockport
Population: 290,600
Overall average property price: £200,263
Stockport is home to some of the most sought-after postcodes in Greater Manchester and has a
fantastic location, bridging the gap between Manchester and Cheshire
Trafford
Population: 234,700
Overall average property price: £281,016
Home to the Trafford Centre and Manchester United Football club, excellent transport links
combined with the race for school places fuels the property market in Trafford.
Bury
Population: 188,700
Overall average property price: £169,303
Bury lies 11 miles north of Manchester between Bolton and Rochdale, extending up to the West
Pennine Moors and Rossendale. A £350 million retail scheme extended the town centre in 2010
which a huge improvement to the market town.
Bolton
Population: 283,100
Overall average property price: £147,950
Bolton is one of the largest towns in Greater Manchester but has repeatedly been foiled in efforts to become a city. It neighbours Wigan and Bury and has a population of around 242,000. A former mill town, Bolton is due to be included in the final stage of the Metrolink extension.
Oldham
Population: 232,700
Overall average property price: £128,991
Oldham sits amid the Pennines, south-southeast of Rochdale and northeast of Manchester. It is a
hotspot for investors presently with property prices low when compared with other locations on the borders of Manchester. The recent addition of Metrolink has greatly improved the town.
Rochdale
Population: 216,200
Overall average property price: £144,508
Rochdale is a market town in Greater Manchester, positioned north-northwest of Oldham and
north-northeast of the city of Manchester. Rochdale is surrounded by several smaller towns which
together form the Metropolitan Borough of Rochdale, with a population 211,699. Heywood also falls under Rochdale – a great place for bargain purchases and social lets.
Wigan
Population: 323,100
Overall average property price: £127,690
Wigan is a town in Greater Manchester, 7.9 miles south-west of Bolton, 10 miles north of
Warrington and 16 miles west-northwest of Manchester. On the outskirts of Greater Manchester,
prices are low when compared to other boroughs and there are plenty of great projects to be found.
---
Sign Up For Our Free Course TODAY
Sign up for our free online property training course today.
In there we cover a range of different property strategies to help you get started on building a long-term property portfolio or creating a cash flowing property business.
We also look at ways to increase your return on investment with any of the properties you may be considering and we also have a couple of cheat sheets and downloadable documents.
Just click the image below to join our free training course today.

---
Any Questions?
If you have any questions or thoughts on buy to let property investment in Manchester then leave them in the comments section below.
Alternatively, you can get in touch via our Facebook page.
We'd love to hear from you and as always we're happy to help.
---