Areas of Rhyl: Buy-to-Let Property Investment Hotspots
Rhyl – or Sunny Rhyl as it's also known* – used to be one of the UK's biggest holiday towns providing sunny (and sometimes not so sunny) holidays to tens of thousands of holidaymakers every year. Although it's seen hard times of late Rhyl now seems to be a town that's very much on the up. Here's what you need to know about property investment in Rhyl.
Why Invest in Rhyl?
Rhyl is located in the county of Denbighshire in North Wales. It has a population of around 25,100 people.
Thanks to its coastal location and home to one of the best beaches in the area – which stretches for over 6 miles – Rhyl is a tourist and holiday resort. Although the tourist trade is smaller than the past, it's still the area's main industry. Around 6 million people visit the Denbighshire area every year.
Rhyl visitor attractions include SeaQuarium Rhyl, Rhyl Miniature Railway, the Pavilion Theatre, the Marsh Tracks cycling centre and the Scala Cinema and Arts Centre in nearby Prestatyn.
A new water park, SC2 Rhyl, is helping to attract more visitors to Rhyl. It is hoped it will attract 350,000 extra visitors a year.
Rhyl has good transport connections. The town is close to A55 North Wales Expressway. Rhyl railway station has train services to Holyhead, Cardiff, Birmingham, Manchester Piccadilly, Manchester Airport and London Euston.
Rhyl isn't all about visitors though. It's also a popular residential town thanks to low property prices and affordable rents. It's also popular with those wanting to buy a retirement property.
Rhyl has seen regeneration in recent years to make it a nicer place to live and work. More regeneration is planned which should bode well for the Rhyl property market There is a plan to invest £30 million to convert the Queen's Buildings, Queen's Market and Savoy Hotel into a new destination with retail and food outlets, a contemporary market, offices and flats and to link the promenade through to the town centre. There are also exciting proposals for a Wake Park, which is described as a wakeboarding centre and ninja warrior assault course!
There is also a project to build a new £40 million hospital, the North Denbighshire Community Hospital, in Rhyl. It could help attract more investment and more jobs to Rhyl.
* For many years British Rail used to promote Rhyl as Sunny Rhyl in its poster advertising.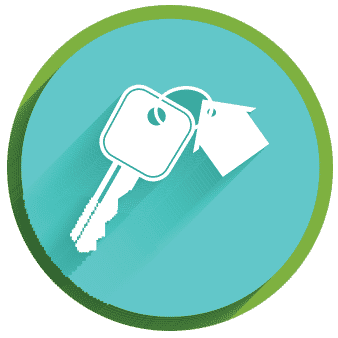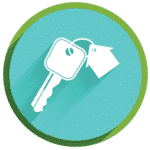 Access our selection of exclusive, high-yielding, off-market property deals and a personal consultant to guide you through your options.
Property Values in Rhyl
The current average asking price for property in Rhyl, according to Zoopla, is £143,070.
However, Rightmove figures also show that currently, you can buy cheap property in Rhyl for as little as £35,500. That's made Rhyl a very attractive investment location for landlords offering budget accommodation. Also, for property investors interested in the holiday accommodation market it's possible to buy on a Rhyl holiday park for as little as £18,995.
This report quoting research from the Principality Building Society says that Denbighshire generally, of which Rhyl is a part, is a top location for house price growth. It says house prices here rose 13.6% over the previous year.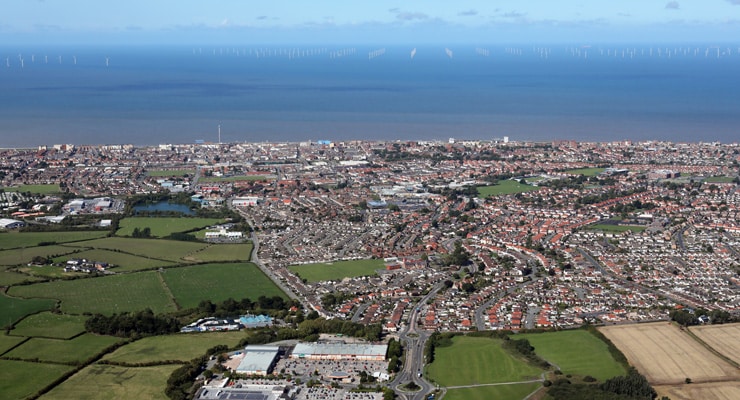 Rental Demand
Demand for Rhyl buy to lets comes mainly from the local market. There's also holiday letting potential in Rhyl and the surrounding towns and villages.
This report from a local agent says that there is a high demand for investment properties in Rhyl, but they are being snapped up quickly causing short supply, and that the town has a fantastic rental market.
Home.co.uk's Rhyl Market Rent Summary says that the average rent in Rhyl is currently £541 per month. It suggests landlords in Rhyl can earn £403 PCM from a one-bed property, £504 PCM from a two-bed property and £678 from a three-bed property. It says four-bed properties in Rhyl let for £710 per month, on average.
On yields, the Rhyl area is covered by the Llandudno LL18 postcode area. Landlord yield across this area is a strong 5.6%.
Property investors wanting to buy to let anywhere in Wales need to know about the Rent Smart Wales scheme. Landlords need to apply and register and take a training course, either in person or online. You'll also generally need planning permission and a licence to establish or run an HMO or shared house. Find more information from Denbighshire County Council, here.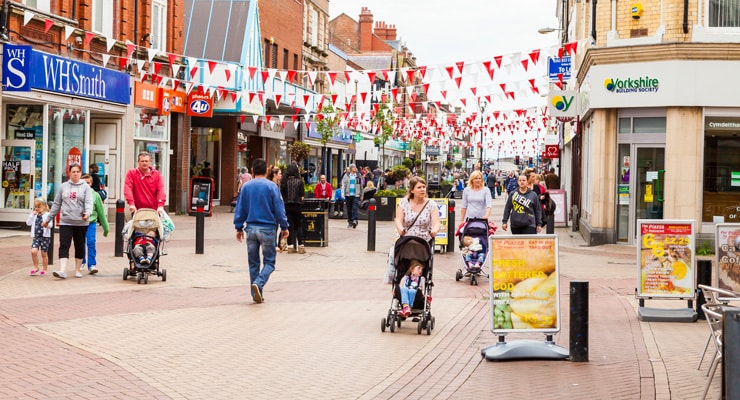 Property Investment in Rhyl
Population: 25,100
Average House Price: £143,070
Central Rhyl offers traditional terraces, apartments and large houses divided into flats. It's a lower property price area and popular with budget buy-to-let investors offering budget accommodation.
North Rhyl is a popular Rhyl residential district appealing to older people and families. Some of the properties along East Parade and the Marine Drive offer great sea views and good beach access.
The south side of Rhyl is a large residential area offering detached and semi-detached houses and bungalows. It's also popular with older people and families.
West of central Rhyl and over the River Clwyd, Kinmel Bay (Bae Cinmel in Welsh) and Towyn are quieter residential area with bungalows that appeal to retirees. There are also holiday parks here.
Surrounding areas of Rhyl include Prestatyn, which like Rhyl is also a seaside town. To the south Rhuddlan is a residential location best known for Rhuddlan Castle. Abergele is a market town and mainly a residential spot although Pensarn is a popular small resort nearby. St. Asaph (Llanelwy in Welsh) is a historic village (although it has city status and is the second smallest city in the UK) and residential location with an employment hub at St. Asaph Business Park.
Property investors interested in the area might also look at Bangor or Caernarfon.
About Our Data
Note: Population estimates are based on information provided by Localstats. Current average asking prices are taken from HM Land Registry data and Zoopla. Buy to let yields by postcode are taken from Liveyield.