Areas of Stevenage: Buy-to-Let Property Investment Hotspots

by Property Investments UK

The Property Investments UK editorial team have been researching and writing about the UK's property market for more than a decade.
Being a relatively new town, Stevenage isn't known for its history or beautiful architecture. But it is known for being one of the most convenient places in the country. Stevenage offers pretty much every amenity anybody could ever need, plus great transport links to the rest of the country. Stevenage also offers investors some very attractive property prices. Here's what you need to know about the best areas of Stevenage for buy to let property investment.
Why Invest in Stevenage?
Stevenage is located in the county of Hertfordshire. However, Stevenage is only around 30 miles to the north of London.
Stevenage is a one-time new town that was created in the 1940s by expanding the original small town and surrounding villages with a new town centre, several new suburbs and an industrial area. Stevenage has grown fast in recent decades and now has a population of around 90,000 people.
Stevenage is within the Stevenage Borough Council area, who provides services in the local area.
Stevenage has great transport connections by road and rail. It is right on the A1(M) motorway and the East Coast Mainline railway with fast, frequent services to London, south east England and the north of England. Stevenage is also known for its 40 km of segregated cycle paths.
Stevenage is also within convenient travelling distance of both Luton Airport and Stansted Airport.
Stevenage is just within the London commuter area. In recent years it has attracted more residents who want to travel to London frequently yet benefit from Stevenage's more reasonable property prices. London can be reached by train in as little as 25 minutes, with most trains taking around 40 minutes.
Due to very high property prices in Cambridge, Stevenage is also popular with some people who work in Cambridge.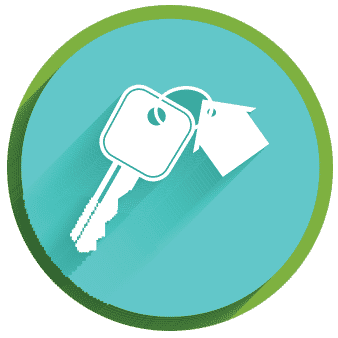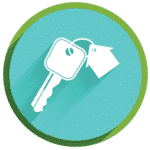 Access our selection of exclusive, high-yielding, off-market property deals and a personal consultant to guide you through your options.
Stevenage is a commercial and light industrial town and the area provides many jobs which boost the demand for homes to buy and homes to rent here. In particular, Stevenage is home to several future-facing industries including aerospace, defence, space and satellite technologies, life sciences, electronics and ICT. Stevenage is home to the UK's largest cell and gene therapy cluster which is the third largest worldwide outside the US.
Leading employers in Stevenage include GSK's Global R&D Centre, Airbus Defence & Space, Galvani Bioelectronics, Meggitt and Fujitsu.
Stevenage is the main shopping and service town for the surrounding area with Westgate Shopping Centre and Queensway providing a wide range of national shops. The original High Street in the Old Town offers independent shops plus pubs and eateries.
Local leisure attractions include the Gordon Craig Theatre, Stevenage Leisure Park which offers a variety of popular dining, leisure and fitness activities for the whole family, Fairlands Valley Park and Knebworth House.
Stevenage is benefitting from a major 20-year regeneration programme, already underway, and worth nearly £1bn. It promises to reinvigorate the town centre and surrounding areas and make the centre more attractive for living, working and visiting and so benefit the Stevenage property market.
Stevenage's regeneration programme includes over 7,300 new homes to be built by 2028, new shops, new bars and restaurants, an expanded railway station, improved transport and connectivity links and new sports and leisure facilities.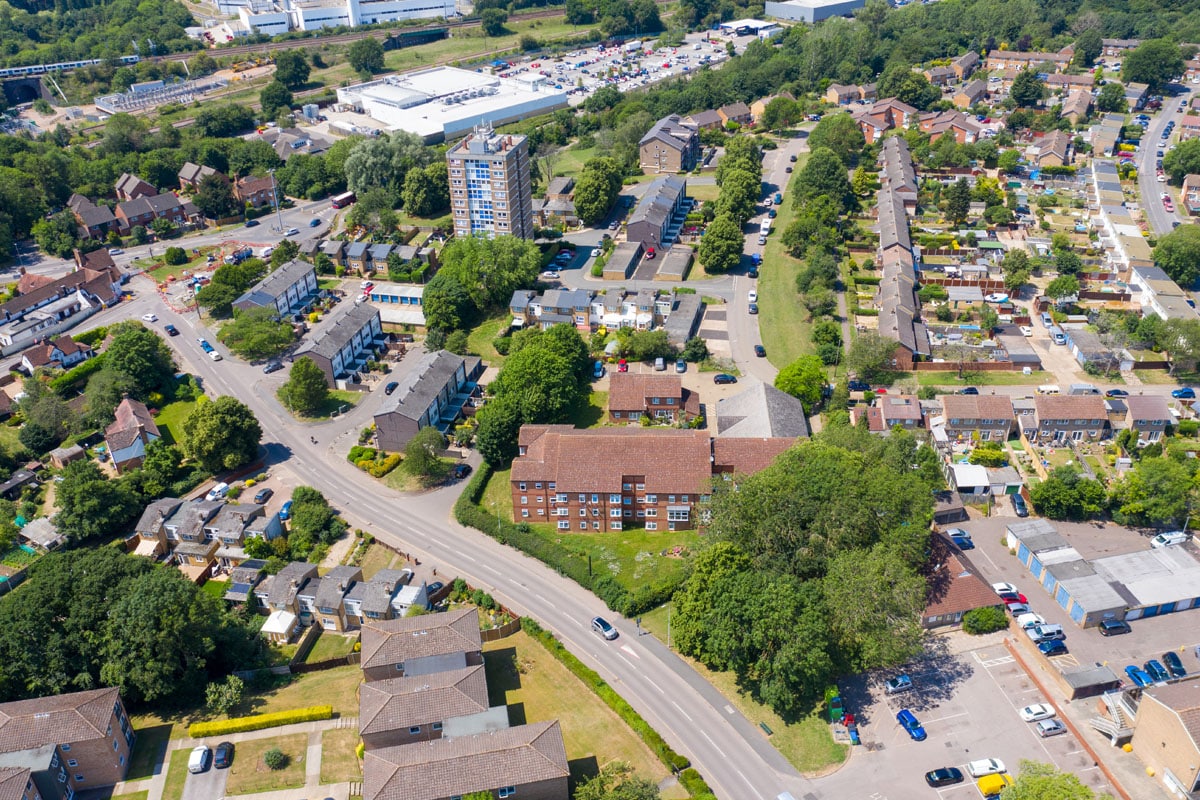 Property Values
Average house prices in Hertfordshire, of which Stevenage is part, are some of the highest in England. However, Stevenage has very good value property compared to most of the region.
The average house price in Stevenage is currently £354,610 according to HM Land Registry figures. This means that an average property in Stevenage only costs only around two-thirds of an average property in Greater London making it a very good value for buyers and investors by comparison.
Stevenage offers some cheap investment property too. The cheapest property you can buy in Stevenage is currently around £117,000 according to Rightmove and Zoopla.
Although past performance shouldn't be taken as an indication of future performance Stevenage property investors have done very well in recent years. This local press report says that Stevenage house prices have tripled in just 20 years.
Rental Demand
Demand for buy-to-lets in Stevenage comes from locals and those who come to work at the many businesses in the Stevenage area. Stevenage is also popular with those who need to travel or commute into London and to the more expensive towns in the region.
The Stevenage Market Rent Summary from Home.co.uk says that the average rent landlords can earn in Stevenage is currently £1,450 per month. Average monthly rents for different property types are £1,141 PCM for a one-bed property, £1,204 PCM for a two-bed property, £1,822 PCM for a three-bed property, £2,077 PCM for a four-bed property and £2,625 PCM for a five-bed property in Stevenage.
Property investors will also want to consider where the best, letting yields are to be had in Stevenage. Competitive property prices and strong rents mean that Stevenage can offer some strong rental yields.
Stevenage itself is mostly covered by the Stevenage SG1 and SG2 postcode areas. Current figures from property xyz suggest that investors can find an average long-let gross yield of 4.2% to 4.2% in SG1 and SG2.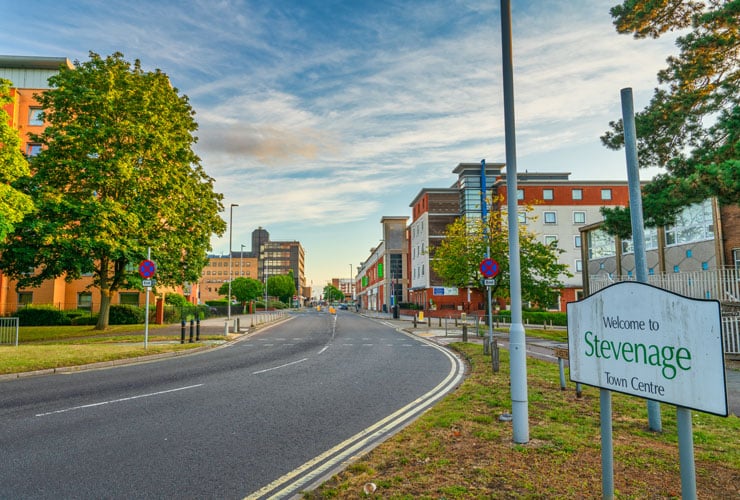 Landlord Licensing
HMO or shared accommodation is one opportunity property investors in the Stevenage area might look at. More information on HMO licence requirements for the area is available from Stevenage Borough Council here.
Stevenage Borough Council also has an Article 4 direction in place which means planning permission is needed to create a new HMO.
Stevenage does not currently have a selective licensing scheme, so no general landlord licence is needed.
Property Investment in Stevenage
Population: 90,000 approximately
Average House Price: £354,610
As a one-time new town Stevenage property types are mostly more contemporary properties built from the 1950s to present-day new builds. There are fewer older and traditional property types in Stevenage, mainly located in the Old Town area. Investors can choose from apartments mainly in low-rise blocks, contemporary townhouses, bungalows and detached and semi-detached family-sized homes mostly located on housing estates around the town.
Central Stevenage is a mixed commercial and residential area. It is based around the original Old Town and a modern town centre just to the south while most of the town's workplaces are just to the west of the centre. Old Town is a particularly popular residential area appealing to buyers and tenants. There is also a scheme underway to develop the newer town centre as a residential area too with some new homes already built and many more planned.
All central Stevenage areas benefit from easy access to the town centre amenities, workplaces, Stevenage train station and also the A1(M). Properties within easy walking distance of the train station and workplaces should be particularly popular for buy-to-let.
The Stevenage suburbs are based around several new suburbs from the original new town plan which has been expanded and developed over the years. They mostly consist of contemporary housing estates with their own local schools, shops and other amenities. All of the Stevenage suburbs benefit from good access to the town centre yet the open countryside is also within easy reach.
North Stevenage suburbs include St. Nicholas, Symonds Green and Woodfield. A little further out Great Ashby is one of the area's newer residential communities offering many new build houses. It is partly in the North Herts district.
East Stevenage districts include Bedwell, Chells, Chells Manor, Fairlands Valley and Pin Green.
South Stevenage suburbs include Broadwater and Shephall. The south side of Stevenage has particularly good access to the town centre, the main industrial areas, and good rail and motorway connections.
The villages surrounding Stevenage are very popular with those who work in Stevenage but tend to have higher property prices than the town itself. Knebworth has a train station with services to London King's Cross (38 minutes) and elsewhere.
Read More
About Our Data
Note: Population estimates are based on information provided by Localstats. Current average asking prices are taken from HM Land Registry data and Zoopla. Buy-to-let yields by postcode are taken from Property.xyz.