Adventures in Modernism: A Guide to 1950s and 1960s Housing for Developers

by Trevor Yorke

Trevor Yorke is an experienced author and artist who specialises in period architecture. For more information and to see a selection of his books you can visit his website, here.
Housing in the 50s and 60s
The 1950s and 60s are exceptional in the history of British housing as architects and builders experimented with new forms of design and construction. In the wake of wartime attrition and a desire for a bright new world, they erected houses with bold shapes, daring layouts, and light interiors as modernism became the watchword.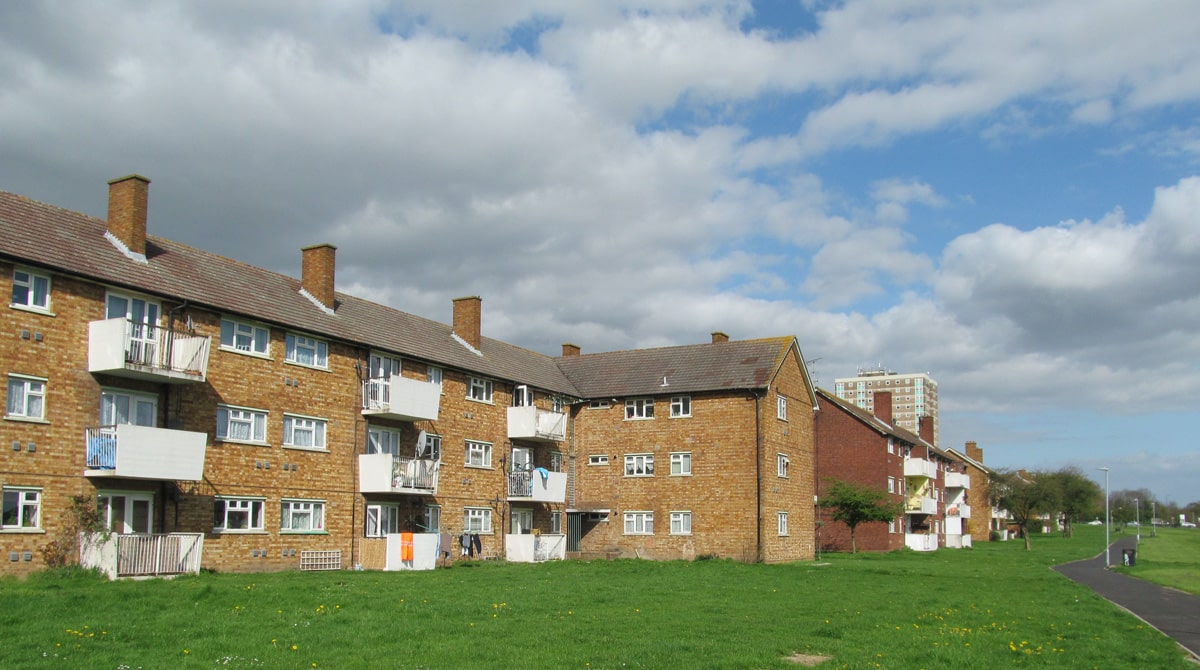 Although council houses were generally boxy and arranged in straight lines the private stock was more innovative with some looking like large tents or with skylines resembling a row of sails. The bare exterior which many architects advocated was seen as too daring for the mass market so houses were clad in more traditional hanging tiles and white weatherboarding to soften their impact.
Inside architects jumbled the rooms and experimented with different layouts. Tall vertical townhouses with the lounge on an upper floor or staggered open plans with rooms on half landings and bedrooms tucked into sloping roofs made every house an adventure. Compared with the dark and dingy Victorian housing many were still living in these new homes with wide windows filling an entire walls that were bright, modern and inviting, with most having gardens front and rear and even a garage.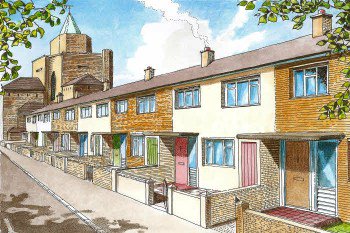 This strikingly modern appearance, however, was masking up the fact that Britain was still trying to deal with a housing crisis. Bombing during the Second World War and the continuing demolition of urban slums meant more houses than ever were needed in a very short time.
The war though had left a shortage of skilled labour and suitable materials with which to build these new homes added to the fact that the country was virtually bankrupt. Prefabricated houses filled the gap initially until brick and timber once again became widely available but throughout the 1950s and 60s, there was pressure to build quickly and cheaply.
Simple and economic methods of construction and cheaper imported materials were used and as a result, there are a number of common problems which the would-be investor in a 1950s or 60s house should be aware of.
Potential Problems with this Property Style
Houses and flats built with concrete as the load bearing material are a problem as poor quality in some made them vulnerable to spalling and cracking allowing the steel reinforced core to rust. This resulted in building societies refusing to offer mortgages on many of these types of properties. Its use also created problems with condensation and damp penetration as well as poor insulation and those which have not been demolished have usually been extensively modified to resolve these problems. Concrete was sometimes used in walls and then covered with a brick skin so the owner may not be aware of what lies within. These should not have problems with spalling but can still have issues with condensation and heat loss.
Many houses were built with two load bearing walls down either side with beams running across which supported the upper floors. The front and back only needed to be thin stud walls covered in hanging tiles, timber boards or cement render. This cross wall construction is generally sound but the thin walls can leak where they meet the brick sides and may need resealing and they were usually poorly insulated so it can encourage condensation and mould to appear inside. They may require external or internal insulation to be added if cavity wall insulation is not suitable. There may also be hanging tiles missing and timber cladding rotting on the outside which will need repair or replacing to avoid water penetrating the structure.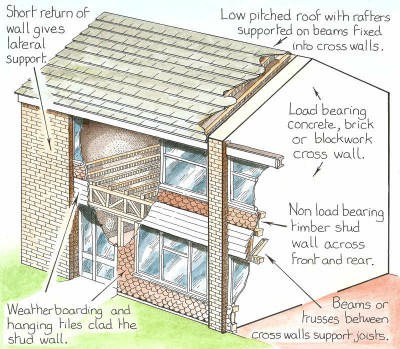 The wide windows with large open panes flooded rooms with sunlight but were a terrible loss of heat and often had poor quality timber frames which easily rotted. The budget for replacing these if they are still in place but also be aware that as these houses were often the first to have double glazing fitted so the replacements themselves might require updating. Lintels above the windows on many 1950s houses were a concrete beam which was exposed on the outside of the house. These can be prone to cracking or shifting under uneven loads causing cracking which will need attention.
Most houses had concrete roof tiles and these may be reaching the end of their expected life so it is worth checking for any signs that they will need replacement. Flat or shallow-pitched roofs were also widely fitted and need regular inspections to ensure the covering is sound and water is not pooling on top. Some were arranged so they slope down to the neighbouring property's wall so it is important to ensure that the guttering here is clear and water is draining off properly.
Ground floors were formed from concrete (timber flooring were popular in the 1950s but these were often only thin boards fixed to the concrete by battens and screed). Sometimes the hardcore below this contained waste from local industry to save costs but these elements when in contact with water like a leaky drain or a rising water table can cause the ground to swell and the floor to bow upwards. Check for signs of this bowing or cracking as repairing usually means excavating the floor and can be costly.
In general, the experimental nature of many materials and types of construction means that it is worth checking locally for knowledge of any known issues with houses on a particular estate. There is no standard form of construction in this period and although most are sound they have issues which could be costly to repair. Hence although these are quite modern houses if you are in any doubt about proceeding with a purchase then pay for a detailed survey from a locally based company who may be familiar with these problem areas.
These properties are no longer deemed new but have not reached an age whereby they are seen as rustic or traditional so their appearance does not inflate their price.
They also tend to have a reasonable size plot with front and rear gardens and unlike many earlier properties, they have a garage, albeit in a separate block. The estates they were built on were often large and had local services like schools built close by making them convenient for families. These factors can help to make houses from the 1950s and 60s good value and great properties to invest in.