Areas of Ipswich: Buy-to-Let Property Investment Hotspots
Ipswich is a long way from being one of the UK's largest cities. In fact, Ipswich is still officially just a town. But Ipswich is amongst the UK's top 20 fastest growing cities, making it a place, property investors looking for good investment potential need to keep an eye on.
Why Invest in Ipswich?
Ipswich is the county town of Suffolk and part of the East Anglia region of England. Ipswich is a historic town and a one-time ancient trading port. Ipswich has a population of around 137,000 but the population is forecast to grow to 146,000 by 2028.
The traditional industries of Ipswich are textiles and agriculture. Today the Ipswich economy is based around light manufacturing and services including financial services, construction and transport and logistics.
The Port of Ipswich is a working port handling 2 million tonnes of cargo annually. A short distance from Ipswich, the Port of Felixstowe is the UK's busiest container shipping port and also one of the busiest container ports in Europe. The ports and associated services are one of the area's main employers.
Other employment locations in Ipswich, which may indicate areas with good buy to let potential, include Boss Hall Industrial Estate, Hadleigh Road Industrial Estate, Ransomes Europark, Riverside Industrial Park and Whitehouse Industrial Estate. The Adastral Park tech. cluster is made up of over a hundred companies within this growing sector at nearby Martlesham Heath.
Ipswich has been identified as one of the top 20 fastest-growing cities in the UK according to the UK Powerhouse City Growth Tracker. It has seen economic growth of 1.6% year-on-year.
Ipswich has good train links to London, Norwich, Cambridge and elsewhere. London's Liverpool Street station can be reached in around an hour from Ipswich by train, making it closer to the City of London than some parts of Greater London.
Ipswich has benefitted from extensive regeneration in recent years. The Ipswich Waterfront area around the old industrial areas on the River Orwell has been redeveloped with some smart, new commercial, residential and leisure developments, a marina and a new campus for the University of Suffolk. Ipswich Waterfront is now a busy, bustling part of the town centre.
Ipswich has become an increasingly popular visitor destination too. As well as the Ipswich Waterfront other Ipswich attractions include Christchurch Mansion, New Wolsey Theatre and Ipswich Transport Museum plus River Orwell cruises. The nearby Suffolk countryside and coast also attract many visitors and tourists and is within easy reach of Ipswich.
Despite its compact size TripAdvisor have also nominated Ipswich as a 'cultural hub of activity' and one of the best up and coming tourist destinations in the world. Ipswich has previously been voted one of the happiest places to live in the UK too!
Ipswich can offer student property investors opportunities in student accommodation too. The University of Suffolk has a purpose-built campus in Ipswich and has around 8,000 students overall. Popular areas for Ipswich student houses are within walking distance of the university buildings on the waterfront and also close to Ipswich Hospital on Heath Road for students who have placements there.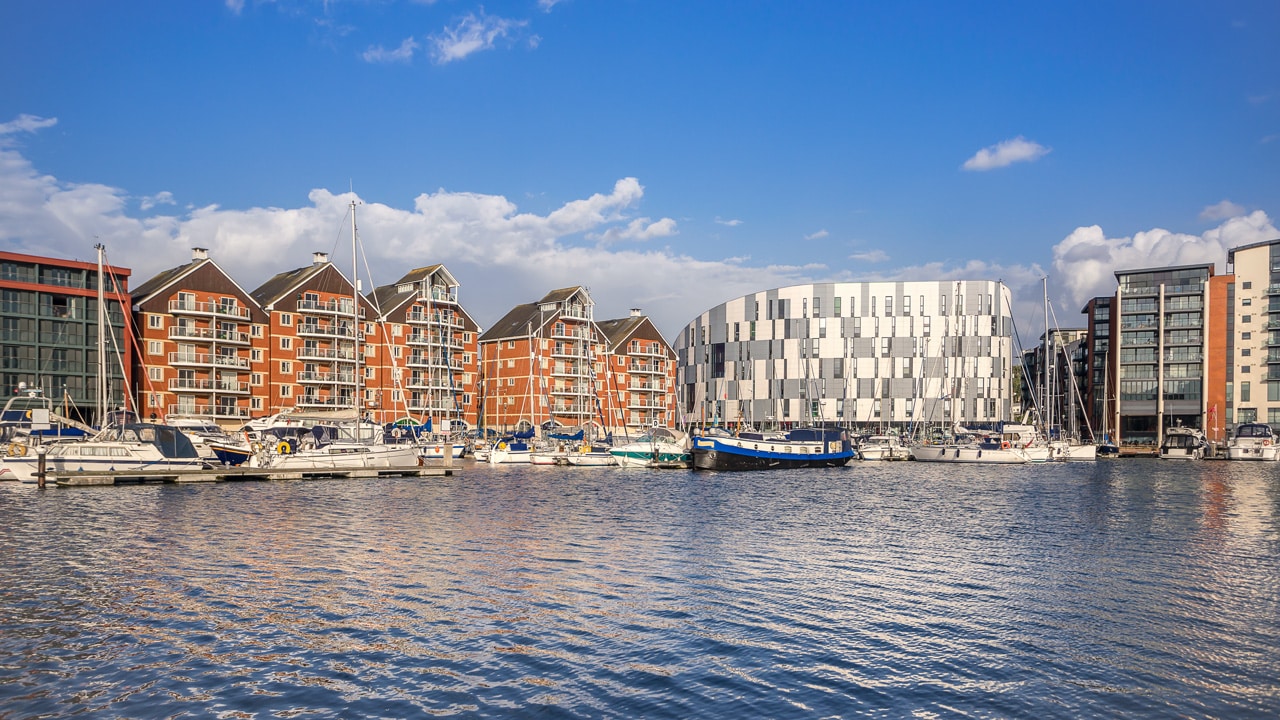 Property Values in Ipswich
The East of England area, of which Ipswich is part, can be a high priced area for property investment. The average property price in the areas surrounding Ipswich such as East Suffolk, Mid Suffolk and Babergh is around £250,000 to £280,000.
Ipswich itself can offer good value property to investors, however. Ipswich property prices are not only well below the England national average but well below property prices in the surrounding districts. The average house price in the Ipswich Borough Council area is currently around £191,720, according to HM Land Registry figures.
Zoopla and Rightmove show that it is possible to find investment property in Ipswich starting at around £50,000.
This report says the Ipswich property market is one to watch. It says the new waterfront district, good schools and value for money house prices plus good accessibility to London could tempt London commuters to move here. It tips Ipswich for double-digit house price growth in five years.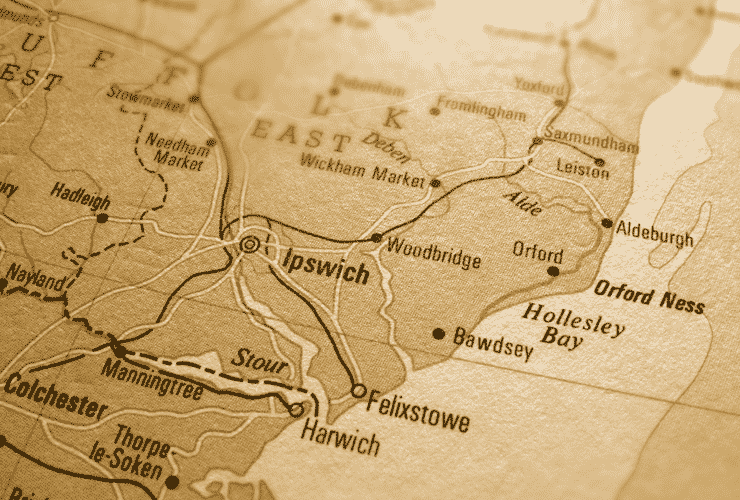 Rental Demand in Ipswich
According to Home.co.uk's Ipswich Market Rent Summary the average monthly rent landlords in Ipswich can expect is currently £651. The figures show that average rents for different types of Ipswich buy to let are £583 PCM for a one-bed property, £731 PCM for a two-bed property, £867 PCM for a three-bed property and £1,393 PCM for a four-bed property.
Ipswich can offer sound rental yields for investors. Liveyield report that Ipswich yields are up to 4.8% depending on the area.
If you're considering setting up or buying an HMO or shared house in Ipswich you can find more details about this from Ipswich Borough Council, here.
Some of the areas around Ipswich are located in the different local authority areas of East Suffolk, Mid Suffolk and Babergh. You can check which local authority covers any area, here.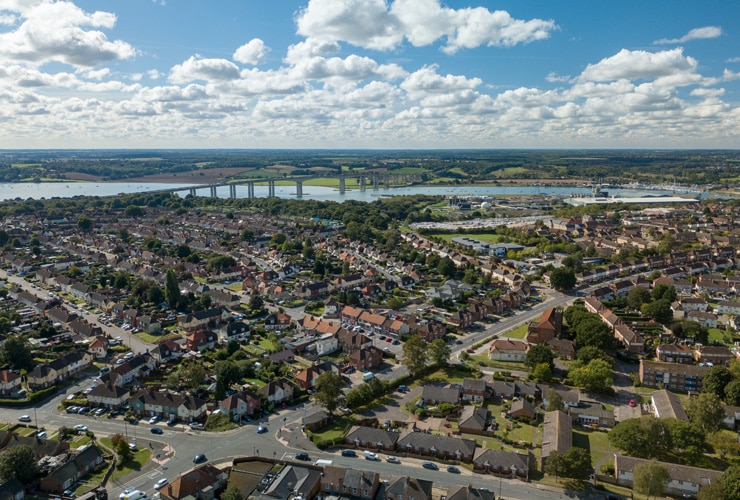 Property Investment in Ipswich
Population: 137,000
Average House Price: £191,720
Here we'll take a quick tour of the Ipswich property market.
With the development of the waterfront area, Ipswich has gained a city living property market in recent years. Investors can find new build apartments here, many with attractive waterfront views, particularly around the Neptune Marine and Ipswich Haven Marina areas. Properties here are attractive for buy to let to those who work in the town, commute from Ipswich train station and in some cases student lets.
Ipswich's inner suburbs offer a range of property types including large period houses, good value traditional terraces and newer build apartments. The area around the popular Christchurch Park is an upmarket and pricier residential area.
North-west Ipswich suburbs include Castle Hill, Westbourne, Whitehouse and Whitton. These one-time village areas are now Ipswich residential estates. They benefit from good access to the A14. Yields in this area, based on the Ipswich IP1 postcode, are 3.5%.
East Ipswich suburbs include California, which is a planned suburb built from the 1800s with many period properties and a railway station nearby at Derby Road. It has good access to the town centre and is convenient for Ipswich Hospital. Rushmere St. Andrew is a smart residential area also on this side of the town.
Further out, although still part of the Ipswich built-up area, Kesgrave is a separate large village and popular residential area. Martlesham Heath is a village built mainly from the 1970s but in the style of a traditional Suffolk village. It is an upmarket Ipswich residential spot.
Yields in these areas are 3.8% in IP4 and 4% in IP5.
To the north-east is the separate town of Woodbridge. Woodbridge is a short distance from Ipswich on the A12 and has railway stations at Woodbridge and Melton plus good access to the Suffolk coast. Located on the River Deben it is a popular residential spot for Ipswich commuters. Woodbridge investment yields are around 3%-3.3%.
Felixstowe is a small seaside town but is best known for the large Port of Felixstowe. Yields in Felixstowe, based on the IP11 postcode, are a tight 2.8% on average.
South-east Ipswich suburbs include Gainsborough, Greenwich, Priory Heath, Warren Heath and Ravenswood. Ravenswood is a new build sustainable suburb built on the site of the former Ipswich Airport. These areas offer good access for those who work in Felixstowe.
Yields available to landlords in the south-east Ipswich IP3 area are 4.8%.
South-west Ipswich suburbs are across the River Orwell from the town centre itself but offer good access to both the A12 and A14 roads. They include Maidenhall, Pinewood and Chantry. They are made up of large social housing estates and newer private housing estates. Chantry, in particular, is a good value property area.
This area, based around IP2, offers a 3.5% yield according to Liveyield.
About Our Data
Note: Population estimates are based on information provided by Localstats. Current average asking prices are taken from HM Land Registry data and Zoopla. Buy to let yields by postcode are taken from Liveyield.